Bloodshot Salvation #1
Brushed Metal Cover
Valiant, published date: September 2017.

Rare
Bloodshot Salvation #1 was written by Jeff Lemire, with interior art by Lewis Larosa and Mico Suayan, and was in shops on September 20th, 2017. This variant (diamond code: JUL172251 and barcode ending 00171) has a brushed metal cover (!) with cover art by Mico Suayan.
The marketing blurb reads: "Valiant is proud to unveil the complete creative roster for the fall's most anticipated new series debut, beginning in BLOODSHOT SALVATION #1 - the FIRST ISSUE of the BLOCKBUSTER ONGOING SERIES from New York Times best-selling writer Jeff Lemire (BLOODSHOT REBORN, Black Hammer) and explosive artists Lewis LaRosa (BLOODSHOT REBORN, SAVAGE) and Mico Suayan (BLOODSHOT REBORN)!".
And the preface in issue #1 starts: "Recently, Bloodshot - now living as Ray Garrison - fell in love with a woman named Magic and they had a baby. He is desperately trying to start a new life, away from the violence of Bloodshot..."
The back cover is shown below with the barcode prefix "00171":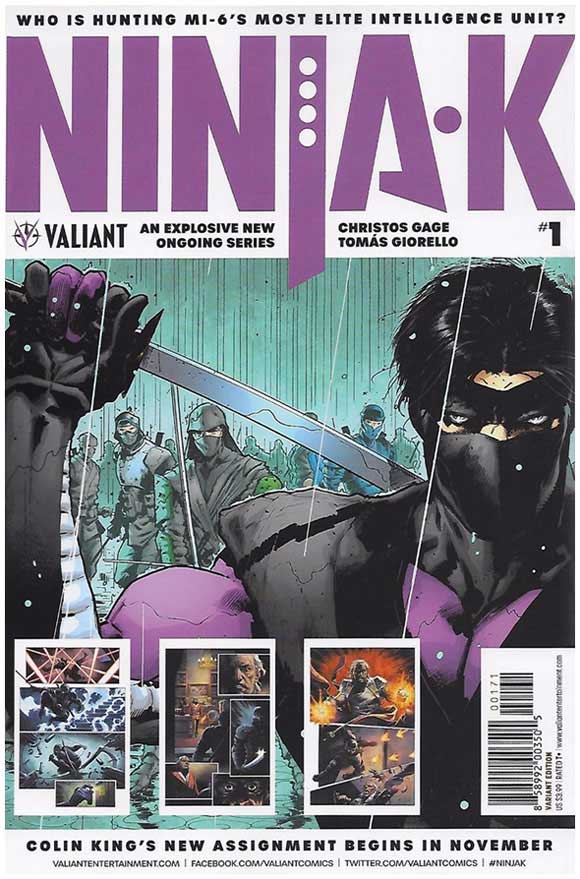 A large number of covers were produced for the issue with eight previewed by Diamond Comic Distributors:
Above covers are, from left to right, top to bottom:
Standard cover A, by Kenneth Rocafort [JUL172245]
Cover B "Villians", by Monika Palosz [JUL172246]
Cover C "Battle Damages", by Tomas Giorello [JUL172247]
Pre-Order Bundle edition, by Ryan Bodenheim [JUL172248]
Interlocking Variant by Greg Smallwood [JUL172249]
Bloodshot Icon Variant by Dave Johnson [JUL172250]
Brushed Metal Variant Cover by Mico suayan [JUL172251] 00171
Pre-Order Bundle bonus Rampage Redux edition, by Kenneth Rocafort

There were many other covers, produced for comic cons (including a gold logo version for the New York Comic Con) and individual comic shops - some are shown above and below: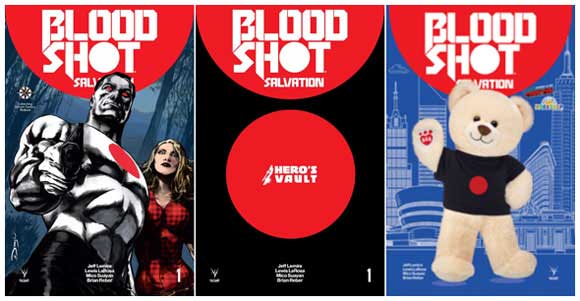 Four gradings were added to the CGC census for the "Brushed Metal Variant" in early October 2017, all graded on Universal labels at 9.8 (Near Mint / Mint).
In mid October 2017, these full metal jacket comics were selling for around $250, some for more. With Diamond stating that only 250 copies were available, it will be interesting to see where the realized prices go to in the coming months.