Rick & Morty #1 1:50 Incentive
Justin Roiland Cover Variant
Oni Press, April 2015.

Rare
Adapted from the Adult Swim cartoon series, which "follows the misadventures of alcoholic scientist Rick and his easily influenced grandson Morty, who split their time between domestic family life and interdimensional travel", Rick & Morty #1 had serious number of covers with numerous variants and 5 printings: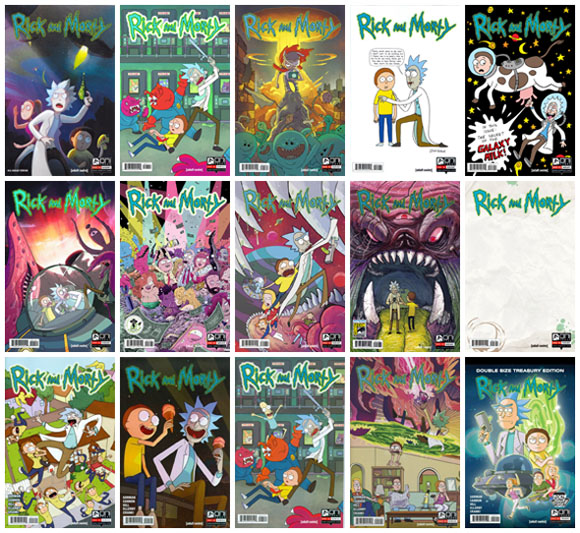 From left-to-right, top-to-bottom:
Barcode: 00101: Four Color Grails Edition
Barcode: 00111: Standard Cover
Barcode: 00121: BAM (Books-A-Million Variant)
Barcode: 00131: 1:50 Incentive (Roiland Variant Cover)
Barcode: 00141: 1:30 Incentive (Ryan Variant Cover)
Barcode: 00151: 1:10 Incentive (Colas Variant Cover)
Barcode: 00161: Emerald City Comicon Exclusive
Barcode: 00171: Bridge City Exclusive Cover
Barcode: 00181: SDCC Exclusive
Barcode: 00191: Sketch Cover Variant
Barcode: 00112: 2nd print
Barcode: 00113: 3rd print
Barcode: 00114: 4th print
Barcode: 00115: 5th print
Barcode: 00211: #1 Treasury Edition
In terms of realized sale prices, the stand-out variant from the bunch is the Justin Roiland 1:50 Retailer Incentive variant with copies going for over $300.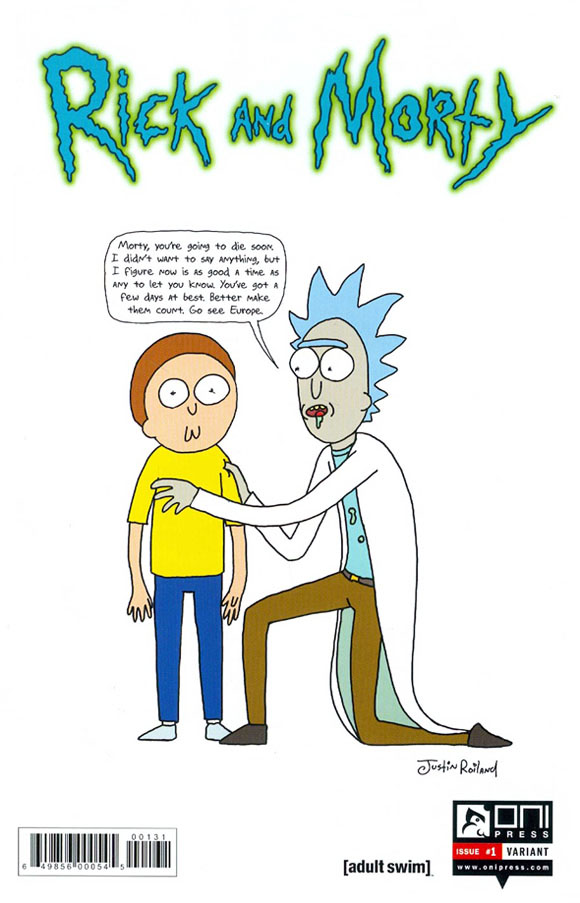 It is worth noting that Justin Roiland is the co-creator, executive producer and the main voice actor (for Rick Sanchez, Morty Smith and others) on the cartoon series.
In early July 2016, CGC had 11 recorded gradings of these variants in their census, with three at 9.8, four at 9.6 and four at 9.4.

The 1:50 Roiland variant is hard to get hold of, with very few sales on auction sites such as ebay, so buyers might need hunt around for these.