Saga #41 Recalled
Cover Printed Too Dark
Diamond Code: OCT160634 ; In Shops: 2016-12-28 ; SRP: $2.99.

Barcode: 709853011668 04111 ; Image Comics, December 2016.


Low Dist.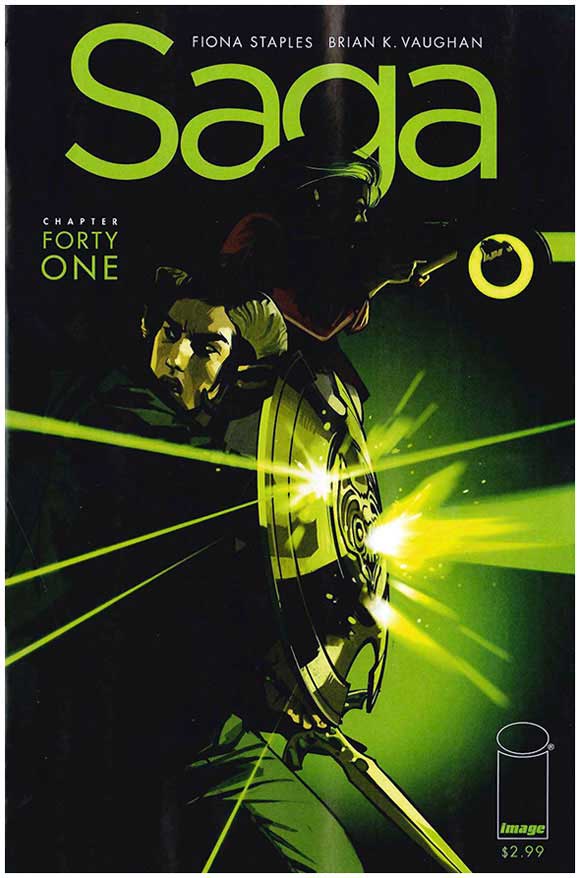 Saga #41, featuring "THE WAR FOR PHANG" part five by Brian K. Vaughan with art by Fiona Staples, was due in shops on December 28th, 2016, but the initial print run had a problem with the cover art being printed too dark and this prompted Image to issue the following statement on December 22nd (6 days prior to the release date):
Due to a printer error, Image Comics will be reprinting SAGA #41 in time for it to hit shelves on the adjusted release date of January 4th, 2017.
"Bumping any title is a disappointment, but SAGA has shipped on time every issue up to this point and being forced to delay this one was an incredibly difficult decision," said Eric Stephenson, Publisher at Image Comics. "Unfortunately, while delaying the book for a week tarnishes our on-time shipping record, selling SAGA #41 as it was originally printed would have negatively impacted the quality of one of the best comics on the market. Not everything can be perfect, but in this case, the difference between the files submitted to the printer and the book that was printed were so great that we simply could not let the book go as is."
Brian K. Vaughan, writer and co-creator, added: "Fiona and I are really sorry to have to ask readers, and our retailer partners, to wait just a little bit longer to read a finished issue that we're particularly proud of. But we're very grateful to our printer and everyone at Image for working quickly to fix an unfortunate printing error that we felt hurt the quality of our book. Thanks for understanding, and Happy Holidays!"
Although the problem with the cover was spotted before the comics went on sale this was too late for some of the distribution as many shops still received the error copies.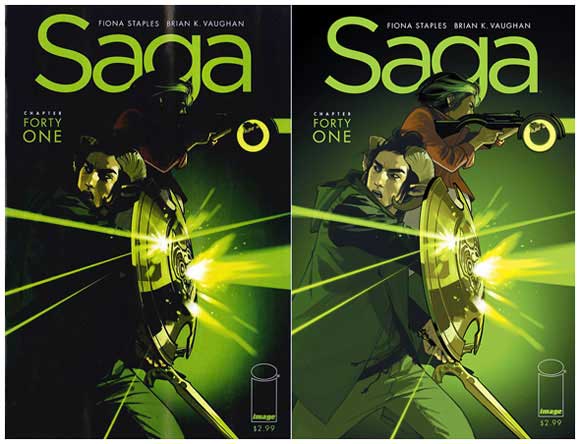 Above is a comparison of the recalled print (diamond code OCT160634) and the reprinted variant, which Diamond noted as SAGA #41 NEW PTG (NOV168640).

By January 2017, two gradings were recorded in the CGC census. CGC categorize the comic as "Recalled Edition" and the label text also includes the comment: "Recalled due to coloring error on cover".
The error variant is widely available and copies can usually be obtained for under $10 on websites such as ebay.