Mouse Guard: Legends of the Guard
Volume 3 #3 Recalled
Diamond Code: MAR151076 ; ISBN/UPC: 8-44284-00461-9-00311

In Shops: 2015-05-13 ; 32? Pages ; SRP: $3.99

Archaia Studios, Published Date: May 2015.


Rare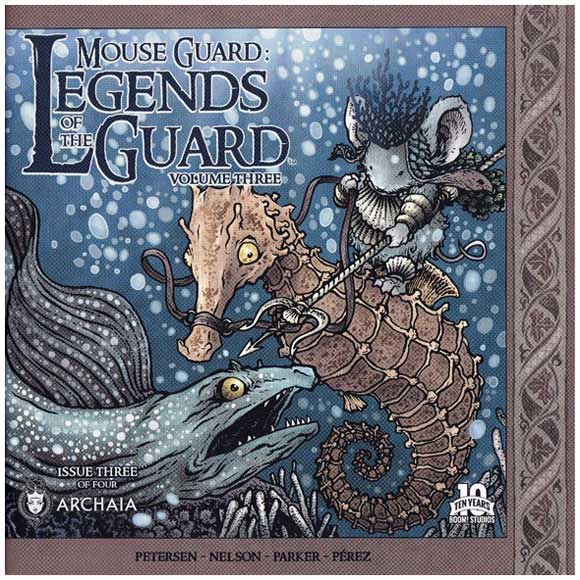 There are currently (circa April 2017) three volumes of Mouse Guard Legends of the Guard: Volume 1 (2010), Volume 2 (2013) and Volume 3 (2015).
In the third issue of the third volume there was a printing error similar to Tangled Web #1 Recalled where paper stock was used for the cover, giving it a thinner and more matte finish.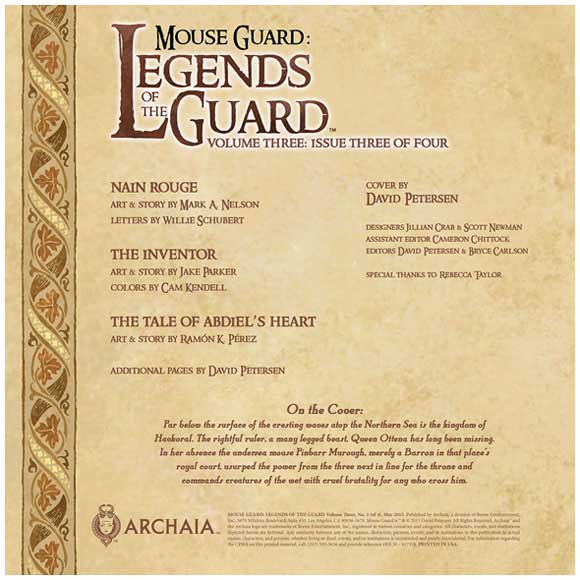 The blurb for the comic reads "The mice at the June Alley Inn continue to tell their stories in an attempt to clear their tabs. Featuring inventive mice, haunting cicadas, and other stories from Ramón K Pérez (Hawkeye), Jake Parker (Rocket Raccoon), and Eric Talbot (Teenage Mutant Ninja Turtles)." and the square comic was available to order from Diamond under diamond code: MAR151076. There will have been some sort of notification of the recall to comic shops at the time and if anyone can supply an electronic (or paper) copy of the notification that would certainly be appreciated.
CGC categorize this comic as a "Recalled Edition" and label text includes "Recalled due to incorrect cover, paper stock. Wraparound cover.". At the end of April 2017, CGC only listed one grading in it's census (graded 9.8 on CGC Signature Series).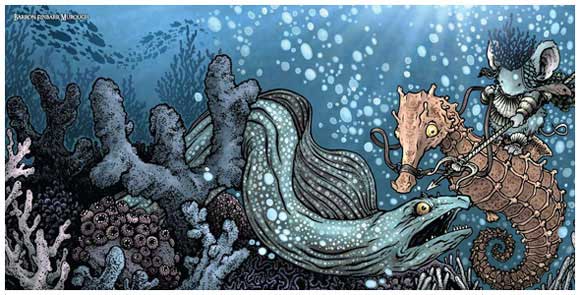 At this point in time, most comic shops and websites don't list the error copy, although it can be found on Midtown comics but the title starts "DO NOT USE (misprint)..." hence will likely be permanently out of stock.
ebay seems to be the place to find these at present, they are fairly cheap to obtain but don't seem to have the same level of interest as other recalled comics (similar to Tangled Web #1 Recalled where there were hundreds available below $10 and only a small number ended up being CGC graded).