This site is dedicated to listing rare comics of the modern era covering 1980 to the present time. There are three broad categories on the website: Verified Recalled comics, Error & Rumoured Recalls and Other Rare Comics (which is further split into: Ultra & Super Rare and Rare & Low Distribution).
Please use the sidebar to the left (on larger screen devices) for quick access to the individual comics and sections or the navigation bar above also provides the same. As well as the sections, there are four different lists of all the comics on the website and a search function using Google:

Recent updates/additions in December, 2023:
Previous ten updates:
Rare Comics
Many older comics are rare due to only few copies surviving through the years, which is partly due to lack of collectors back in the earlier periods (many comics were sadly read and discarded). However, numbers of collectors seemed to have increased through the 1970's and 1980's and this decreased the number of rarer issues during this time (and the Silver age before it). From the 70's there are still many popular and valuable issues such as the first full appearance of Wolverine in The Incredible Hulk #181 but this issue is not rare as there are many copies available. Condition is also a factor: many comic books were produced on poor quality paper with acidic inks (essentially newsprint) causing them to quickly degrade over time making any high grade copies rare.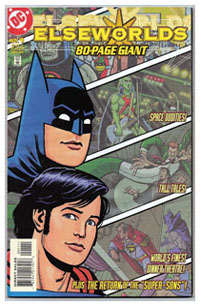 Fast forward to the Modern era and rarity is something that the comic industry has been manufacturing since the early 90's and more recently with numerous cover variants of varying degrees of rarity (1:25,1:100,1:300 etc). The introduction of CGC graded comics in 2000 also started a new collecting craze for sealed professionally graded comics and rarity can be seen within the grade banding: 9.8 is a must-have grade for a modern comic but the extreme rarity of mint comics (graded 9.9 and 10.0) means these can change hands for ludicrous sums.
This takes us on to one of the more interesting areas where a particular comic book has a problem and has to be recalled. Depending on the timing of the recall this can severely limit the number of comics in the public domain, for example, the recall notice on Elseworlds 80-page giant only applied to the U.K. as the recall occurred before they were due to be distributed in the U.S. (they were shipped to the U.K. in advance). If there is any sort of publicity around the recall and/or the comic involves a popular character, this adds to the demand which will obviously outstrip supply for the rarer issues, leading to the prices skyrocketing.
Anyway enjoy the website, hopefully it has some useful information for anyone wanting to collect or invest in rare comic books of the modern age.