Wolverine #131 Recalled
Racial Slur Variant
Marvel Comics, November 1998.


Low Dist.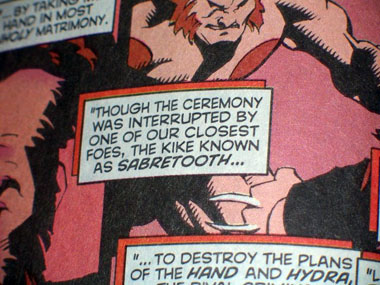 This issue featured a genuine error where, instead of the word "killer", the antisemitic word "kike" made it into Wolverine's description of his archenemy Sabretooth.
Writer, Todd DeZago, is apparent quoted as saying "I had been asked to write several issues of Wolverine, and had written the plot to three of them. When the second issue came out, however, with many editorial changes to my original script (without any rhyme or reason), I opted not to script the third issue, which was Wolverine 131. The editor then hired writer Brian Vaughn to script the story at the last minute, but where Brian had written "the assassin known as Sabertooth", the editor replaced assassin with killer, crossing assassin out on the script and writing killer in the margin. It was then faxed and the words were cut off and garbled when they came through. Because the book was late and never proofread by the editor in question, the slur went to print and actually made it onto the stands. The saddest part of this whole incident is that many people told me that they didn't even know what the word meant--we may have inadvertently re-introduced a hateful word back into a culture that had forgotten it".
The recall was unfortunately too late to prevent the inevitable bad press for Marvel which was still languishing in bankruptcy.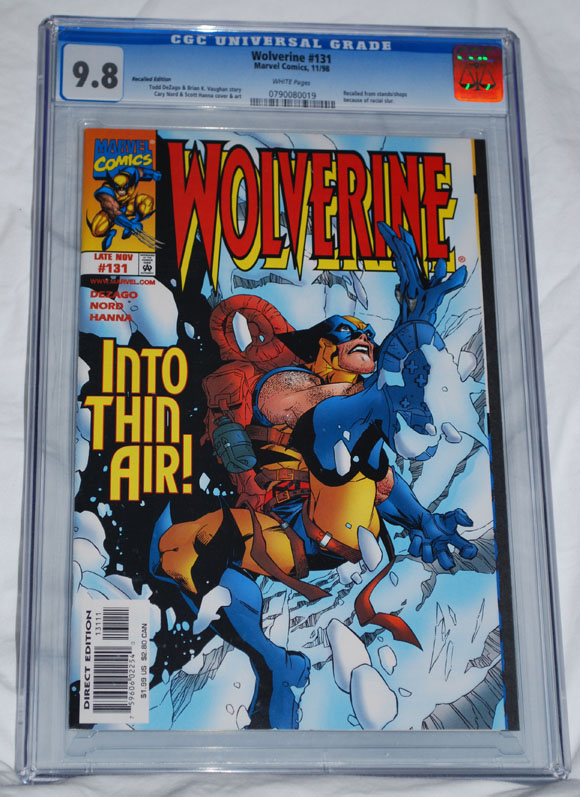 Originally there were believed to be around 1,000 recalled issues that were issued a week early as part of Marvel's "First Look" program but anecdotal evidence suggests that there are quite a few large batches of these have been available from various dealers suggesting that there are far more than the 1,000 initially thought to exist.
These issues are not hard to come by at all and can be picked up on eBay at fairly reasonable prices - a good starter comic for a recalled collection!