Universe X Spidey #1
Recalled - Harras Slander
Marvel Comics, January 2001.
Standard
Variant

Rare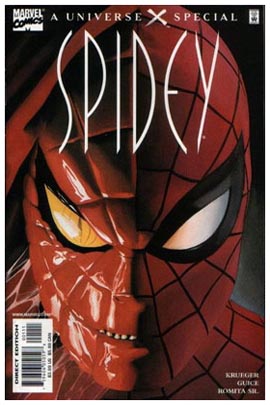 DF Cover
Variant

Super-Rare!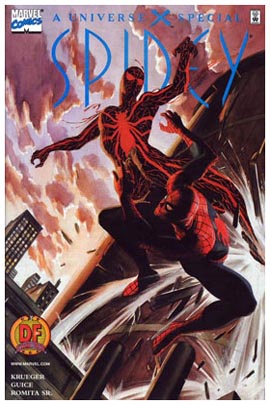 &nbsp
DF Sketch
Variant

Super-Rare!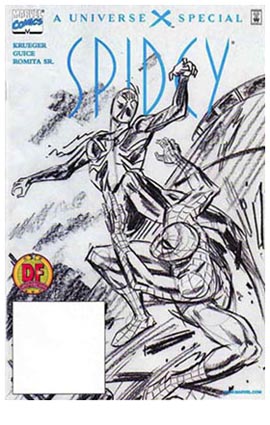 CGC graded
example:

Super-Rare!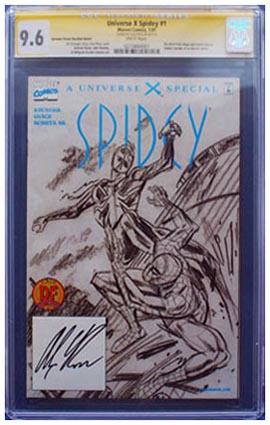 &nbsp
This alternate-universe Spider-Man book was recalled after it was discovered that artist, Al Milgrom, had hidden libellous comments about the former Marvel Comics editor Bob Harras within the issue.
On page 28, panel 3, the spines of books on a bookshelf in the background read, "HARRAS HA HA, HE'S GONE, GOOD RIDDANCE TO BAD RUBBISH HE WAS A NASTY S.O.B.". when the comic is turned sideways.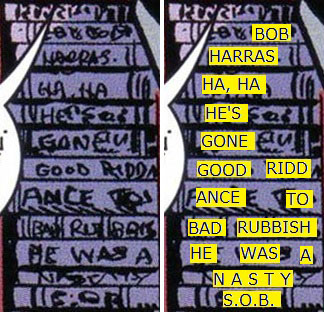 The comic was distributed to retailers as part of the First Look scheme, in which retailers get to see a copy of next week's issue, but then recalled and pulped when the slander was spotted. The libellous book-ends were corrected for the main print run for each of the three variants; note that there were 3,000 DF copies circulated and 1,000 DF Sketch copies hence these are reasonably rare themselves but not to be confused with the recalled copies (when buying always check the page with the book-ends for the Harras libel).
Milgrom was apparently fired and allegedly (and quietly) re-hired several weeks later!
In Europe, there was also a German variant called Universe X Special #2 which reprints the Universe X Spidey #1 Recalled Edition but this does not seem to have been recalled itself.