Venom Lethal Protector #1
Error Variants:
Marvel Comics, February 1993.
Black error variant

Rare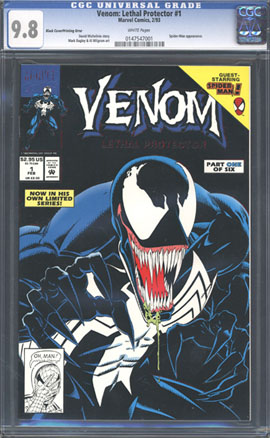 White error variant

Ultra-Rare!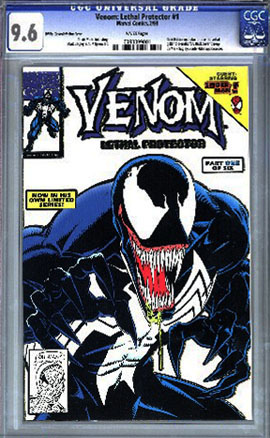 &nbsp
WARNING: There are some counterfeits in existence so buyer beware!
These error variants are another example of failures in the embossing process where either the foil was not applied or not enough heat was used, leading to the foil coming off the comic (some residue of the foil may remain).
The "black cover printing error" variants are lacking the red foil background and there has also been a single "white cover printing error" variant discovered that is likely to be a gold edition minus the foil.
There was a significant quantity of the black Cover error that made it past the printing quality control to the public and Marvel apparently made them returnable (not recalled). Anyone actually returning these comics could be seriously regretting their decision, however, as they can be worth up to 200 times their cover price (depending on condition).
In mid October 2014, there were 137 "Black Cover/Printing Error" gradings registered by CGC in their census with an exceptional number of very high grades (including a 9.9 and two in 10.0!) and a single "White Cover/Printing Error" variant graded at 9.6.
A CGC 10.0 copy went for around $3,000 back in 2010; more recently a CGC 9.8 copy of the "Black Cover printing error" sold for $1,600 in July 2014.