Amazing Spider-Man #638 Second Printing
Marvel, published Date: October 2010 (due in shops 2010-08-25).

Low Dist.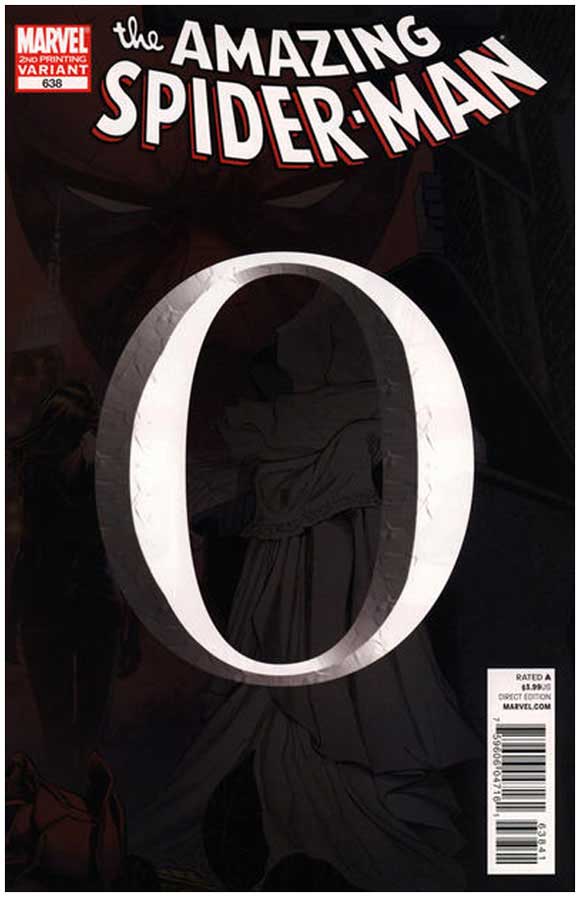 The questions have been haunting readers throughout Spider-Man's Brand New Day and now the answers are here in four double-sized issues! What really happened at the wedding of Spider-Man and Mary Jane? What does Mary Jane know about Spider-Man today? How did ONE MORE DAY affect the Marvel U? Joe Quesada and Paolo Rivera are here to pull back the curtain and fill in every blank...but the answers may come at a cost to all that Peter Parker loves. This 4-part arc will hold answers, resolutions, and set up the course of Spider-Man's life for years to come...and all will be revealed with a whisper.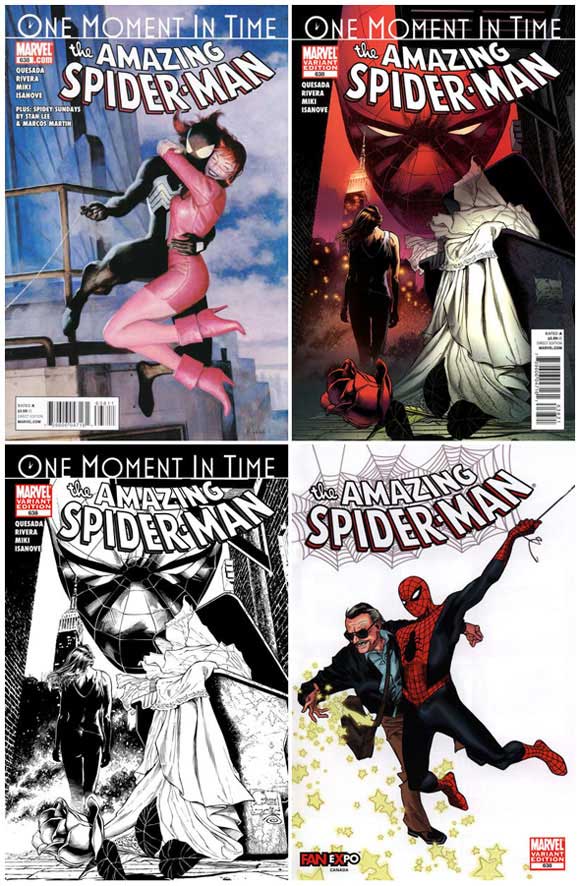 This is the first part of the "One Moment In Time" (O.M.I.T.) storyline that had four first printings (above), three available from Diamond (Diamond code and barcode suffix shown in brackets) and one from a comic con:
Paolo Rivera Standard Cover (MAY100552 / 63811)
Joe Quesada 1:25 Retailer Incentive Edition (MAY100553 / 63821)
Joe Quesada 1:100 Sketch Edition (MAY100554 / 63831)
Toronto Fan Expo Variant Edition
Above, in a flash-back, Peter has second thoughts about marrying MJ...then events take a turn when Spider-Man is knocked unconscious saving a criminal on their wedding day: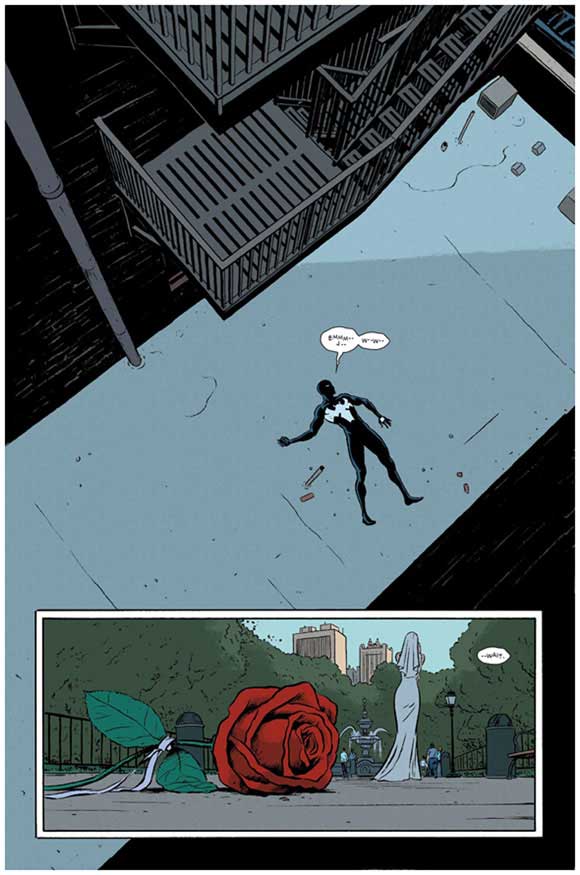 The second printing featured here (Diamond code: JUN108051 / barcode suffix: 63841) was meant to be in shops by August 25, 2010 but this did not seem to happen and there seems to be conflicting reports around what actually occurred.
Anecdotally it was suggested that the second printing was abandoned/recalled as a bad idea: The "O" on the cover was meant to be the first of three with the "M", "I" and "T" to follow possibly as second prints to each of the four issues in the storyline. (Note: O.M.I.T. spells out the initials of the storyline and is also a reference to how Parker's and Watson's wedding was OMITted from the continuity, according to Quesada).
Another explanation (from multiple sources but likely originating from Chuck Rozanski of Mile High Comics) was that there was a truck wreck where most of the second prints were destroyed with only around 800 surviving, which were liquidated later by Diamond with one dealer buying the lot (and Chuck apparently bought some from him). Note that copies (likely a small number) also seem to have made it across to the pond to the UK but Marvel did not print more copies of the second print for the North American market.

In mid-October 2019, the CGC census had 71 recorded gradings for ASM #638 "Second Printing" with 1 in the top grade of 9.9 (mint minus).