TMNT Color Special 2009
Error Edition
Mirage Studios, November 2009.

Rare
This comic was produced as a one-off special in 2009 for the 25th anniversary of Teenage Mutant Ninja Turtles #1, costing $3.25. The original TMNT #1 (1984) was produced in black and white by Kevin Eastman and Peter Laird, however, this edition was colored by long time Mirage colorist Steve Lavigne (the cover by Peter Laird is also colored by Lavigne).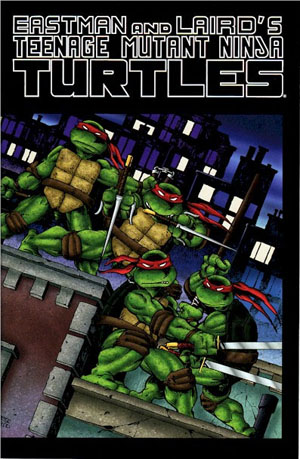 Unfortunately, the initial print of the comic (ref: SEP090918F) was apparently subject to a destroy notice on the day of release and a second print run sent almost immediately.
The first, obvious, problem with the initial print is that the inner cover page, including the credits and forward, were printed in a bold font making them difficult to read. Another problem was with a grey hatch pattern seen in the interior page margins of some of the comics. Both problems were resolved in the second print run and the inner covers from both prints can be seen below: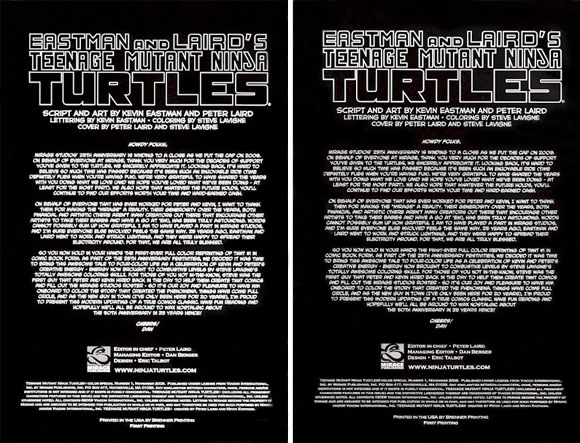 The hatching pattern, seen on some of the erroneous comics, is shown below (note: this is also visible from the side of the comic when closed):-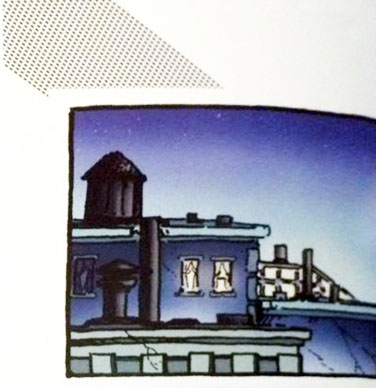 Although the initial erroneous print run was thought to be around 1,000 copies, it is not known how many comic shops actually obeyed the destroy notice. In fact it is unlikely that many did, hence there are expected to be well over 700 of these issues at large.

Above is a sample CGC label, which denotes this as an "Error Edition" and details the hatching error but not the bold font differences.
Related comics: