No Quarter #0
Zenescope Entertainment, February 2009.
NYCC Edition

Rare
Cover A

Rare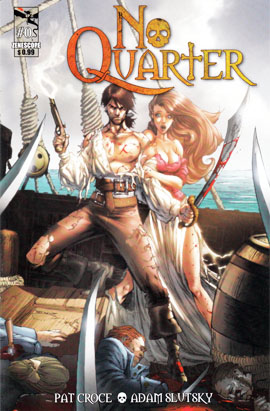 There has been a little confusion over this comic book with some eBay sellers claiming #0 was recalled, however, there appears to be no firm evidence of this. What is clear is that Zenescope Entertainment and No Quarter Entertainment decided to cancel the launch of No Quarter #1 (due for release in June 2009) in April 2009 (presumably over some disagreement).

"We feel bad that we let our fans down a bit after promoting the release and getting some great feedback but unfortunately sometimes the unexpected occurs." said Zenescope Executive VP, Ralph Tedesco "We do wish No Quarter Entertainment luck with their future endeavors and hopefully the book will be published at some point, even if it's not under the Zenescope label."

There are two variants of #0, both dated February 2009: Firstly we have the NYCC variant, given away at the New York Comic Con in February 6-8 in 2009. The print run is actually stated within the comic itself: "Limited to 1,000". Pat Croce was interviewed at the NYCC and there was no hint of a cancellation of the series at that moment hence it is assumed that all 1,000 made it into the market.
The other cover variant, priced at $.99 is more interesting: it seems to be have been given away with other Zenescope orders: "And every order will also receive a FREE preview issue of Zenescope's upcoming series NO QUARTER! " and may also have been for sale as a separate item as well (Diamond code MAR094503), which will have been available very close to the cancellation date of #1 hence could have been withdrawn from sale. In any case this seems to be the rarer of the two issues but there is no real data on the print run to verify this.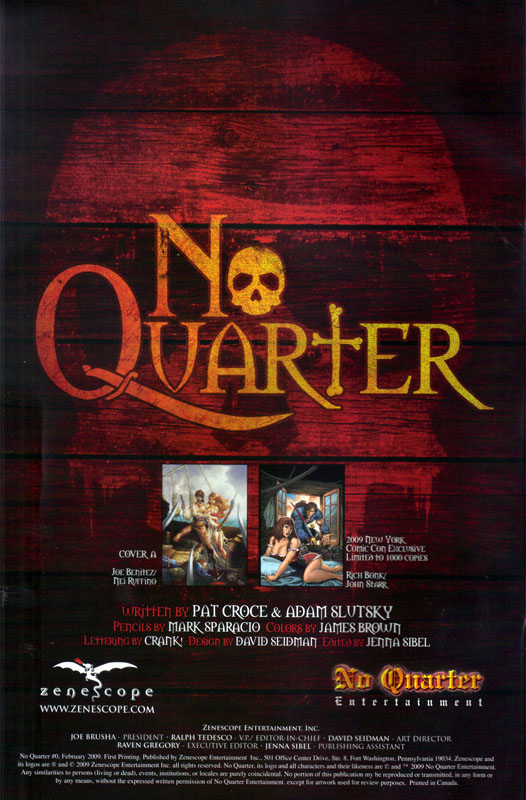 Only a handful of these comics are CGC graded and prices on these are fairly erratic with a number of fixed price listings going unsold (and others going for a range of prices).