Howard The Duck #15
Error Variant
Marvel Comics, August 1977.

Rare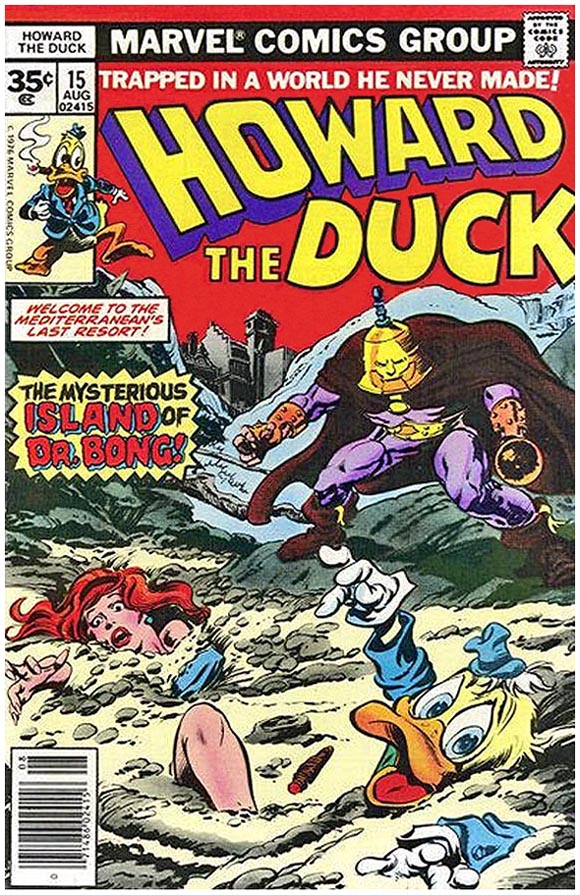 This issue of Howard the Duck, with a Steve Gerber story and art by Gene Colon, features the 1st appearance of genius scientist and supervillain Doctor Bong (in cameo and on the cover) who wears a bell-shaped helmet that "creates a number of effects when struck".

The error variant of the issue has four pages where the plates for the magenta and yellow were hung on the wrong cylinders. Below is a panel from the error edition with a magenta beach and panels from the corrected edition and a re-print, both with a yellow beach:

An advertisement for Godzilla #1 on another page has a purple Godzilla with the corrected edition showing the monster back to his usual self: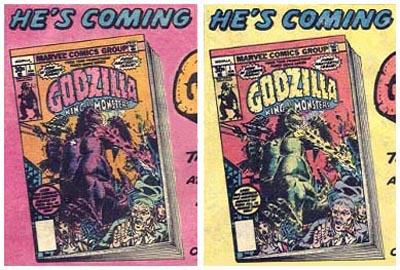 There are at least 5 print variants of Howard the Duck #15:
30¢ US Newstand Variant
30¢ US Newstand Variant with Mark Jeweler Advertisement Insert
35¢ US Newstand Regional Test Price Variant
30¢ US Direct Variant (Diamond price box and barcode) - unverified but #13 certainly exists and #15 thought to exist
12p UK Variant - known to exist in numbers
Anecdotal evidence suggests that the variant with the highest print run is printed first, which would be the 30¢ Newstand Variant. However, the error seems to be on most, if not all, of the 35¢ copies, indicating that these were likely printed first and the error was then corrected. The error may also be found on some of the other variants and once more evidence comes to light this page will be updated.