Superman Volume 2 #166
No Foil Error ?
DC Comics, March 2001.

Super-Rare!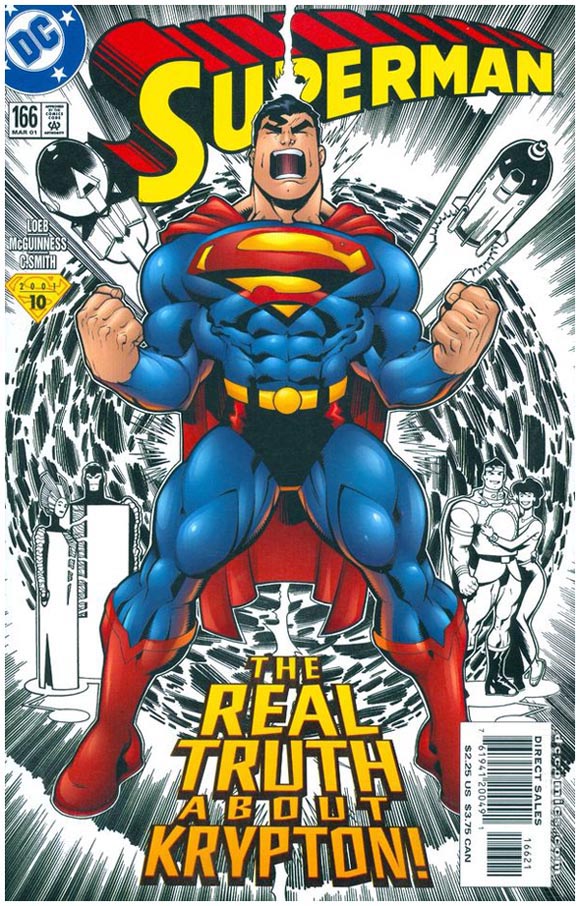 These are either early pre-press proofs, used internally by DC for quality checking of the content of the comic prior to the full print run, or they could be error comics, produced without the holochrome.
The standard edition of the comic has a mostly orange and green background; the holofoil edition has a reflective silver/grey background with a hint of blue, whereas the error edition is a much less reflective white so should be reasonably easy to spot.

Above and below are comparisons of the holochrome and error edition taken at an angle to show the coloration and difference in reflectivity.

Only a small handful of around five of these comics have come to light so far indicating this was not a common error at all hence it is likely they have either slipped through the quality control process (if they are in fact error copies); regardless of what they are (error copies or early proof copies) they were certainly never meant to make it into the public domain.
In mid March 2015, CGC had graded 61 Holochrome editions in total but it is hard to establish which are lacking the Holochrome as CGC had graded at least one of these on an old "Modern" label, indicating the fault; there are also two recorded gradings on green labels but they could be unwitnessed signatures.
In terms of pricing, there are no recent realized sales so there is very little to go on, hence the guide price is not reliable!