Witchblade #76 / Wanted #4
SDCC Error Edition
Top Cow Productions, July 2004.

Rare
Exclusive cover editions of both Witchblade #76 and Wanted #4 were produced for the 35th annual San Diego Comic Con in 2004 (from July 21st to 25th). Unfortunately a number of issues of Wanted #4 were produced with the outer cover art off Witchblade #76 (the inside cover and content was from Wanted #4). The plan was to produce 1,250 copies of Wanted #4 and 100 numbered copies of Witchblade #76 for the event but it appears that more than 100 copies of the hybrid comic were produced.
With manufacturing errors of this nature CGC always list the visible comic as the primary comic hence, in this case, the CGC title will be Witchblade #76 and beneath this it will state "Manufactured with Wanted #4 on the interior" on a green "qualified" label. This is regardless of the actual error, which in this case seems to have been Wanted #4 manufactured with the cover art from Witchblade #76!
These comics are fairly cheap and there are usually one or two on eBay which does suggest that there are quite a few in circulation, backing up the claim that more than 100 were produced (contrary to the "OUT OF 100" printed on the cover).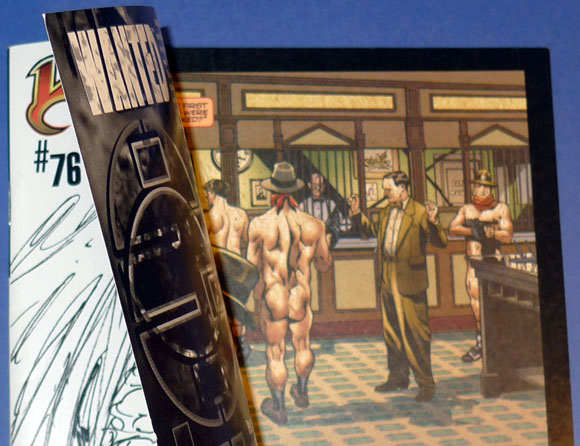 Above is the error edition showing both the Witchblade cover and Wanted interior. Below is the San Diego Comic Con exclusive cover for Wanted #4: