Bloodshot #0 Error Variants:
Valiant Comics, March 1994.
Platinum
Error Variant

Super-Rare!
Pink (Gold)
Prototype

Ultra-Rare!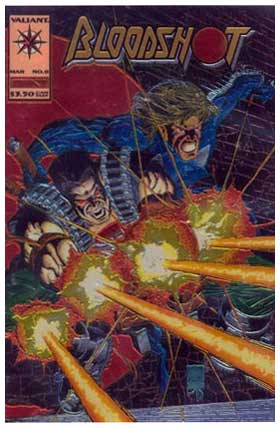 The platinum "error" version of this issue appears to be a gold edition manufactured without the additional gold ink being applied to the chromium cover graphics. Other than the omission of gold ink, this seems identical to the limited edition (5,000) gold issue, including the lack of cover price.
It is unknown whether these variants are pre-press proofs or produced in print test runs ahead of the main print run (to validate the copy before the final print run), which one source suggests would limit the print run to 25. Alternatively these could be a produced by manufacturing errors in the main print run e.g. the gold ink supply may have run out or they may have been left out from one part of the embossing process.
Over 20 have been verified as existing, with 22 registered gradings recorded on the CGC census in January 2017, with eight graded at 9.8 (the highest grade).
The Platinum Error variants don't often come to market but one sale of a top graded (9.8) CGC certified copy made over $5,000 in 2008; in December 2016, one sold on valiantfans.com for $3,100 with the difference likely down to more being discovered (hence not quite as rare as once thought) but maybe it would have gone higher if more bidders were able to participate.
The Pink (or Gold) "error" edition is more interesting as it has elements from the standard edition (the price) but also has the title color (gold) from the Gold edition. CGC note this as a Gold printing error, manufactured with a pink logo. This is apparently an early pre-press proof (essentially a one-off prototype) for the Gold edition, the design for which was altered for the main print run (embossing the logo and removing the price). Note that it's status as a one-of-a-kind prototype was apparently confirmed as authentic a long while back from a source directly involved with the comic.
The comic (graded CGC 9.6 below) apparently sold on valiantfans.com for $5,150 in December 2016 having previously sold on eBay in April 2013 for a little more than $1,500 (not a bad investment!).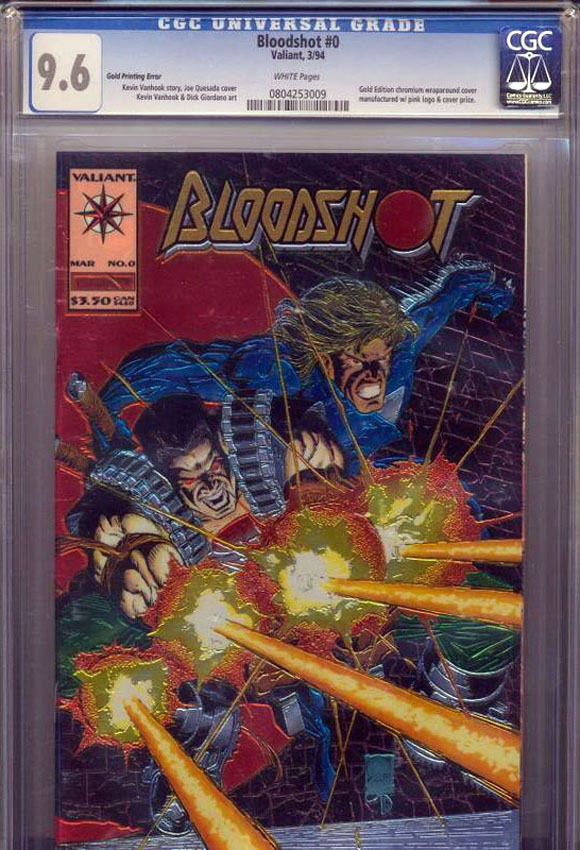 Check out the Valiant fan website for infomation on Valiant comics here: valiantfan.com