Captain America #212
35¢ Error Variant
Marvel Comics, August 1977.


Super-Rare!
Back in the late 70's Marvel produced slight variations of most comics issued for different markets and were also in the process of market testing a 5¢ price increase to 35¢ in some specific areas of the US.
The variations were in the price box at the top left and the yellow "Marvel" bar across the top of the comic cover. Captain America #212 had at least four printing variations as follows:
12p UK Price variant with MARVEL ® ALL-COLOUR COMICS bar at the top
30 cent standard copy with MARVEL ® COMICS GROUP in the bar
30 cent diamond boxed direct edition with MARVEL ® COMICS GROUP in the bar
35 cent price test copy with MARVEL ® COMICS GROUP in the bar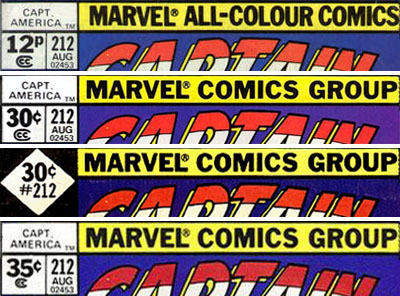 This takes us on to what looks like an error variant of the rarer 35¢ variant below:
Here the printer seems to have forgotten to add the "MARVEL ® COMICS GROUP" text to the yellow bar. These may have been initial test copies that should have been pulped by the printer but they survived and made it out to the public.
Very few of these have ever come to market and only a handful of these have been verified to exist. In December 2016 CGC listed only five gradings: a single 9.0, a single 8.5 and three at 6.0 (previously there was a 4.5 but this is assumed to have been pressed to a higher grade now); none have been added to the census for over two years.
At least one previous sale of a lower grade copy had exceeded $4,000 and, with so few of these in existence, prices of these will likely remain high and may fluctuate wildly from guide (especially if a 9.4/NM or higher grade copy was ever found).