Conan and the Demons of Khitai #3
Nude Advert Issue (1st Print)
Dark Horse Comics, December 2005.

Common
When Tony Harris joined Dark Horse's artistic team for Conan he apparently submitted a nude cover for Conan #24 as an "in-joke between artist and editor". However, the then editor Scott Allie elected to use the nude cover as an advert for Conan #24 in Conan and the Demons of Khitai #3, which apparently displeased some comic store owners (there had been previous, but infrequent, nude imagery in Conan that had also been a cause of complaint so this is nothing new).
To pander to the sensitive retailers (whose primary concern appears to be a minors that may get hold of these issues), Dark Horse apparently made Conan and the Demons of Khitai #3 returnable with a replacement issue, denoted with "second printing" inside the front cover, showing the same female with some skimpy lingerie. The second print also used different colors for the logo: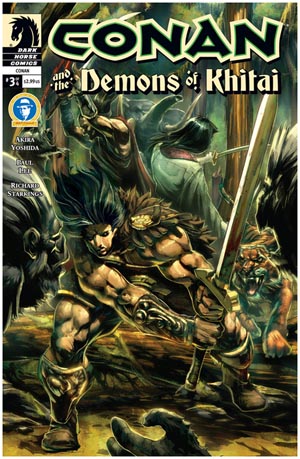 Conan #24 went on sale with the non-nude cover, however, Dark Horse seems to have seized the moment and put out a limited edition (4,000 copies) of Conan #24 with the nude cover, delivered shrink-wrapped in black plastic!
In retrospect, this fairly tame nude image pales into insignificance compared to the severe violence in these issues:
WARNING:Clicking the image below will put the underwear back on!