Lady Death: Nightmare Symphony #1 Artgerm Cover Variants
Coffin Comics, published date: November 2018 (full color, 48 pages).
Metal Legend

Super-Rare!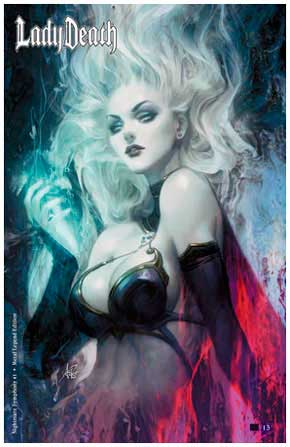 Legend Edition

Super-Rare!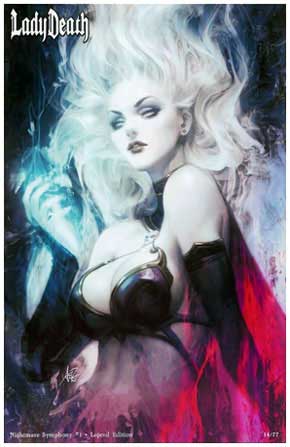 Noir Edition

Super-Rare!
Virgin Foil

Super-Rare!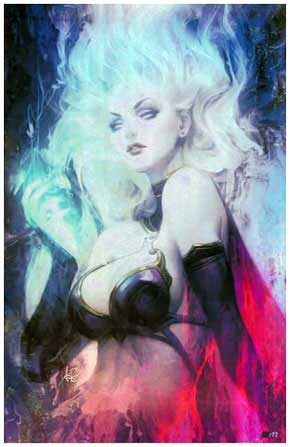 Lady Death and the Hellraiders are headed to Earth to fend off the extinction level villainy of The Sect and The Trinity, and certainly we will get to that crucial story, but first let's delve back into the past, before Lady Death's "Cursed Sleep" began two decades ago and discover what occurred during a rare peaceful moment in the Lady's undead life...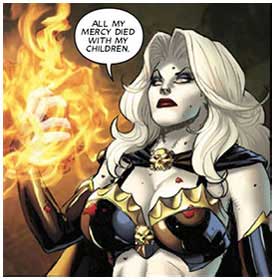 Witness the deepest darkest secrets of Lady Death's doomed romance with Ravenheart, the birth and abduction of her beloved children by villains most foul, and behold Lady Death's wrath unleashed like never before. Featuring the epic villainy of Séance and the return of an isidious foe determined to rob Lady Death of any happiness. When all hope is lost, all that remains is death.
This comic was written by Brian Pulido and Mike MacLean with interior art by Anthony Spay. The comic was funded via kickstarter.com with many levels of reward, dependent on pledge levels. There was also a chance to win one of ten golden tickets for a rare metal variant of the Artgerm (Stanley Lau) cover, which was limited to 13 copies:

With 63 backers the reward was marked as sold out.
In June 2019, CGC had the following gradings recorded in their census for the Artgerm variants:
Metal Legend Edition: 2 gradings (1 in the highest grade of 9.9)
Legend Edition: 17 gradings (2 in the highest grade of 9.9)
Noir Edition: 17 gradings (16 in the highest grade of 9.8)
Legend Virgin Art Holo-Foil Edition: 10 gradings (2 in the highest grade of 9.9)
These variants are pretty hard to come by without paying a premium: Ignoring the Metal Legend Edition, CGC 9.8 graded Artgerm variants on Signature Series were usually going for well in excess of $500 in June 2019.