Ninjak #0 NYCC 2017 Variants
Valiant Entertainment, published: September 2017
Cast Photo Cover

Ultra-Rare!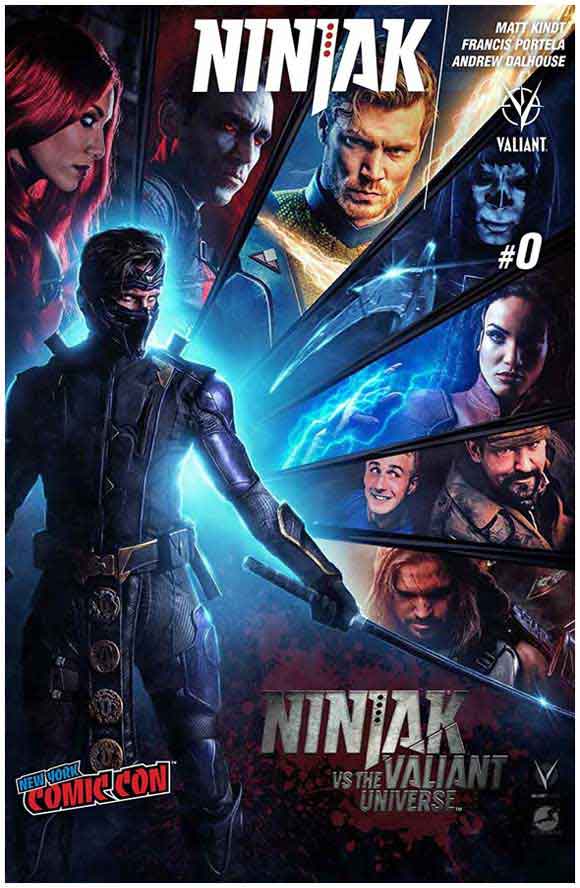 Jason David Frank Photo Cover

Rare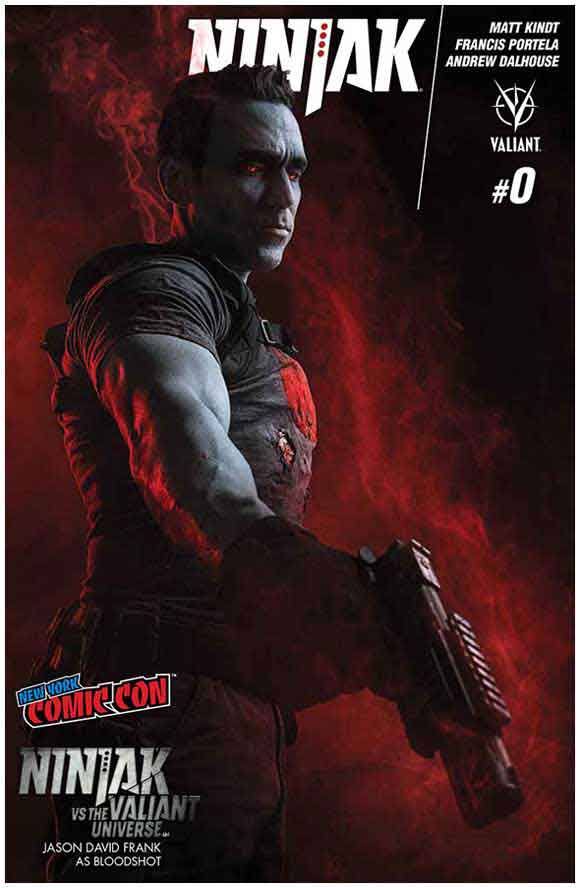 These are the NYCC photo variants of Ninjak #0 from 2017.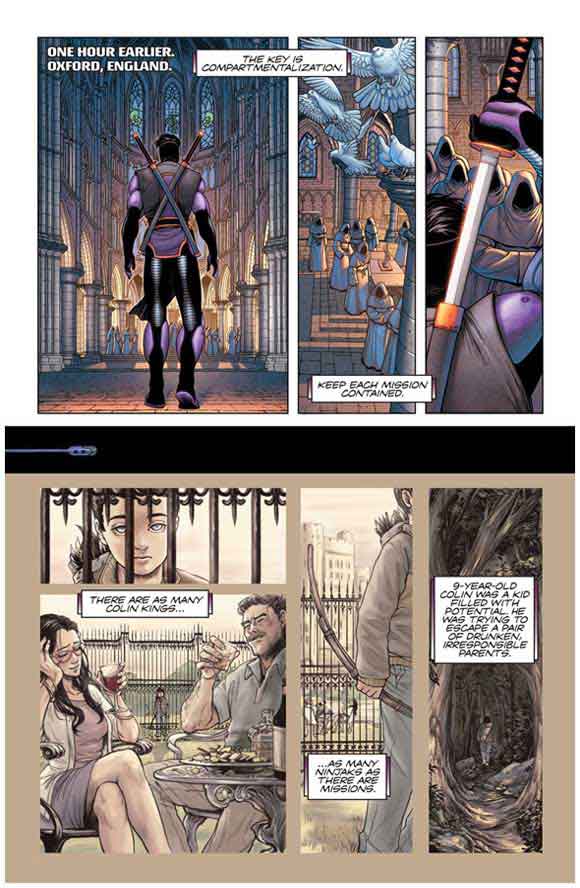 AN ALL-NEW JUMPING-ON POINT! AN EXPLOSIVE 40-PAGE MILESTONE! Ninjak's past and future – in the crosshairs!
Behind the years of training… Underneath the high-tech gadgetry… MI-6's most experienced operative is still flesh and blood. So just how is a mortal man like Colin King able to survive in a world filled with telekinetic psiots, eternal warriors, and sentient suits of alien armor? The key to Ninjak's survival is buried deep in the past…and today, the world's most dreaded super-spy prepares to reveal his most closely guarded secrets!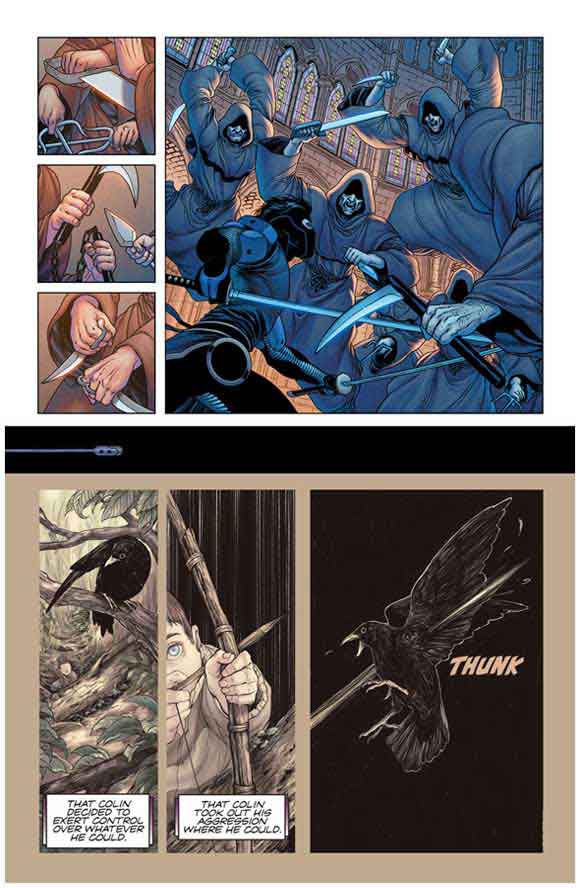 FIRST: Superstar writer Matt Kindt concludes his masterful, record- setting run alongside fan-favorite artist Francis Portela (FAITH) and an all-star cast of special guests with an essential and revelatory tale of Ninjak's deadly beginnings!
THEN: The gauntlet is passed to acclaimed writer Christos Gage (Netflix's Daredevil) and blockbuster artist Tomas Giorello (X-O MANOWAR) as they prepare a startling introduction to Colin King's next mission with a shocking prelude to NINJA-K #1, a riveting new ongoing series beginning in November!!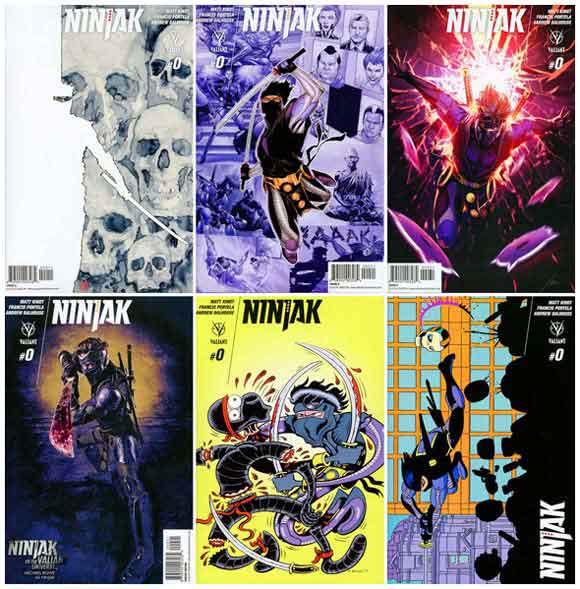 Above are the various editions available from Diamond (Diamond code / barcode suffix):
JUL172260/00011: Regular David Mack Cover
JUL172261/00021: Clayton Henry Cover
JUL172262/00031: Yama Orce Cover
JUL172263/00041: Ninjak Vs The Valiant Universe Cover
JUL172264/00051: Peter Bagge Variant Cover
JUL172265/00061: Javier Pulido Variant Cover
Below is the Most Good Hobby variant: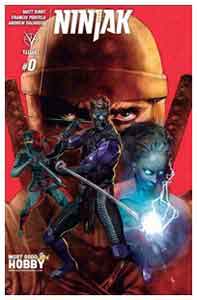 These variants were meant to be given away at the 2017 New York Comic Con with the Jason David Frank Variant given away at his signing on the Friday, October 6th (one per attendee, whilst supplies last) and the Cast variant given away the next during the cast signing at the Valiant booth #1635 (again, one per attendee whilst supplies last).
However, legend has it that the Ninjak vs. the Valiant Universe Cast Photo Cover variants were destroyed hence the variant remained "unreleased" but a small number of them seem to have survived (the Valiant fan site suggests 3-10, which could be file or complimentary copies and there may be more out there).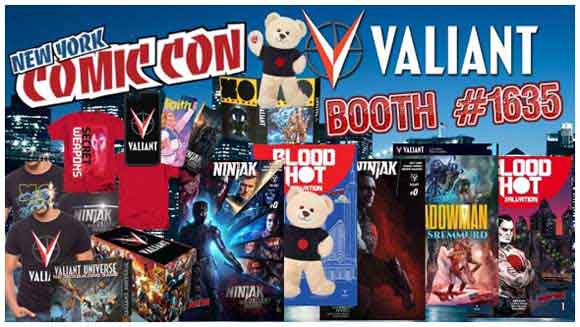 Note that the Jason David Frank Photo Cover had already been used before for the cover of Bloodshot's Day Off #1 (July 2017) for the Jason David Frank photo variant. The cover from the NYCC Ninjak vs. the Valiant Universe Cast Photo Cover was later re-used for Ninjak vs. the Valiant Universe #1 Cast Photo Cover (Cover C), published in January 2018.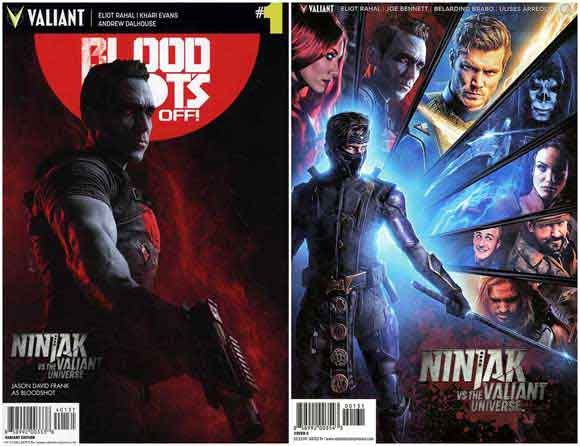 In late February 2022, the CGC census recorded five gradings of the "New York Comic Con Edition" (Jason David Frank Photo Cover) with two in the top grade of 9.8 (near mint/mint) and three gradings of the "New York Comic Con Edition B" (Ninjak vs. the Valiant Universe Cast Photo Cover) with one in the top grade of 9.8. At that same time, the CBCS Population report recorded zero gradings for both variants.