Maxx 1/2 Red and Blue Foil Prototypes
Image Comics / Wizard Comics, June 1993.
Red Foil Variant

Ultra-Rare!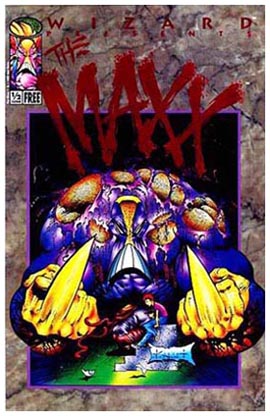 Blue Foil Variant

Ultra-Rare!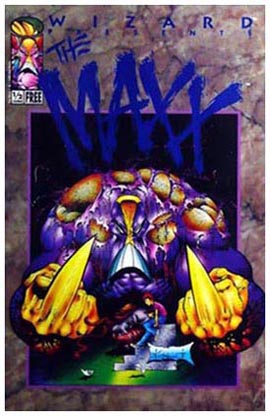 These seem to be pre-press proofs for testing the colors for the foil stamping on the title and apparently only 10 red and 10 blue were produced at the time. It is also possible that gold and purple test prints also exist but, as both purple and gold were actually produced and distributed in numbers, they may be no different from the copies that were circulated.
At least some of the red and blue test printing copies were up for sale on Wizard's web site for $49.99 each and, whilst it is not known how many of the print run were for sale thru the website, one discerning collector seems to have bought 6 blue and 2 red before they sold out.
At the time of writing, in December 2014, CGC had recorded 6 gradings of the blue foil variant and 2 of the red in their census. CGC designate these comics as "Wizard test printing" on their labels (below) and also note the foil color:

Prices have varied over time for these: in 2011 a CGC 9.4 apparently sold for around $1,300, in 2012 a CGC 9.6 sold for a bargain $431 and in 2014 a CGC 9.4 sold for a cent under $1,000.
If the single CGC 9.8 copy (one of the blue foil variants) ever came up for sale it is certainly possible it could make more that $2,000, which would be a pretty big return on the original $49.99 outlay!