Superman #409:
Superhombre logo variant
DC Comics, July 1985.

Ultra-Rare!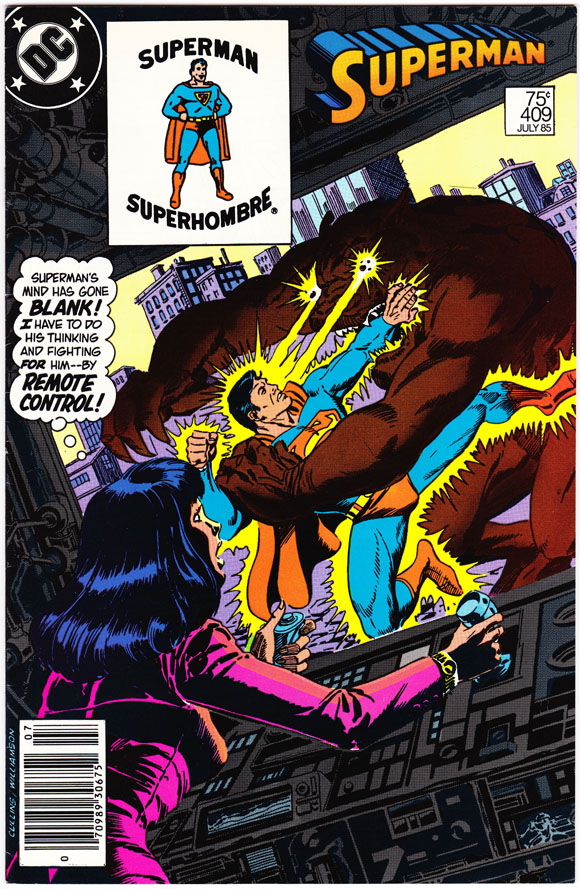 This is an ashcan variant produced simply for legal reasons to perpetuate the Superhombre trade mark. Guides list this variant as having "No reported sales" and CGC list it as a "Logo Variant" (and they also note "Superhombre logo" on the CGC label).
Back in August 1944, Detective Comics Inc. applied for a trademark on the Superman Superhombre logo, complete with the ashcan comic specimen below:
The trademark was registered on February 6, 1945, but was never used on its own title. However, the logo did appear again in 1963 on the cover of Adventure Comics #304, just below the DC logo (below) and may be present on other comics also.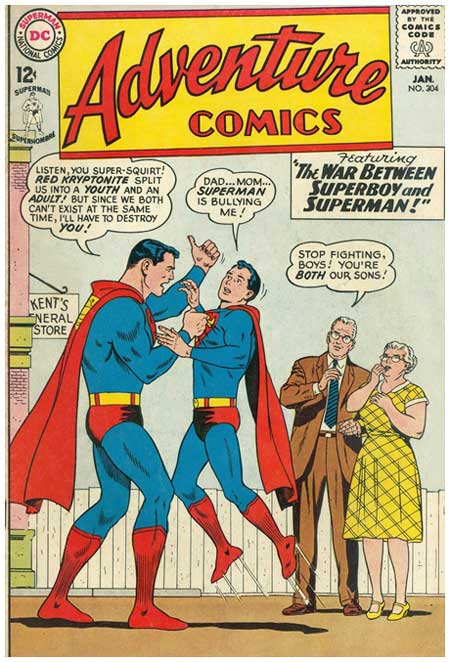 The trademark was renewed in 1985 for a fee of $300 (plus a late filing fee of $100); included in the renewal was a "specimen of the mark currently used", which is very likely to have been the Superman #409 Superhombre logo Variant.
Looking at the two covers for #409, the Superhombre variant seems to have a slightly different finish to the artwork (probably earlier) with the monitor screen display being more distinct whereas the normal cover is less distinct, stylized in the manner of a poor monitor display. The DC logo is in red on the standard edition but black on the Superhombre variant; the variant also lacks the comic code authority stamp and is priced only in cents. Lois has also dyed her hair lighter and changed the color of her outfit for the standard cover.
Other than front cover differences, the Superhombre variant seems identically to the standard edition, including the indicia.
The CGC census shows only five of these logo variants (three at 9.6, one at 9.4 and a restored 9.2). Given their rarity and lack of recent sales, it is almost impossible to predict their value today; the highest know sale was in 2014 for a CGC 9.6 graded copy for somewhere in the region of $2,000.
Superman Superhombre logo history, key dates:
1942-09-08: Detective Comics claims first use in commerce (in 1944 application).
1944-08-26: Application for trademark filed (assumed with original 1944 ashcan)
1945-02-06: Trademark registered
1962 (late): Adventure Comics #304 (published date 1/63) distributed with logo
1985-04-05: Trademark renewal received (assumed with Superman #409 Superhombre logo specimen)
2009-08-14: Trademark cancelled (no declaration received).
Note that, although the Superman Superhombre trademark was not used in its own comic, Superhombre on its own was used in place of Superman in Spanish language comics like the one below: