Star Wars Galaxy's Edge #1 Imagineering Concept Art Variant
Marvel, June 2019.

Super-Rare!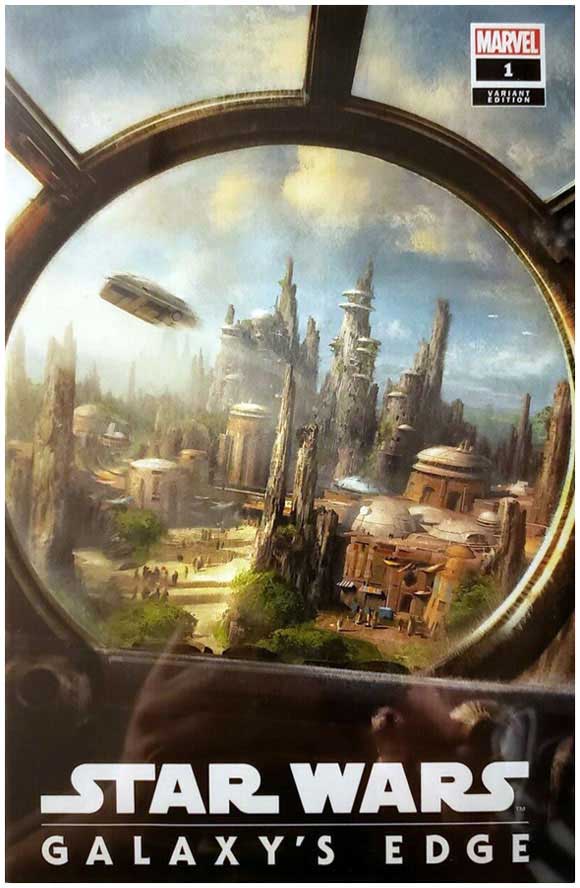 Star Wars: Galaxy's Edge was a five part mini-series that tied in with the opening of the Star Wars area of the same name at Disney theme parks in both California and Florida.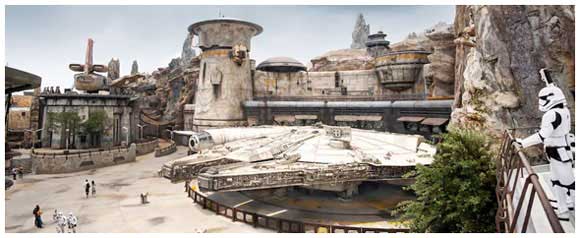 A CALL TO ADVENTURE ON THE VERY EDGE OF THE GALAXY!
BLACK SPIRE OUTPOST has long been frequented by smugglers, merchants and travelers from every corner of the galaxy looking to make their score on the infamous black market - or experience the exotic thrills only the remote world of Batuu has to offer. Beings like the infamous DOK-ONDAR, a proprietor of rare and one-of-a-kind antiquities, thrive on the unique opportunities which abound on the lawless outpost at the very edge of Wild Space! But the evil FIRST ORDER has come to Batuu and the survival of the entire outpost is at stake! The road to Black Spire's possible salvation might begin in the past...with a job HAN SOLO and his partner CHEWBACCA pulled for Dok-Ondar.
The newest chapter of the growing Star Wars saga begins this April with ETHAN SACKS (OLD MAN HAWKEYE) AND WILL SLINEY'S (BEN REILLY: SCARLET SPIDER, SOLO: A STAR WARS STORY) GALAXY'S EDGE - the riveting comic adventure tie-in to the theme park.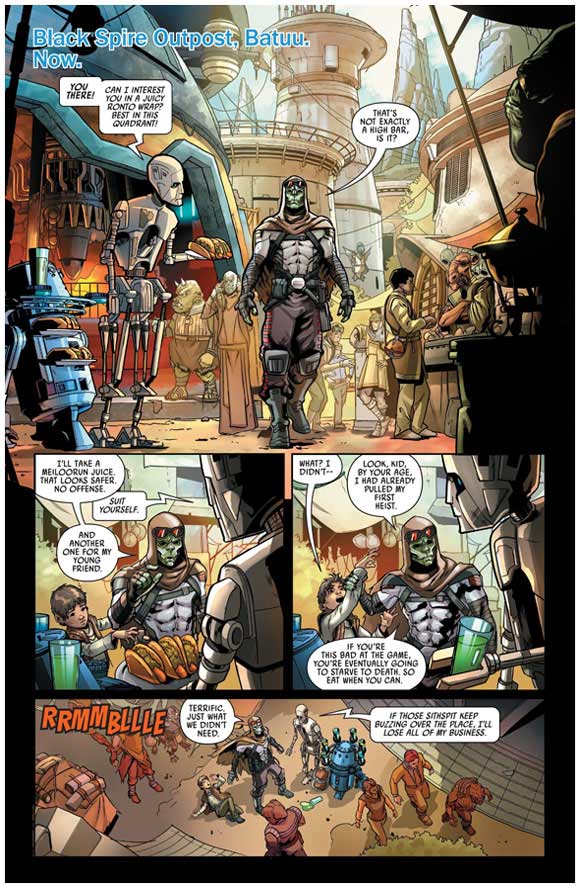 This issue was written by Ethan Sacks with interior art by Will Sliney.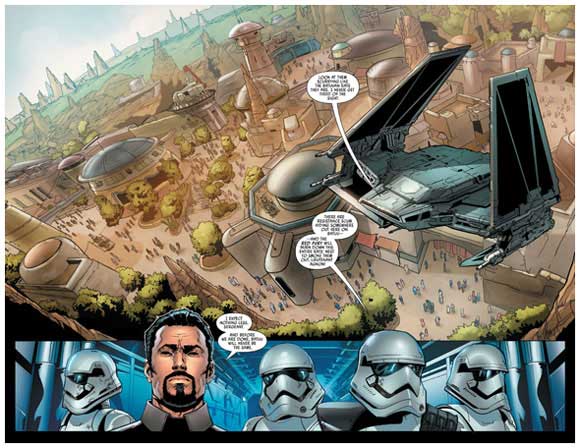 Diamond distributed four different first print editions: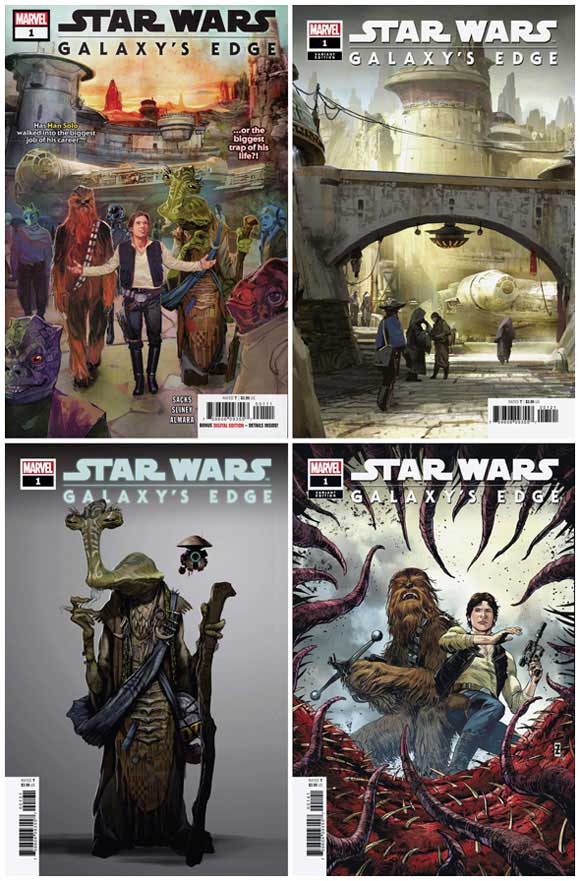 From left to right, top to bottom they are (prefix by their Diamond code and barcode suffix:
FEB190943 / 00111: Regular Rod Reis cover
FEB190945 / 00121: Richard Lim Attraction variant
FEB190946 / 00131: Karl Lindberg & Ian McCaig 1:25 Incentive Concept Art Variant
FEB190944 / 00141: Patrick Zircher Variant Cover
Below are the second and third print variants, with covers by Will Sliney: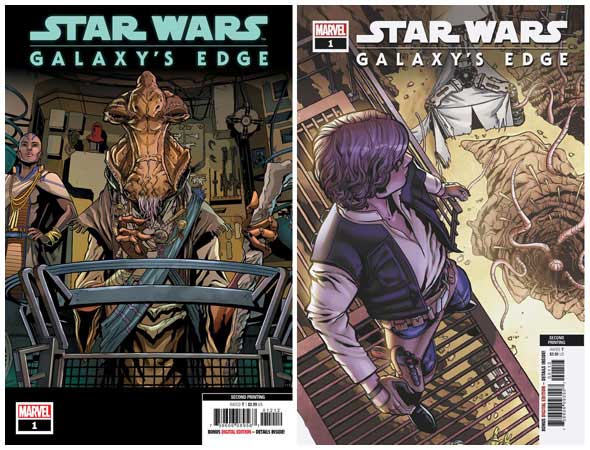 The variant featured here is the "Imagineering" Concept Art edition, which was apparently given out to select Disney staff involved with the development of the Galaxy's Edge theme park area. Note that the issue had a barcode of 7-59606-09355-7-00151 and is a first print, with a publication date of June 2019.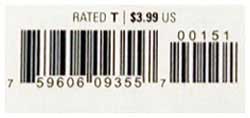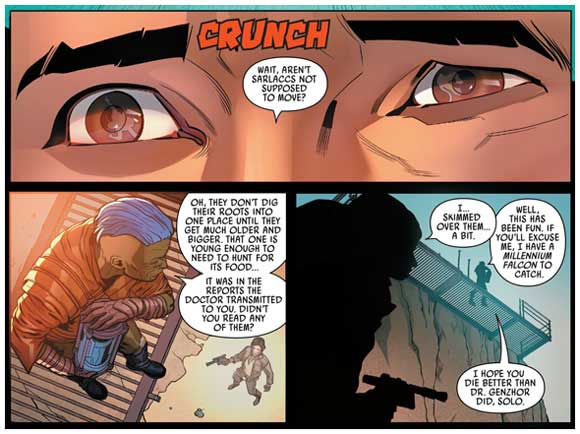 At the time of writing (early November 2020), CGC recorded five gradings of the "Concept Art Edition" (not to be confused with the "Lindberg Variant Cover" that Diamond promoted as a Concept Art Variant!) with five grading 9.8 and one grading 9.0. At that same time, CBCS did not have any recorded in their population report.

Initially copies of these rare variants were going for under $250 but have now jumped beyond $1,500 and a CGC 9.8 seemingly sold on ebay in mid-2020 for just over $4,000!