Star Wars: Vader Down #1
Zdarsky 1:4,999 Variant
Diamond Code: SEP150827 ; In Shops: 2015-11-18 ; SRP: $4.99.

Barcode: 75960608368 00154 ; Marvel Comics, January 2016.

Super-Rare!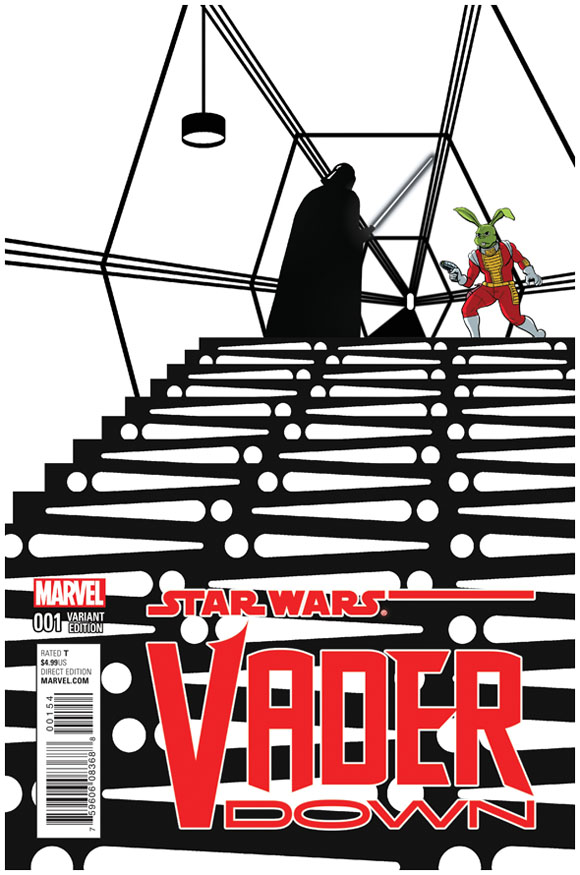 This is the 1 in 4,999 (!) retailer incentive variant, with a mostly black and white cover by Chip Zdarsky, featuring Vader and Jaxxon. Rumour has it that it was produced to parody DC comics who had promoted a 1 in 5,000 retailer incentive variant of Dark Knight III: The Master Race #1. Vader Down made it to retailers first, a week before Dark Knight III, with many variants, including a full color Zdarsky variant.
At the beginning of December 2015, around 16 copies of the 1:4999 variant had been available for sale (note: at least one may have been for sale more than once):
Wonderworld Comics: ebay showing one sold for $3999.99 (Nov-16 2015).
cmixer: ebay showing one sale for $2,000 (Nov-24 2015; note: seller mentioned minor spine ding in listing).
Mile High Comics: ebay showing one sale for $3,739 (Nov-19 2015).
Larry's Comics: ebay showing 4 NM copies sold for $3,050 (Nov-19 2015), $3,039.89 (Nov-26 2015), $3,250 (Dec-07 2015) and $3,251,89 (Dec-12 2015) but one seems to have been sold twice (same picture).
A Place in Space (UK): had one on sale on ebay as of November 29th for £2,999 (around $4,466) or best offer.
Dynamic Forces: website showing 1 sold and 3 for sale at $3,800.
Chip Zdarsky's copy: charity auction SOLD for $4,000 CAD ($3,000 approx)
thunder_comics: ebay was showing a CGC 9.8 (#0274539001) for sale at $10,000 or best offer but the listing was removed on Dec-09 2015.
mmcomics: ebay showing a CGC 9.6 (#1000481001) sold for $3,680 (Dec-12 2015) and a NM- raw copy sold for $3,200 (Dec-25 2015).
Below is an extract from the Dynamic Forces web page showing the variant:

The exact details of the 1:4999 deal are not totally clear but it seems that retailers could combine purchases of the regular cover, variants and exclusive covers to make up the 4,999 order required to get the Zdarsky partially coloured copy. Mile High Comics certainly commissioned an exclusive edition (5,000 copies with barcode 75960608368 00144) as did Dynamic Forces (Olivier Coipel variant limited to 15,000 copies as well as a more limited "pure line art" variant), interestingly the quantities of two of those just so happen to be equally divisible by 5,000.
Below is the Mile High Comics exclusive variant and the regular DF exclusive Olivier Coipel cover variant: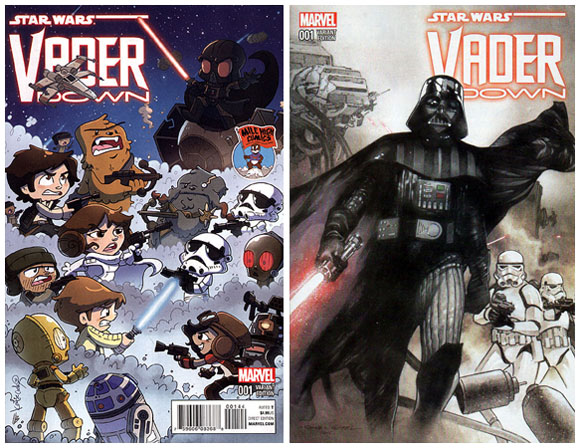 As of December 19th, the CGC registry is showing 6 gradings of the Zdarsky partial sketch variant: 3 in 9.8 and one each in 9.6, 9.4 and 9.0.
Assuming Marvel printed the 1:4999 variants to order (always a very questionable assumption!), they are incredibly rare and prices are likely to remain high especially given the success of the latest film in the series, Star Wars: The Force Awakens, generating even more interest in the ever popular space saga.