Vengeance Of Vampirella #1
Royal Blue Foil Edition
Harris Comics, June 1994.

Super-Rare!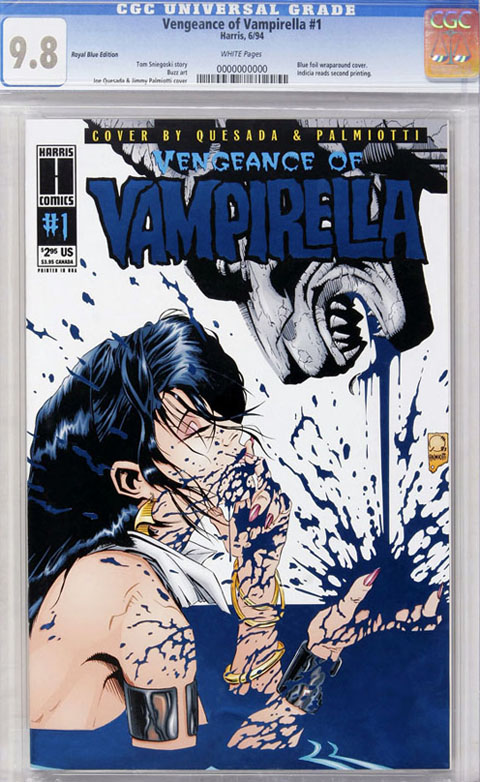 These comics were originally intended to be part of a set of second print gold foil variants but, legend has it, the printers had no gold foil at the time so produced 100 blue foil copies instead.

Harris designated these as "Royal Blue" editions to try and increase their desirability; however, it is worth noting that the Queen of England did not authorize these!

The Blue Foil variant was only available from Comic Cavalcade, for a large sum at the time, but it was popular and Harris have used the "Royal Blue" designation a number of times since for other very low print variants.

The comic, with a cover by Joe Quesada & Jimmy Palmiotti, is also available in red foil (first print), aquamarine (second print) and gold foil (limited to 500 copies).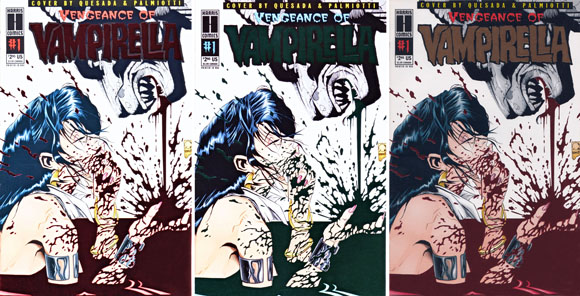 With so few sales of the Royal Blue variant it is very difficult to price but, given that it is a sought after rare item, they should sell well whenever they appear on auction sites.
Warning: Some aquamarine (second print) variants are being sold as "blue" so buy with care, the royal blue variant is blue, the standard 2nd print is green (sellers with Tritanopia may not be able to tell the difference).