Unity #1 Golden Ticket Variants
#UNITYGOLDENTICKET
Valiant, November 2013.
In November 2013 Valiant announced a "golden ticket" competition "giving fans the chance to win one of ten exclusive prize packages, including tickets to New York Comic Con 2014, courtesy of ReedPOP!". There were up to five prizes offered for anyone lucky enough to get a special one-off variant of each of the Pullbox editions of Unity #1, with the remaining prizes going to fans who wrote in to Valiant for a free entry to the promotion.

To give fans a fighting chance of getting one of these 5 special comics, Valiant hid them within the rest of the Pullbox variants that were distributed to comic shops in the USA and also let them go on sale before announcing the competition. Anecdotally, it seems that 3 Valiant collectors got hold of copies before the competition closed and claimed the prizes (it is assumed that the other 7 winners were chosen from the mail-in part of the competition).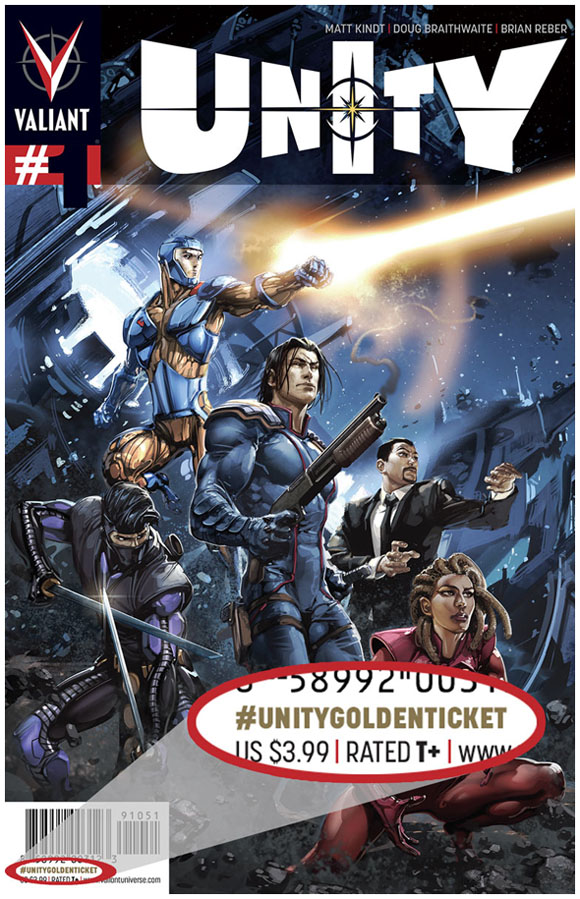 Each cover variant has a different barcode but the same barcode is used on the Pullbox Edition and its golden ticket variant. The only difference seems to be that the normal variant has PULLBOX EDITION written in the UPC box (underneath the barcode) whereas the golden ticket variant has #UNITYGOLDENTICKET in gold text written there.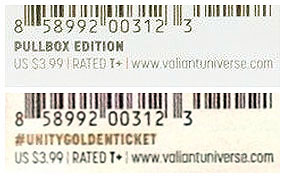 It does seem that two of these one-off variants are currently unaccounted for and, interestingly, both of these have the UPC box on the back cover (whereas the other three have the UPC on the front).
Below is the list of #UNITYGOLDENTICKET variants:
1 x Bryan Hitch variant: Status unknown.
1 x J.G. Jones variant: Prizes claimed. Graded CGC 9.4.
1 x Paolo Rivera variant: Status unknown.
1 x Travel Foreman variant: Prizes claimed. Graded CGC 9.6.
1 x Clayton Crain variant: Prizes claimed. Graded CGC 9.6.
Note that CGC identify these as "Unity Golden Ticket contest winning copy." on their labels.