TMNT #3 NYCC "White
Lairds Photo" Variant
Mirage Studios, 1985.

Rare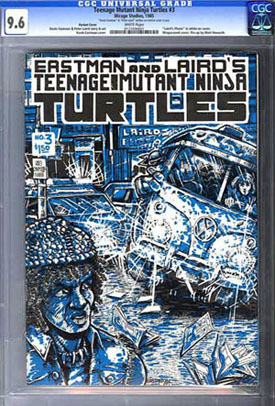 An initial print run of 500 copies of Teenage Mutant Ninja Turtles #3 was produced (ahead of the main print run) specifically for the New York Comic Con (NYCC) in 1985.
This initial variant lacked a lighter blue shade in many areas of the comic and, as a result, had many more white areas than the main print run.
The additional white areas can be seen clearly on the VW Camper Van, the road surface and on the sign for "Laird's Photo". The latter difference gave it the alternate name of the "White Laird's Photo" variant.
The low print run for the NYCC variant, combined with the continued popularity of the youthful reptilian shinobi, meant these were instant collectibles with large price tags, especially for the high grade copies.
Below are the covers of both the NYCC variant and main print run variant centered on Laird's Photo to illustrate the differences: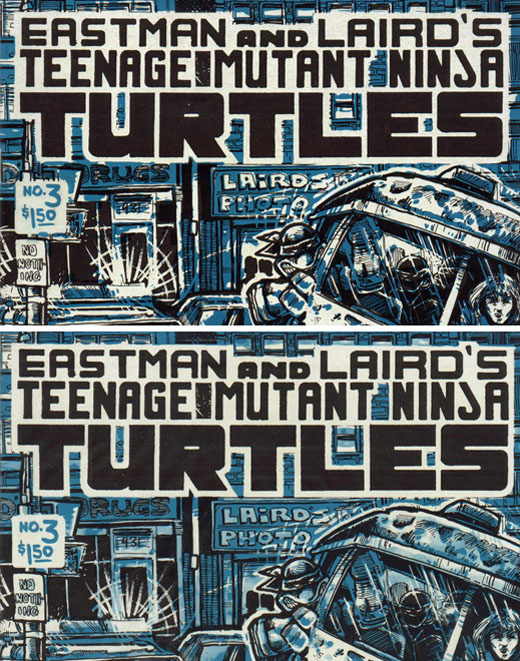 The differences were also noted in the Comics Buyer's Guide (CBG) #795, published back in February 1989: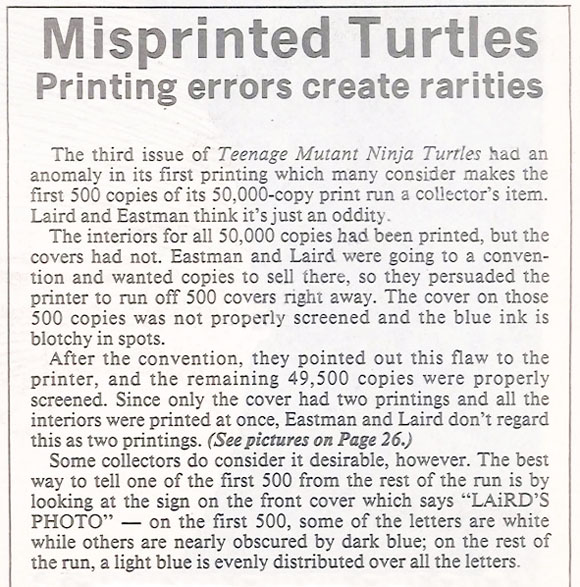 In the Fall/Autumn of 2014, 74 copies were CGC graded (16 more than the same time in 2013) with less than half grading 9.4 NM (Near Mint) or better; at the top of the census are two copies at 9.8 NM/MT (Near Mint / Mint) with one on a yellow Signature Series label.
Related comics: