Teenage Mutant Ninja Turtles v1 #1
First and Second Prints
Mirage / Eastman and Laird, 1984.
First Print
May 1984

Low Dist.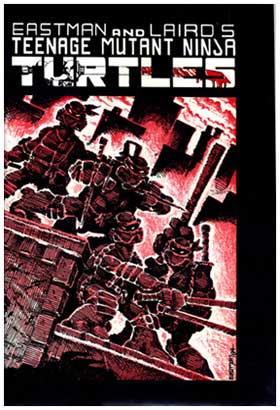 Second Print
June 1984

Low Dist.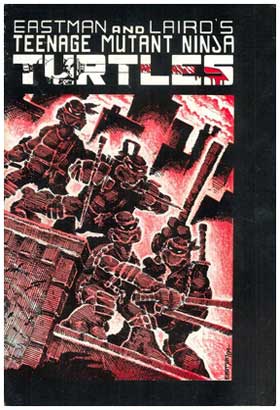 Below is the first concept sketch of all four Teenage Mutant Ninja Turtles from 1983 by Kevin Eastman (pencils) and Peter Laird (inker), who also added "Teenage Mutant" to the logo. The sketch was sold by Heritage Auctions for $71,700 in May 11, 2012.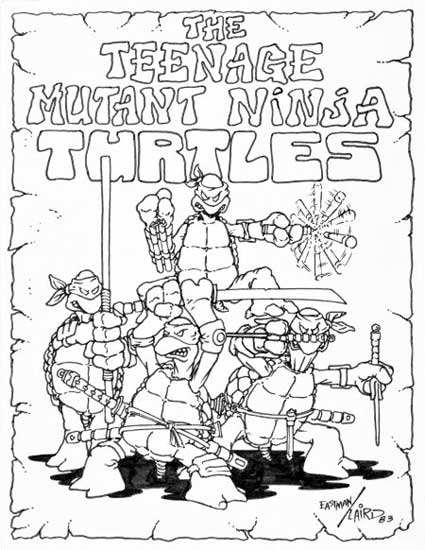 Originally promoted at the Portsmouth, New Hampshire comic show by Laird and Eastman, the first print of TMNT #1 is a rare item. The issue was an oversized black and white comic which parodied a number of popular comic books at the time, in particular Daredevil with their Ninjitsu mentor called Splinter (in DD he is Stick) and their arch-enemies the Foot clan (in DD it is the Hand).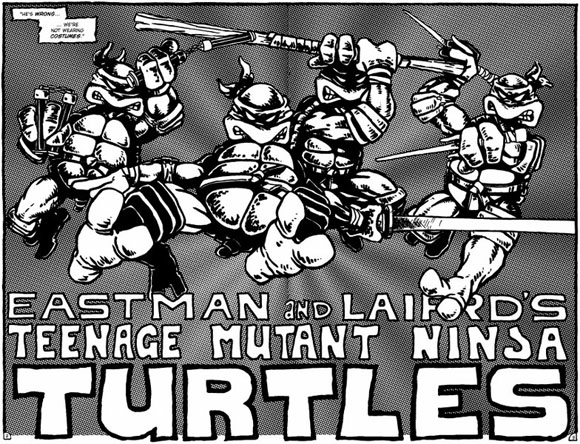 There are a number of printings of this issue, the first three being oversized issues with the same cover but with the first print having no print identifier on the inside page. The first printing also has a different advert on the inside of the back cover for Gobbledygook zines.

The buyer should beware as some 2nd and 3rd prints have been known to have their printing identifier bleached out. Note that 3rd prints have more blood in the T in the middle of Turtles; also complete forgeries do exist but tend to be on white paper instead of the original cheap newsprint.

Below is a first print, graded and encapsulated by CGC bearing the text: "Origin & 1st appearance Teenage Mutant Ninja Turtles, Splinter & Shredder".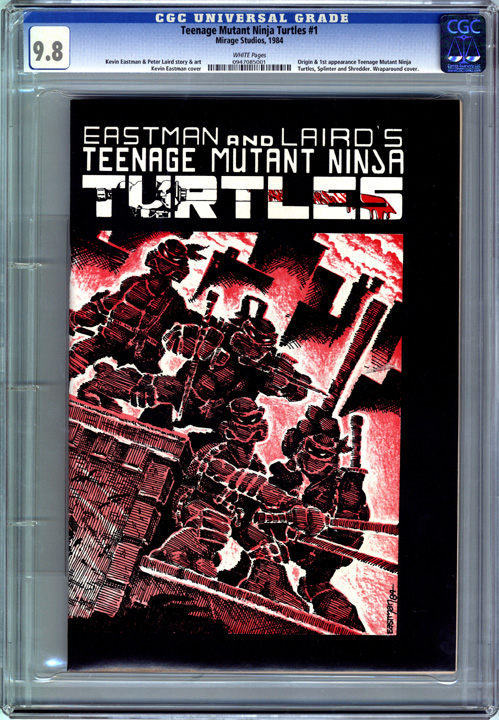 Given the very low print run of only 3,000 (plus a little more, maybe 200, to cover spoilage) on the first print and the subsequent run-away success of the concept, the surviving issues have skyrocketed in price; in 1988 the first print of #1 was already worth $160 in NM; in July 2016 a CGC 9.6 sold on ebay for $12,500 and, by the end of 2020, CGC 8.0(vf) graded copies were going for more than $16,000.

As of early October 2016, CGC had 700 recorded gradings for the first print with 24 in the top grade of 9.8. At the end of 2020, the number of recorded gradings had increased to 962 with 32 in the top grade of 9.8 (28 Universal, one Qualified and three on Signature Series).

The second print also had a low print run and is becoming more valuable as the first print gets out of reach from many collectors (CGC had 237 gradings recorded in October 2016 and by the end of 2020 this had more than doubled to 511 but only nine were in the top grade of 9.8). The third print is fairly common with 35,000 or so printed at the time but, by the end of 2020, even these were going for at least $400 in mid grades.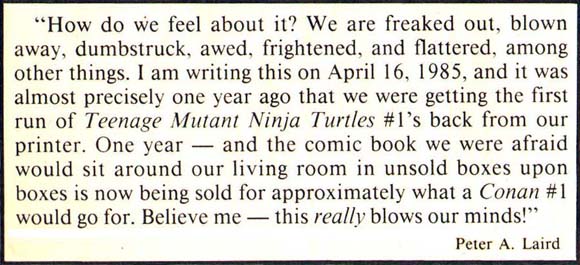 Related comics: