Alexandria Ocasio-Cortez and the Freshman Force #1 Carla Cohen "Virgin" Exclusive
Devil's Due, published date: May 2019.

Rare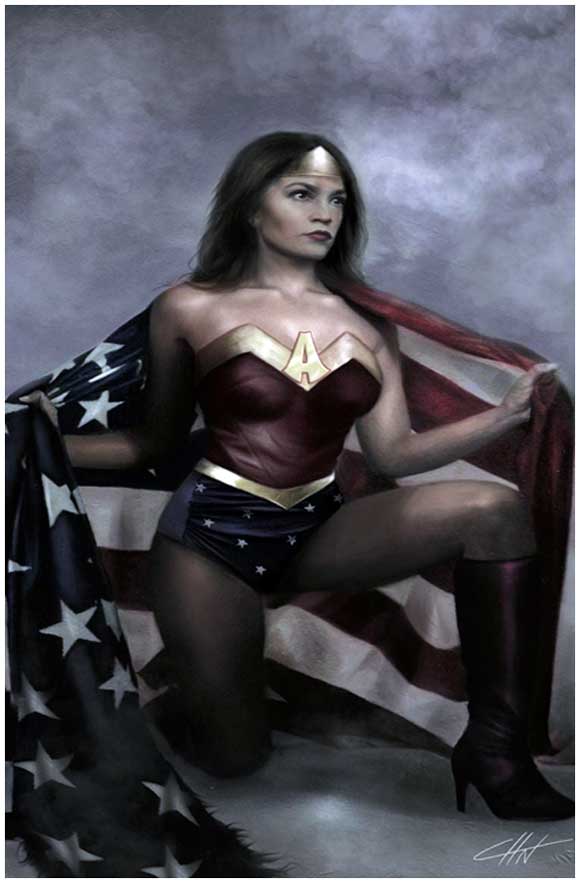 1st DCIST

Rare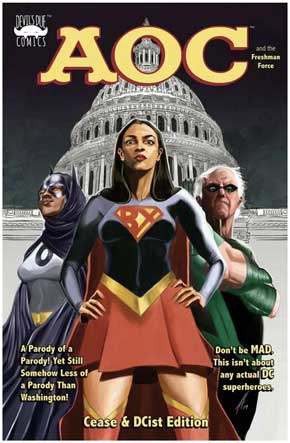 2nd DCIST

Rare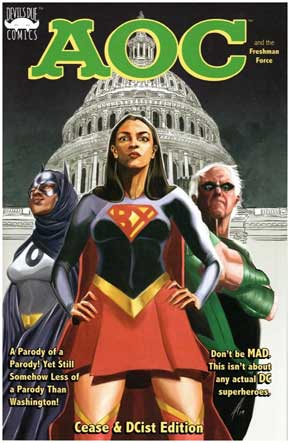 It's Alexandria Ocasio-Cortez and the "Freshmen Force" (of Congress) vs. the establishment in this all-new special! Comic creators converge to celebrate the election of the most diverse group of freshman Representatives in history, and spare no-one in this satire that takes aim at Washington. From the house that brought you Barack the Barbarian! Featuring comics from various artists and bonus activities and games.
Devil's Due originally published Alexandria Ocasio-Cortez and the Freshman Force #1 back in March 2019 with the Convention Preview Edition and Early Voter Edition. The comic then went on general release on May 5, 2019 with numerous variants being available. One variant (barcode: 9-781618-553584-90000) produced exclusively for Collector Cave and Big Time Collectibles features a Carla Cohen cover with Ocasio-Cortez (below) dressed as Wonder Woman.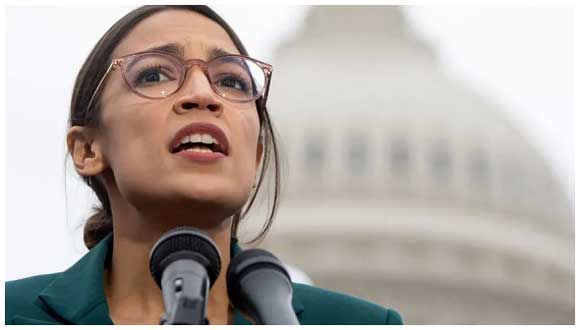 The variant cover was enough to ruffle DC's feathers and they had their lawyers send a cease and desist letter to Devil's Due asking that the comic be recalled and destroyed. However, this was too late as the "250-print run" variant was mostly sold by then.
Devil's Due publisher Josh Blaylock said in a statement: "The irony is, the cease and desist was already a moot point by the time we received it. Regardless of it being unwarranted, as a retailer exclusive, the extremely limited amount of copies were already out of our hands. I'm assuming anyone who bought one is now awaiting trial in a Hall of Justice holding cell. Thoughts and prayers."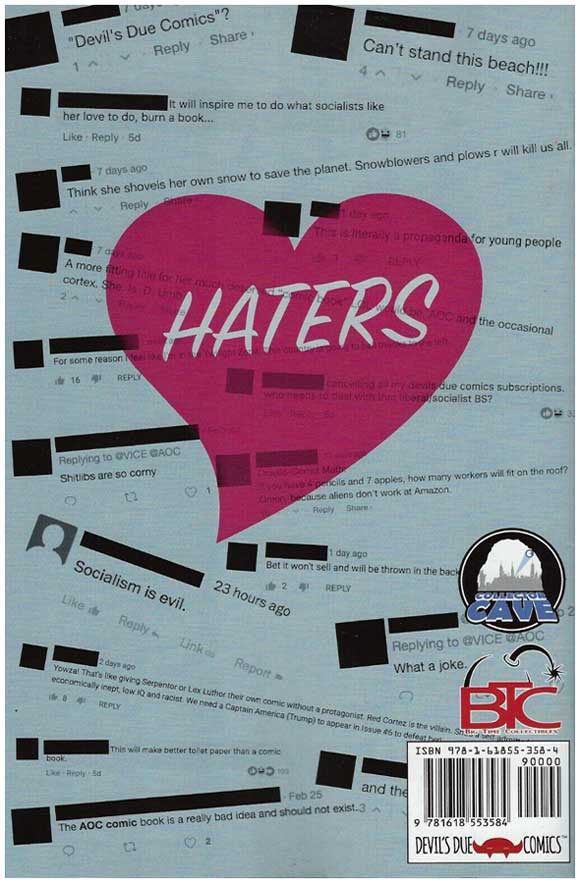 In a secondary response to the cease and desist letter, Devil's Due released a 500-print run "Cease & DCist Edition" a month later, featuring a Mad Magazine (which is published by DCs parent company Warner Bros.) and Justice League inspired cover with Ocasio-Cortez as Supergirl, Bernie Sanders as Green Lantern and Ilhan Omar as Batgirl. The first print of this variant featured a yellow AOC logo and went into a subsequent printing with a green AOC logo.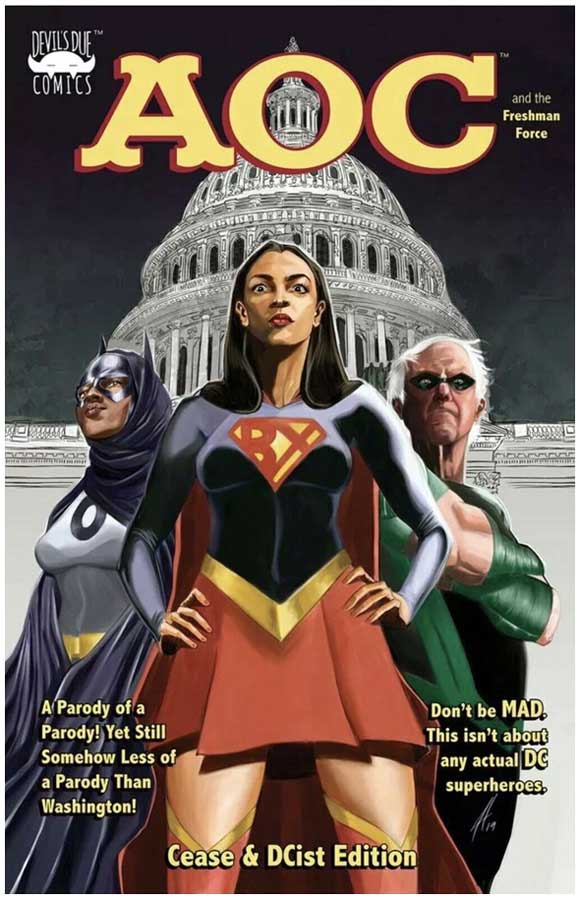 At the start of September 2019, the "Cohen Variant Cover" had 56 recorded gradings in the CGC Census with 49 in the top grade of 9.8 (near mint / mint). At that same time, the "Cease & DCist Edition" had ten recorded gradings with 90% in the top grade of 9.8.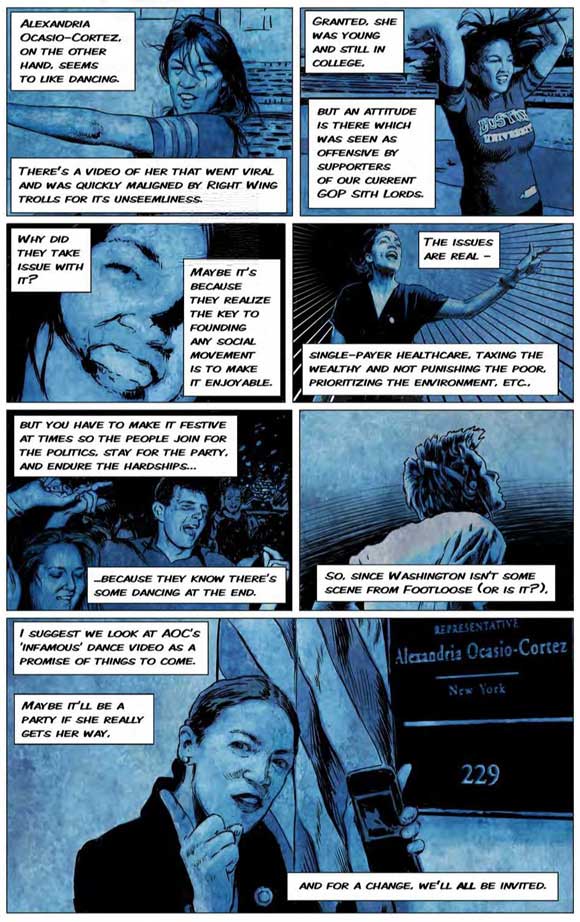 The "Virgin" variant has been making hundreds of dollars on secondary markets like ebay and the larger print run Cease & DCist Edition making a few tens of dollars.