Star Wars: The Force Awakens #1:
Quesada Variants
Marvel Comics: In Shops: 2016-06-22; Published date: July 2012.
Color 1:100
Barcode: 00131
Diamond: APR161047

Rare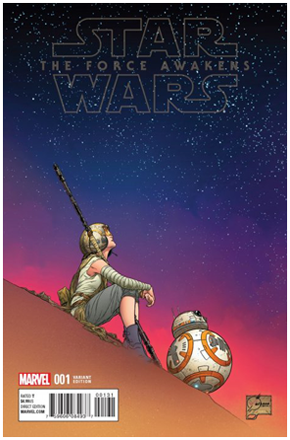 Sketch 1:200
Barcode: 00141
Diamond: APR161048

Rare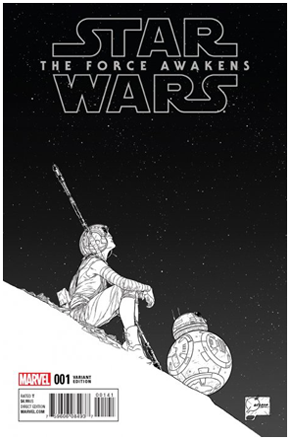 Above are the Joe Quesada retailer incentive cover variants of #1 of the comic series adaptation of the Star Wars film The Force Awakens. Below is the blurb from Marvel for #1:
It's true, all of it! The biggest movie of the year jumps from the big screen to the comic book page! It's been three decades since the Rebel Alliance destroyed the Death Star and toppled the Galactic Empire... but now, on the remote planet of Jakku...there is a stirring in the Force. A young scavenger named Rey...a deserting stormtrooper named Finn...an ace pilot name Poe...and a dark apprentice named Kylo Ren...Their lives are about to collide as the awakening begins. Written by Chuck Wendig (STAR WARS: AFTERMATH) and drawn by Luke Ross (HERCULES), take us on our first steps back into the Saga of a lifetime!

In addition to the Quesada covers, a number of others were available (above), from left to right, top to bottom, they are:
Standard cover Esad Ribic (Diamond: APR161041; Barcode suffix: 00111)
1:75 Esad Ribic sketch (Diamond: APR161043; Barcode suffix: 00161)
1:25 Phil Noto Variant (Diamond: APR161042; Barcode suffix: 00121)
1:15 Movie Variant Cover (Diamond: APR161049; Barcode suffix: 00151)
1:50 John Cassaday Color (Diamond: APR161045; Barcode suffix: 00191)
1:200 John Cassaday Sketch (Diamond: APR161046; Barcode suffix: 00181)
Blank Variant (Diamond: APR161044; Barcode suffix: 00171)
Neil Adams Nickel City Con variant (Barcode suffix: 00116)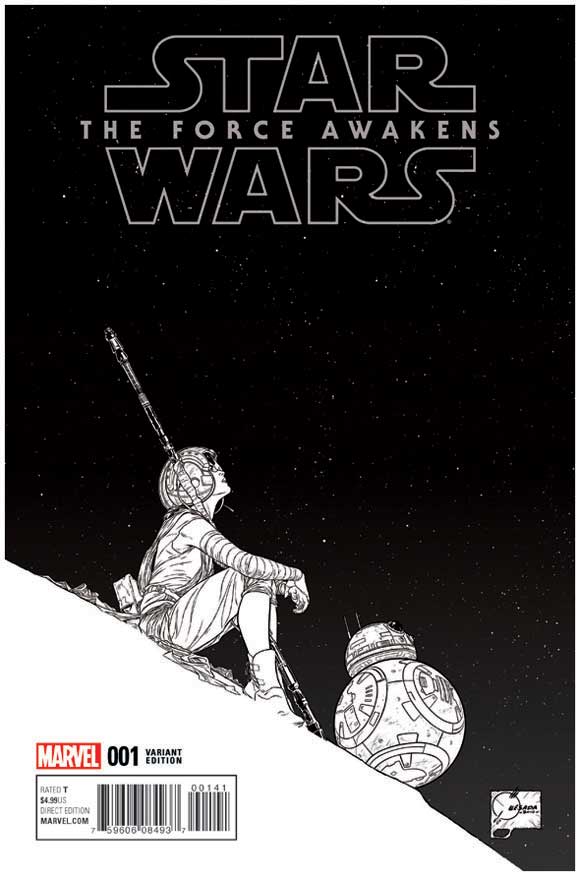 Of all the variants, the Quesada variants seem to be the ones in demand and achieving the largest realized sale values on retailer websites and auctions sites such as ebay. Despite this there are only 2 gradings of the sketch variant and 7 of the color variant in the CGC census (circa mid February 2017).