Fantastic Four #587:
Black Logo Signed Variant
Marvel Comics, January 2011.

Rare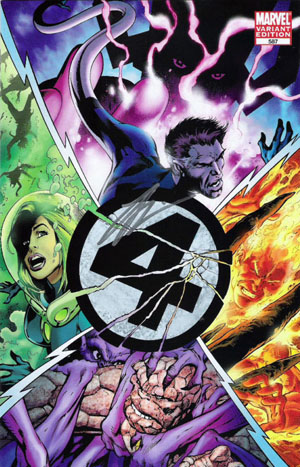 There was a large build up to this issue with Marvel revealing, well in advance of publication, that one of the Fantastic Four would fall.
The issue was distributed in a poly bag (similar to the Death of Superman issue from DC) and it wasn't long before many realized that, as well as the standard issue, a limited number of signed variants were hidden among the main distribution.
Once this news got out it became evident that some of the poly bags were slightly see-through (in the white section of the 4 logo) and these belonged to the standard issue with the variant seemingly contained in a more opaque bag (note that this may not be the case for all copies but certainly true for some).
The variant was an instant collectors item and $300 sales on eBay were not uncommon just after it's release in January 2011.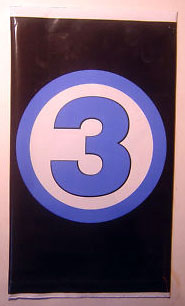 The infamous poly bag is show to the left - many collectors may never open it hence a large number of these will be "sleepers". This will restrict the number of issues hitting the market place and, given supply and demand, this can only increase the market price for the variant. This seemed to have happened by late April, with very few being available on auction sites such as eBay, the prices rose to well over $400.
Of course everyone will know this now but, after the Marvel speculation preceeding this issue, it is revealed that Johnny Storm, the Human Torch (introduced in Fantastic Four #1 in 1961) shuffles off this mortal coil.
Note that there is also a 1:50 "Spoiler" cover issue with Johnny in the background and the rest of the FF in the foreground, illustrated in grey tones and looking solemn. This issue was released a week after the poly bag issues and is also one to watch (but not in the same league as a black logo signed copy).