Uncle Scrooge #179
Whitman, September 1980.

Rare
In the early 80's, a number of Whitman comics were only available in the U.S. in pre-packs with some also available, in very limited numbers, outside the U.S. (Canada and Australia being two countries where some of these can be found). This scarcity seems to have affected Whitman comics from August 1980 until the end of that year. Apparently U.S. distributors to the Newsstand market and the significantly smaller (at that that time) U.S. direct market simply never received many of these issues.
This is one of the rarest of all and high quality copies can go for astounding sums, especially considering the content of the issue reprints stories from previous comics. The cover, stories and art are by Carl Barks and completists of his work will find they have to pay a significant sum to get hold of a copy.
Below are a couple of CGC labels, neither of which mention whether the comic was available outside the pre-packs outside the U.S.:


Below is one of the pre-packs with Uncle Scrooge #179 on the top, a rare and valuable find: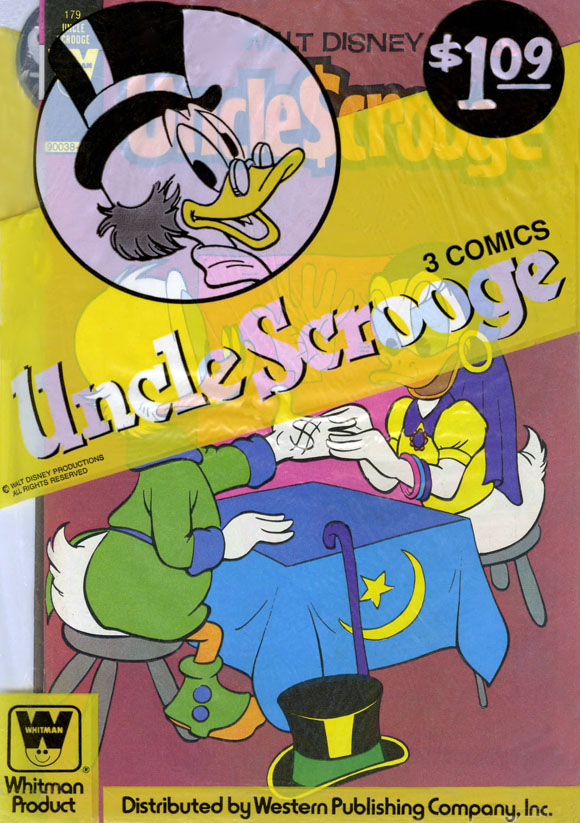 In early 2012, three very low grade copies made between $100 and $200 each on eBay. Higher grade, CGC copies and copies still in the pre-pack bag, have been known to make over $1,000.
Full list of rare Whitman comic books featured on the website: