Farlaine the Goblin #1 First Print
Studio Farlaine, published date: April 2013

Rare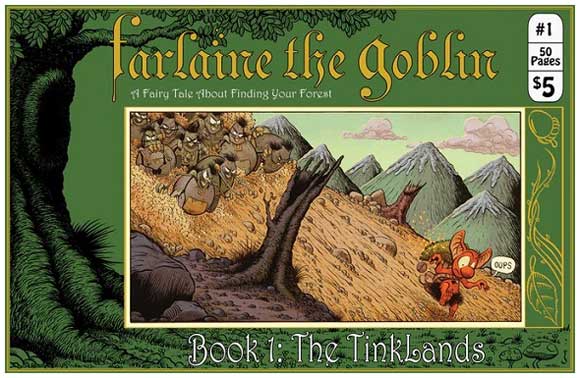 Farlaine the Goblin, a shaman from the Forest of Fin-Din, has spent years wandering the very many Oddlands of Wug in search of a forest to call his own. He only has 10 lands left.
This is the first print from April 2013, which was never officially distributed by Diamond. The creator of this 11" x 7 1/8" comic "Pug Grumble", is quoted as saying:
"The first printing of Farlaine the Goblin #1 was in 2013. I printed a bunch of copies. I sent 400 of them off to retailers in advance to get some word of mouth going. I got 300 copies sent to me and sold most of them at cons I went to. The remaining copies sat at the printer to be used to fill orders from Diamond...but a fire at the printer destroyed them before I could fill orders. A 'Fire Printing' was what was reprinted and released to readers on the stands, and I even I took the chance to fix a bunch of mistakes…"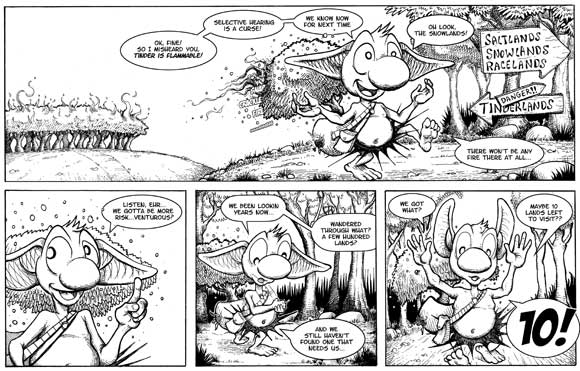 With 800 of the initial print run of 1,500 being destroyed, this left only 700 in the wild.
The comic was reprinted for Diamond to distribute with the second print (called the "fire print") having a print run of around 2,000 copies (there would also be a third printing, dated June 2015, with a print run of around 1,375 copies).
The original printing of #1 is identified inside as the "First Printing" (the second print as "Fire Printing" and the 3rd as "Third Printing"). Note that the subsequent printings also had their page numbers removed, some mistakes corrected, and larger margins added to give better clearance between the artwork and the binding. In addition that, the reprints also have a black and white page at the back showing the uncolored cover art.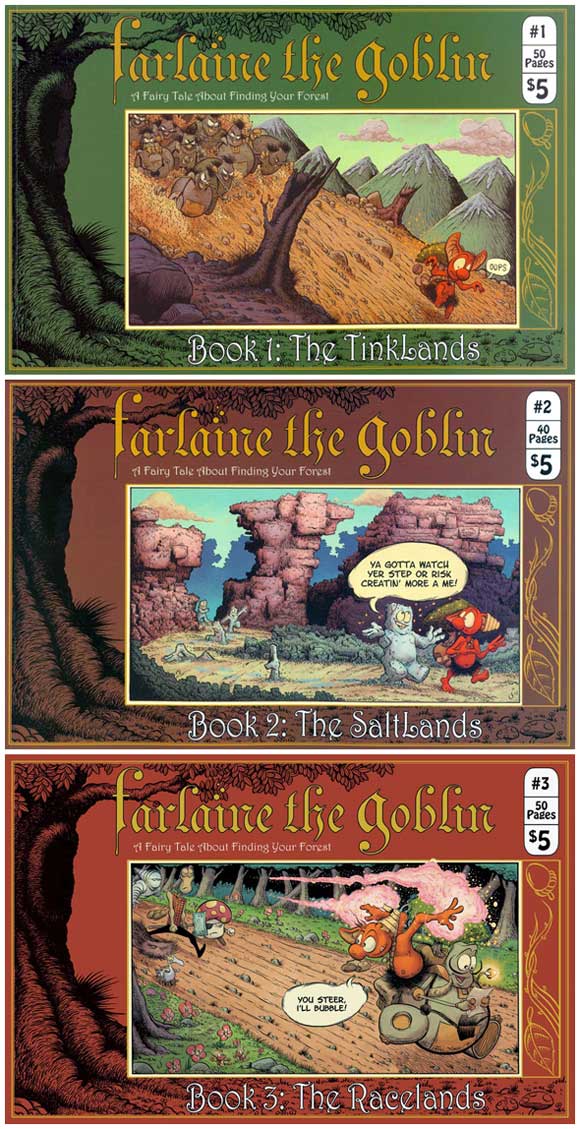 Above are the first three issues distributed by Diamond Comic Distributors to comic shops:
Book 1: Tinklands, second "Fire" printing (Diamond code: JUL131275; in shops: 2013-09-25)
Book 2: Saltlands (Diamond code: AUG131446; in shops: 2013-10-30)
Book 3: Racelands (Diamond code: OCT131313; in shops: 2013-12-11)
The first three issues were collected in Farlaine The Goblin Vol 1 (Diamond code: JUN141414; in shops: 2014-09-03) shown above.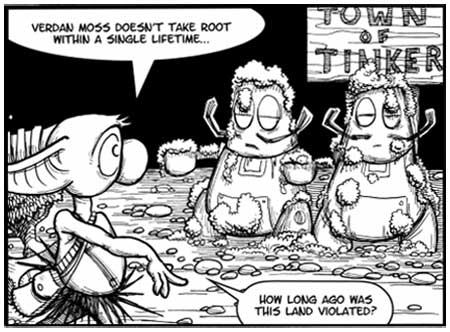 In mid-December 2019, CGC recorded five gradings of the first print (April 2013) all at CGC 9.8 (near mint / mint) with one on Signature Series. Note that the second "Fire" printing is recorded against a date of September 2013 and, at that same time, six gradings of the second print were recorded in the census (all at 9.8).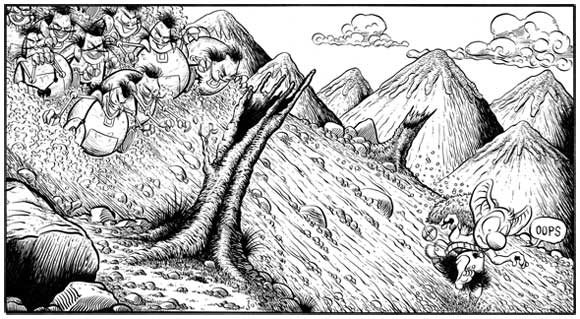 There have not been any recent sales of these (identified as first prints) on secondary markets such as ebay so the current estimated price of these is a little unknown.