Walking Dead #100 Hero Initiative variant
Image, July 2012.
Official H.I.
Sketch

Rare
"Stolen"
Blank

Super-Rare!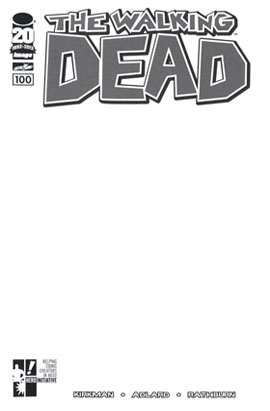 Over 100 blank cover Hero Initiative variant copies were printed by Skybound/Image to commemorate this landmark issue and to raise funds to help creators in need.

It would appear that around 105 official sketches were produced by around 105 different artists; two covers were joint efforts and two artists (Tod Nauck and Stuart Sayger) did two each. All the official sketches can all be seen on the Hero Initiative website.
The official sketch cover comics were auctioned off in 2012 and could be bought for as little as $389, however, the Charlie Adlard sketch copy (below) made over $12,000!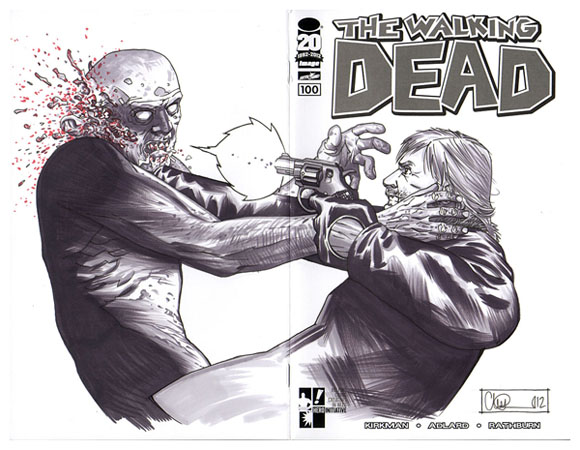 Below is another by Arthur Suydam: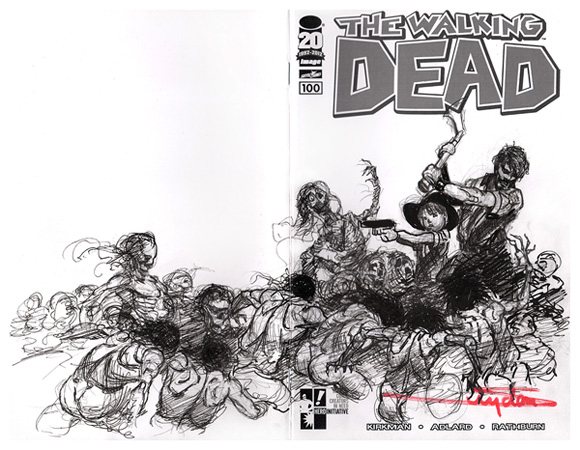 This is where is starts getting a little intriguing, as a small number of blanks seem to have leaked out, either unused copies given to artists or, more likely, from Image employees. Below is another sketch by Arthur Suydam but this does not seem to be officially noted on either the Hero Initiative or the Walking Dead websites: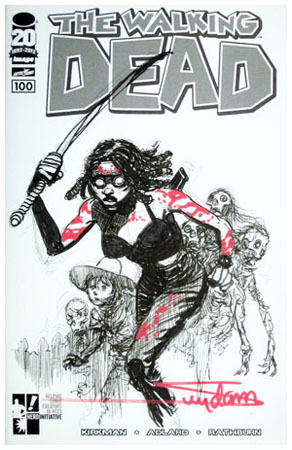 Below is another, this time allegedly sketched by Cliff Rathburn, which was graded and authenticated by PGX: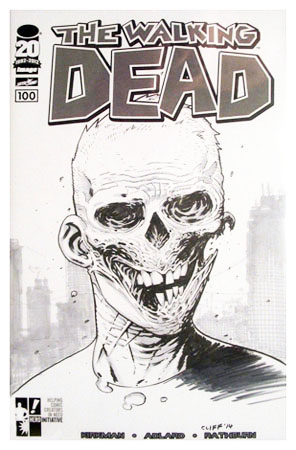 It is possible these were "stolen" blanks that were sketched on or one or both could have been missed off the websites but this is unlikely as all the official sketch copies were all publically displayed before being auctioned.
Regardless of the above, there are definitely blanks out there and they are also demanding a premium but CGC has refused to grade these as they believe they are stolen but, interestingly, have returned them to submitters rather than contact the authorities. This should be a lesson to CGC to stick to their own rules around CGC signature series; these were not necessarily witnessed or even monitored by CGC once they were sketched and CGC took it on trust that no other copies were in existence. There was a similar issue with the Lucille editions that CGC assumed were all signed but unsigned copies then came to light. CGC have also graded a number of copies of Superman Bradman that are known to be file copies that were "acquired" when certain sellers were on staff at DC hence there are definitely other "stolen" comics that are graded and also identifiable (by the seller id and the comic's CGC number).
In any case, both the blanks and the sketch covers of the Hero Initiative variant of Walking Dead #100 are interesting, rare and coveted items: the Ted McKeever sketch originally sold for $405 and was sold again in late 2014 for $1,624 (on CGC 9.8 S/S), a nice tidy profit!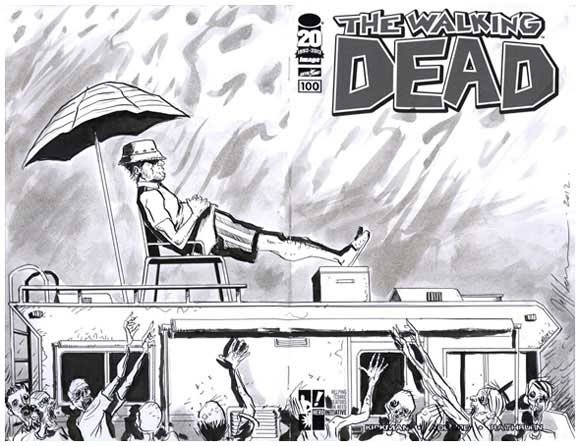 Above is an official sketch by Jeff Lemire, which originally sold for $1,545.11, and below, is an official sketch by Shawn McManus that originally sold for $780:
Below is cover sketch by Kevin Eastman: