X-23 (2010 series) #1
1:25 and 1:75 Retailer Incentive Variants
In Shops: 2010-09-15 ; 40 Pages ; SRP: $3.99

Marvel Comics, November 2010.
#1D Dell'Otto
1:25 Variant

Low Dist.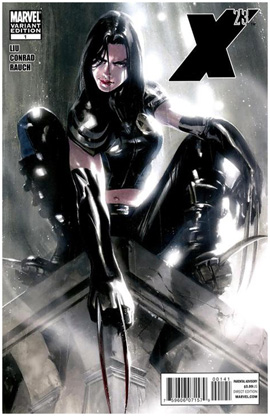 #1C Djurdjevic
1:75 Variant

Rare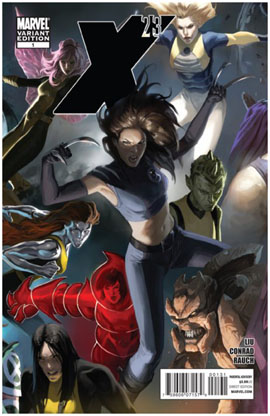 &nbsp
X-23 #1 "The Killing Dream, Part 1" had five different covers as follows:
1A (Barcode: 00111; Diamond: JUL100635): Regular Luo cover
1B (Barcode: 00121; Diamond: JUL100509): Women Of Marvel cover
1C (Barcode: 00131; Diamond: JUL100636): 1:75 Marko Djurdjevic Variant
1D (Barcode: 00141; Diamond: JUL100637): 1:25 Dell'Otto Variant
1E (Barcode: 00151; Diamond: AUG108114): 2nd print Conrad Cover
Whilst the 1:75 Djurdjevic variant is the rarest of the retailer incentive variants, the pick of the bunch is the 1:25 retailer incentive cover by Dell'Otto featuring a posing, leather clad, X-23 with claws at the ready: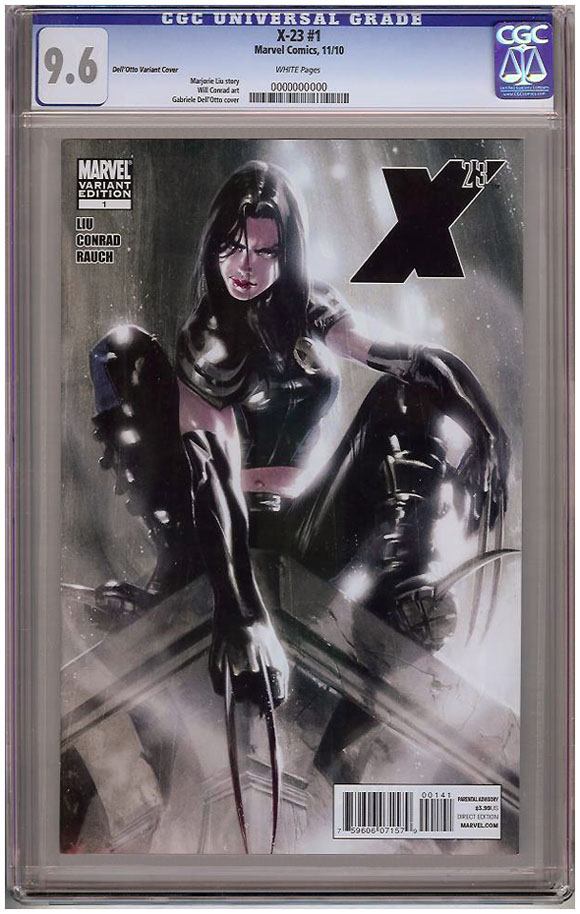 For the Dell'Otto cover, CGC had 45 recorded gradings in May 2016 (with 32 at 9.8, including 2 signature series); for some reason the Djurdjevic variant is called "Variant Edition" in the census and there were 28 recorded gradings (19 at 9.8 including 1 signature series) at that time. The "Women of Marvel" variant cover is also listed in the census but, just to confuse things, CGC have an entry in the census for "Variant Cover", which could be the regular Lou cover (or some mix up).
High grade slabbed copies of the Dell'Otto variant are seriously expensive; In May 2016, CGC or CBCS graded 9.8 copies were going for $1,200 or more, with authenticated signature copies going for $1,500 or more!