Bloodshot Salvation #1
Brushed Metal Cover
Valiant, published date: September 2017.

Rare
Valiant has unveiled the BLOODSHOT SALVATION #1 Brushed Metal Variant – a stunning, all-metal cover adorning the FIRST ISSUE of the BLOCKBUSTER ONGOING SERIES by New York Times best-selling writer Jeff Lemire (THE VALIANT, Moon Knight) and explosive artists Lewis LaRosa (BLOODSHOT REBORN) and Mico Suayan (BLOODSHOT REBORN)! Following in the footsteps of the highly sought-after X-O MANOWAR (2017) #1 Brushed Metal Variant, this limited edition of the punishing new introduction to Jeff Lemire's Eisner Award-nominated epic is only the second metal cover ever produced by Valiant Entertainment and comes printed via a special process on an actual brushed aluminum metal sheet featuring artwork by interior artist Mico Suayan.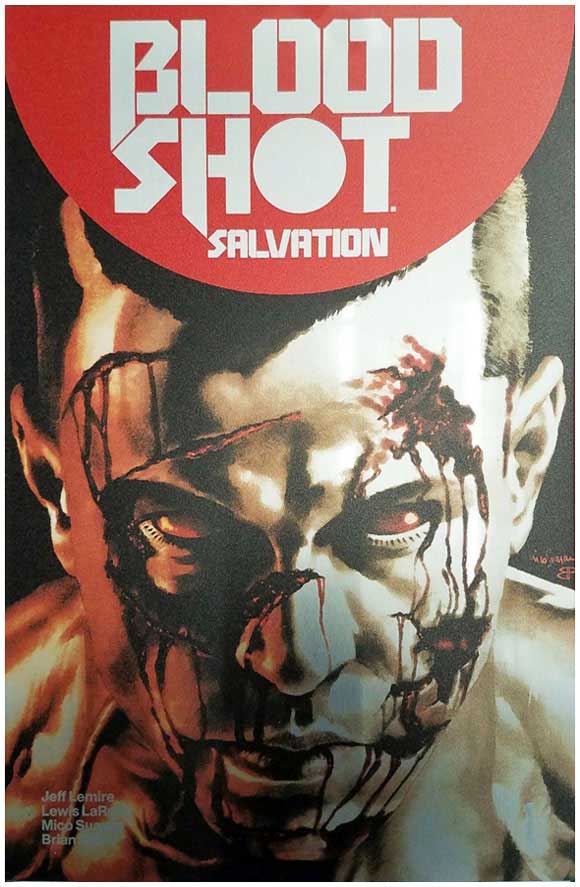 "Our first metal cover – produced for the launch of X-O MANOWAR (2017) #1 earlier this year – was not only a runaway success, but a true labor of love. It took more than a year of research and testing to source the correct materials and perfect the printing process in order to produce the first, true metal cover in the history of comics," said Valiant CEO & Chief Creative Officer Dinesh Shamdasani. "It's a highly specialized process that generated such a tremendous response that we've decided to revisit it for our most important new series of the fall. But we have not been resting on our laurels. Together with our printing partners, we've been able to further refine the process and reduce the cost – a savings that we are passing on to fans and retailers with a lower threshold needed to obtain the BLOODSHOT SALVATION #1 Brushed Metal Variant. We're very happy to announce that we'll be offering the cover at half the ratio of the first".
Attention retailers: One copy of the BLOODSHOT SALVATION #1 Brushed Metal Variant can be ordered by retailers who place a qualifying order of 250 copies or more. The BLOODSHOT SALVATION #1 Brushed Metal Variant is strictly limited to one copy per qualifying store.
The preface in issue #1 starts: "Recently, Bloodshot - now living as Ray Garrison - fell in love with a woman named Magic and they had a baby. He is desperately trying to start a new life, away from the violence of Bloodshot..."
The back cover is shown below with the barcode prefix "00171":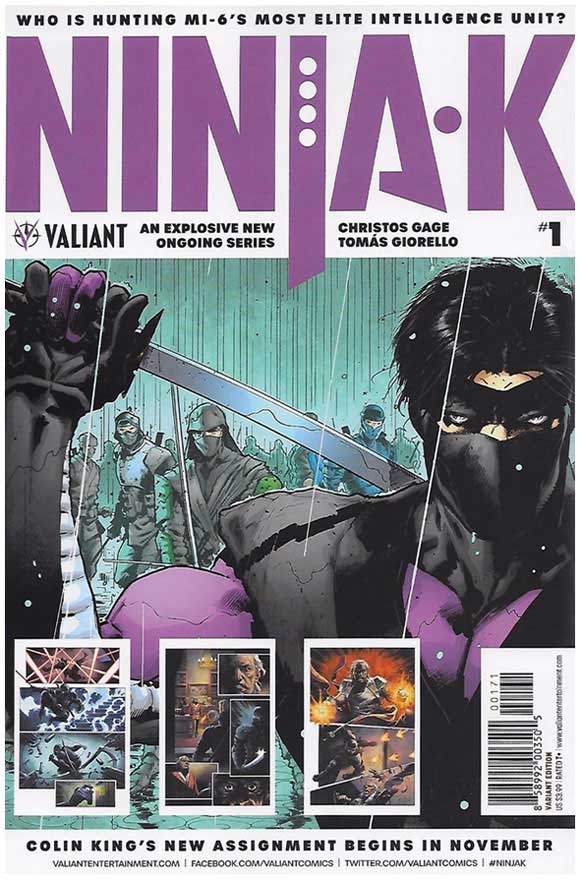 A large number of covers were produced for the issue with eight previewed by Diamond Comic Distributors: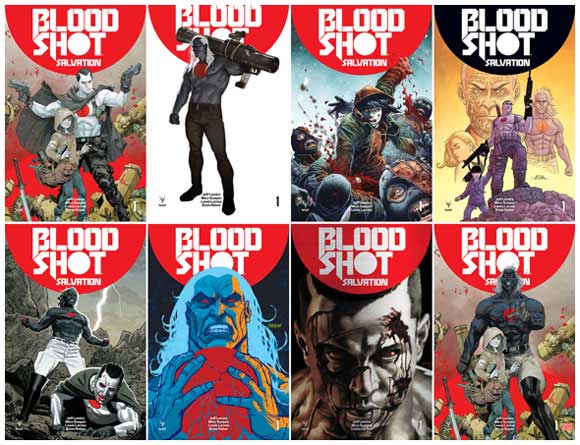 Above covers are, from left to right, top to bottom:
Standard cover A, by Kenneth Rocafort [JUL172245]
Cover B "Villians", by Monika Palosz [JUL172246]
Cover C "Battle Damages", by Tomas Giorello [JUL172247]
Pre-Order Bundle edition, by Ryan Bodenheim [JUL172248]
Interlocking Variant by Greg Smallwood [JUL172249]
Bloodshot Icon Variant by Dave Johnson [JUL172250]
Brushed Metal Variant Cover by Mico suayan [JUL172251] 00171
Pre-Order Bundle bonus Rampage Redux edition, by Kenneth Rocafort
There were many other covers, produced for comic cons (including a gold logo version for the New York Comic Con) and individual comic shops - some are shown above and below: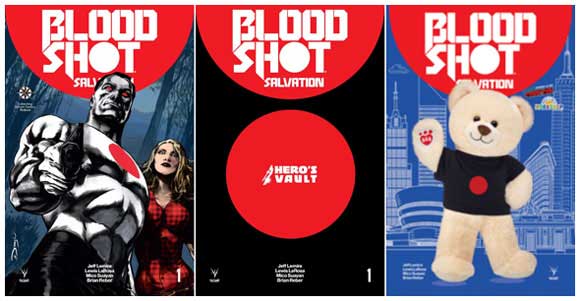 In early August 2019, there were 36 gradings recorded for the "Brushed Metal Variant" in the CGC census with one graded 10.0 (gem mint).
In that same timeframe, these full metal jacket comics were selling for around $200. With Dinesh Shamdasani (former Valiant CEO) stating that only 200 copies were printed, it will be interesting to see where the realized prices go in the future for these rare 1:250 retailer incentive variants.