Ninja-K #1 Brushed Metal Cover Variant by Mico Suayan
Diamond Code: SEP172023 ; ISBN/UPC: 8-58992-00352-9-00151

In Shops: 2017-11-15 ; SRP: $3.99 ; 40 Pages

Valiant, published date: November 2017.

Rare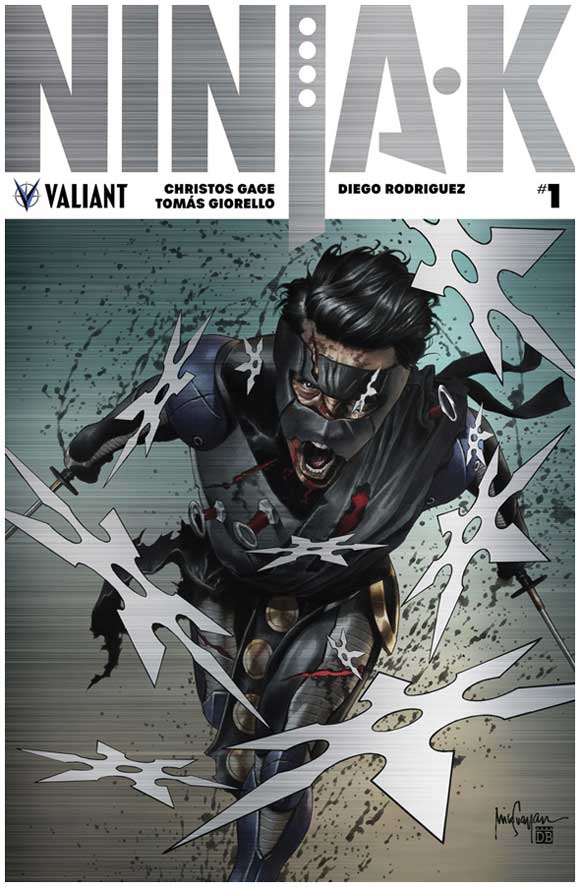 Ninja-K (2017) #1 was written by Christos Gage, with interior art by Tomas Giorello and was available in shops on November 15th, 2017. This variant (diamond code: SEP172023 and barcode ending 00151) has a brushed metal cover with cover art by Mico Suayan.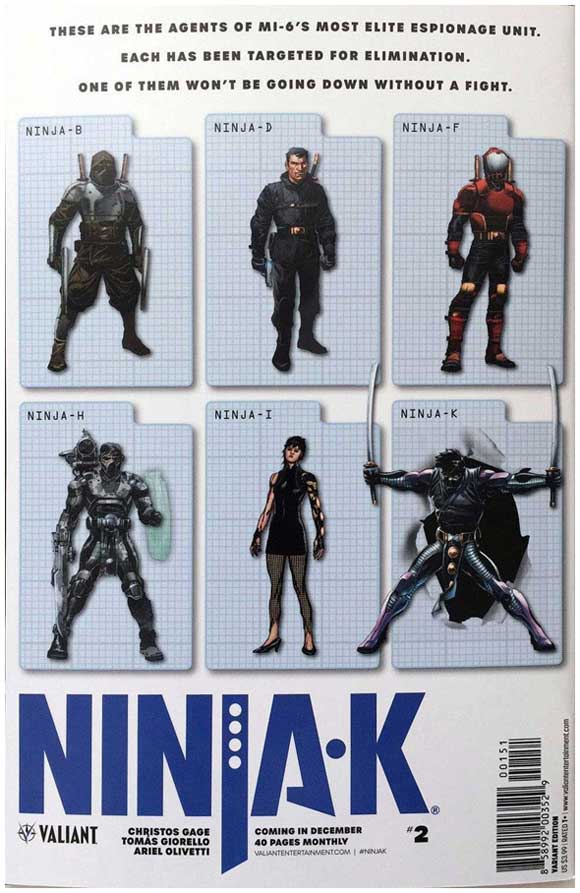 The preview reads: "A NEW CAN'T-MISS ONGOING SERIES! From acclaimed writer Christos Gage (Netflix's Daredevil) and superstar artist Tomas Giorello (X-O MANOWAR), the United Kingdom's most dreaded intelligence operative delves into the cold, calculating world of espionage and international intrigue! For nearly a century, MI-6, the most elite branch of Britain's clandestine intelligence service, has honed a ruthlessly effective, top-secret division - THE NINJA PROGRAMME - into one of its nation's most finely wielded weapons. Tasked as the first and last line of defense for queen and country, this small shadow army of agents and assassins has produced a succession of notable assets, including NINJA-A, the Queen's silent weapon of World War I; NINJA-E, the globetrotting secret agent that pulled the Cold War back from the brink of armageddon; and, most recently, NINJA-K, aka Colin King, a brash but fearless instrument of lethality that has saved the world from madmen and terror at every turn.
But now...an unknown enemy is hunting and killing members of THE NINJA PROGRAMME one by one - and NINJAK is next on the list".
Below is Valiant's announcement of the metal cover on Twitter: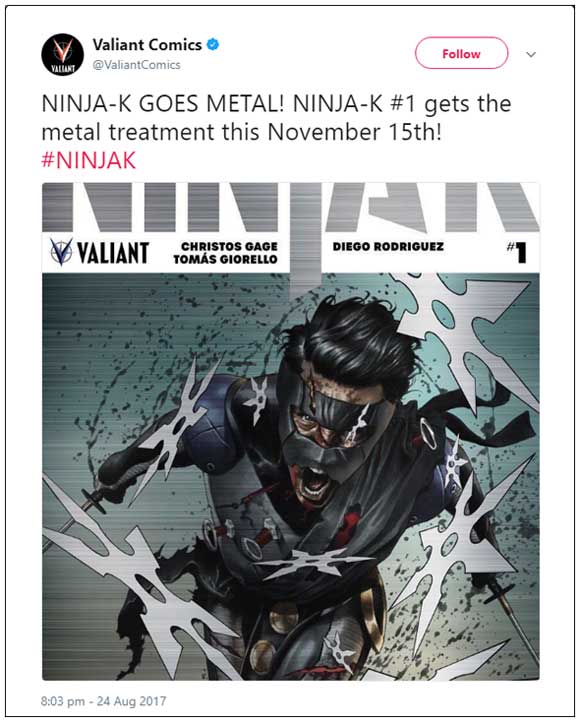 A large number of covers were produced for the issue with six others available via Diamond Comic Distributors: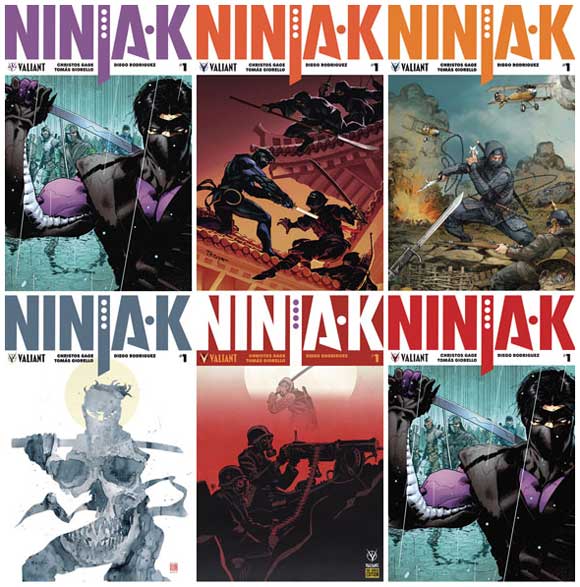 Above covers are, from left to right, top to bottom (diamond code and barcode suffix in brackets):
Standard cover, by Trevor Hairsine [SEP172019 / 00111]
Lucas Troya Variant [SEP172020 / 00121]
Kenneth Rocafort 1:20 Variant [SEP172021 / 00131]
David Mack 1:50 Variant [SEP172022 / 00141]
Tonci Zonjic Pre-Order Bundle Variant [SEP172024 / 00161]
Trevor Hairsine, second print [OCT178579]
Below are a number of other exclusive variants produced for comic cons and shops: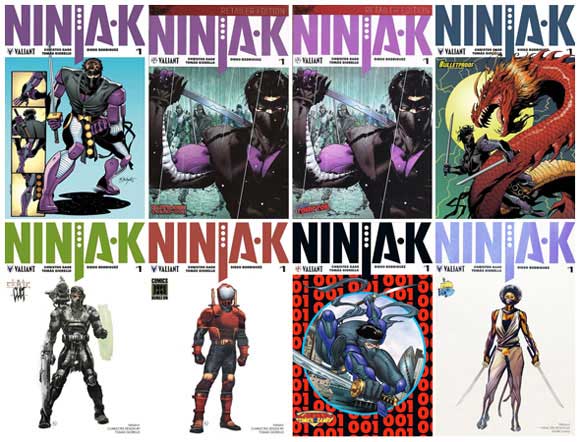 Above covers are, from left to right, top to bottom:
Bob Layton variant
Trevor Hairsine Baltimore Comic Con Exclusive
Trevor Hairsine New York Comic Con Exclusive
Aaron Lopresti Bulletproof Comics and Games Exclusive
Thomás Giorello The Comic Cult Exclusive
Thomás Giorello Comics Dungeon Exclusive
Sorah Suhng Legends Comics & Games Exclusive
Khari Evans Ssalefish Exclusive
In Mid December 2017, none of the metal variants had been graded by CGC. It is early days for pricing but they were selling reasonably well (around the $200 mark) in mid December 2017.