Onslaught: Marvel Universe
X-Men #1 22 Karat Gold Edition
Marvel Comics, published Date: August 1996.

Low Dist.
This is the 22 Karat Gold variant of Onslaught: Marvel Universe X-Men #1, which was "limited to 2,000 copies".
Although this is a one-off comic, it follows a story that fits between X-Men #54 and Uncanny X-Men #335: the issue is entitled "Traitor to the Cause", written by Scott Lobdell and Mark Waid with cover and interior art by Adam Kubert and Dan Green.
The variant came sealed in a bar-coded comic bag with a backing board and certificate of authenticity (COA). Each comic was numbered on the certificate and the same number was also embossed onto the cover of the comic (just to the right of the Marvel logo and The Comics Code Authority logo).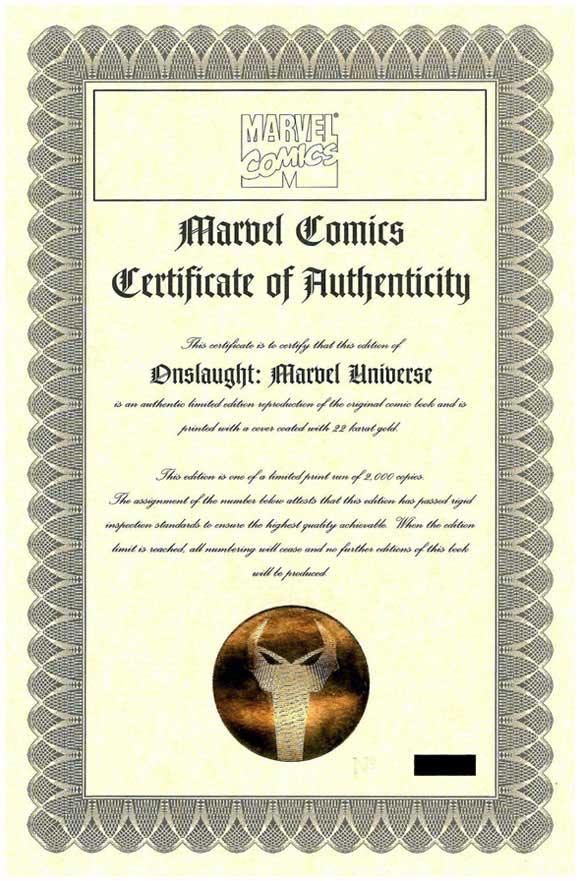 The comic was produced on glossy paper and, interestingly, without any advertisements at all within the 48 pages.

CGC categorise this as the "Gold Edition" with additional text stating "Cover coated with 22 karat gold".
At the end of January 2018, CGC had 75 recorded gradings with 17 at the top grade of 9.8 (Near Mint / Mint).