Miracleman #1 Gold, Blue
and U.K. variants
Eclipse Comics, August 1985.
Gold Certificate
Numbered

Rare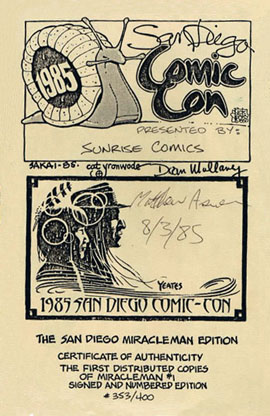 Gold Certificate
No Number

Super-Rare!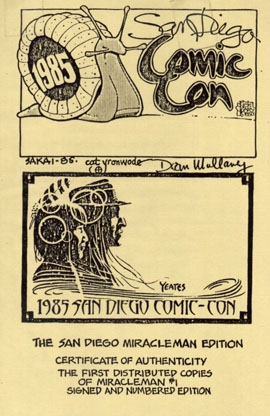 &nbsp
Blue Cert.

Rare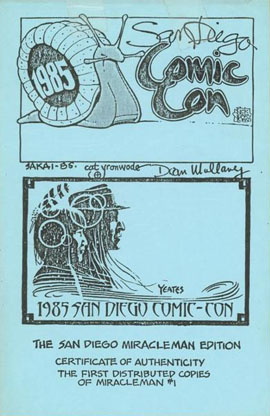 U.K. Edition

Low Dist.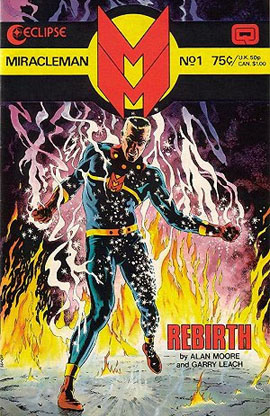 &nbsp
First of all it is worth pointing out that the "gold" and "blue" comics are in fact ordinary first print copies of Miracleman #1 and tend not to be recognized in the various price guides (or by CGC) as variants. What makes them different is that these were apparently the first 1,000 off the printing press, which were used as promotional copies for the San Diego comic con in 1985. There is also evidence to suggest that these early copies all had a printing crease on the cover, just to the right of Miracleman's head.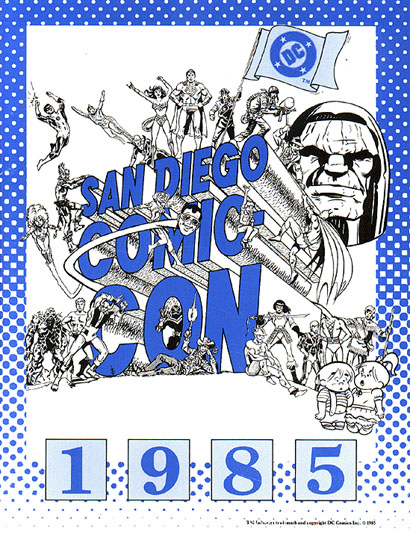 The first 400 were accompanied by a gold colored (and numbered) certificate of authenticity. Each of these comics was signed by Alan Moore and the same individual numbering (out of 400) was also present next to the signature within the comic. Note that some of the numbered copies have "PRESENTED BY:" with a vendor name such as "Sunrise Comics" or "Fact, Fiction & Fantasy" hand written on the certificate, which were given out as prizes at the show. A winner of one of these gems could feel very lucky indeed as these rare items were being sold at the convention for an unbelievable $50 (note that the blue variant went for $20 but even this was a large sum to pay for a comic back in 1985).
Below are example signatures from inside three of the comics: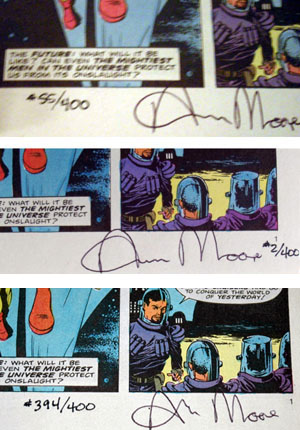 Anecdotally Alan Moore signed more than 400 in case someone messed up adding the numbering and this also allowed them to pick the best 400. The additional comics weren't chucked so there are a few copies in circulation that bear the Alan Moore signature, have gold certificates, but no numbering on either the certificate or the comic:
At the time of updating (January 2023), at least 75 copies of the 400 have emerged that we have seen evidence for (either sold over the past few decades on auction sites such as ebay or highlighted in website articles/printed publications).

The second batch of 600 comics were accompanied by a blue certificate of authenticity and the comics themselves were signed by the then Eclipse editor Cat Yronwode and also by Dean Mullaney, one of the founders of Eclipse:

Note that any of above signature comics graded by CGC will be within the census for the standard edition, however, each will bear the classic: "name written on 1st page in pen" on the label (generally, only signatures on the cover get the qualified grade).
As a sidenote, Stan Sakai (of Usagi Yojimbo fame) put together the lettering on the certificates, which also bear his signature, and he was paid in comics for his work: he received two of the gold-certified comics signed by Alan Moore!

The print run on the standard version of Miracleman #1 was around 135,000 world-wide and these are easy to come by. However, there was a U.K. variant produced with a small print run of 1,000-2,000 making it pretty rare (CGC had 46 gradings recorded in Mid-January 2023, up from 30 gradings back in May 2016, with 13 in the top grade of 9.8). Note that the standard version was also imported into the U.K. so there was a mixed distribution in Blighty. The U.K. variant has a distinctive yellow back cover with an advert for Quality comics (standard cover has a Zot! advert):-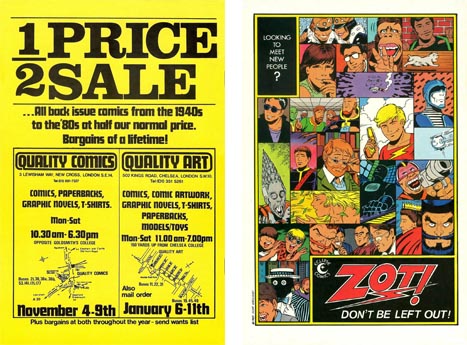 The indicia on the U.K. variant (inside front cover) also notes: NOT FOR SALE WITHIN NORTH AMERICA. It is becoming hard to find and even editor Dez Skinn (who still owns Quality Comics) has no more copies available from his extensive back issue stock.
Below are a couple of covers released by Marvel for the third printing of the initial stories by Alan Moore: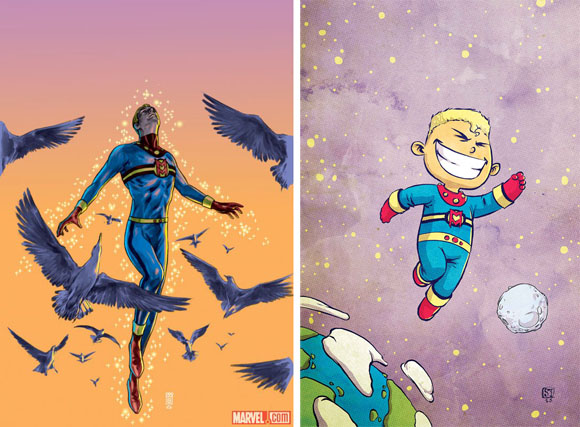 It is likely that some of the variants of the new comic will have small print runs and could be pretty rare themselves so watch this space!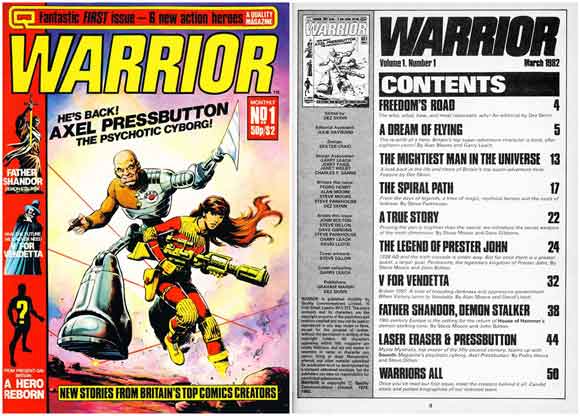 Note that the Miracleman #1 story is a reprint from the black and white U.K. anthology comic Warrior (from issues #1-3 from 1982, where the story was printed in three parts) that was then colored for the Eclipse series.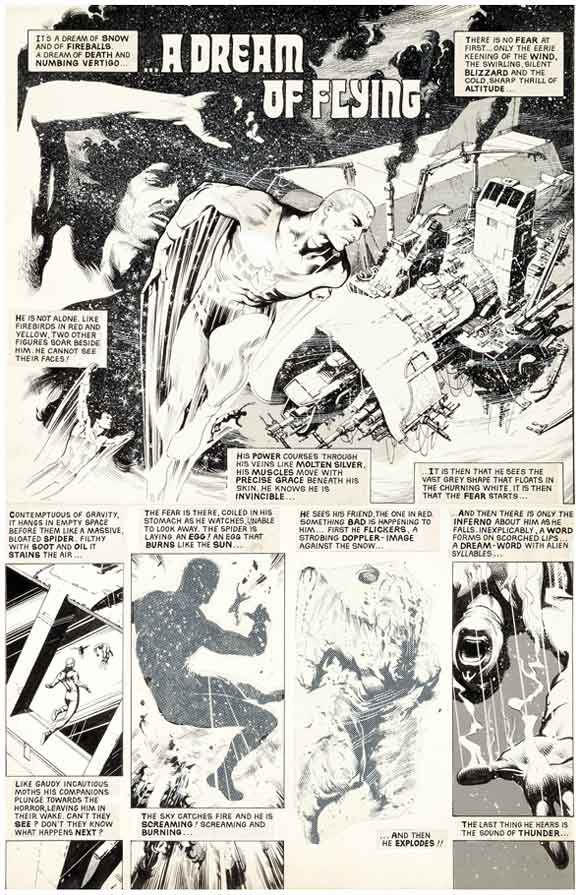 Above is the art from the first page of the original story from Warrior #1 ("prequel" material was added to the start of the Eclipse series, which was also reprinted from the U.K. Marvelman Special #1 published by Quality in 1984). Below is a Marvelman (he was called Marvelman in the Warrior series) page of art from the start of the story in Warrior #2: