Bloodshot #1 Chinese Edition
Valiant/DMG Entertainment, published date: 2015

Rare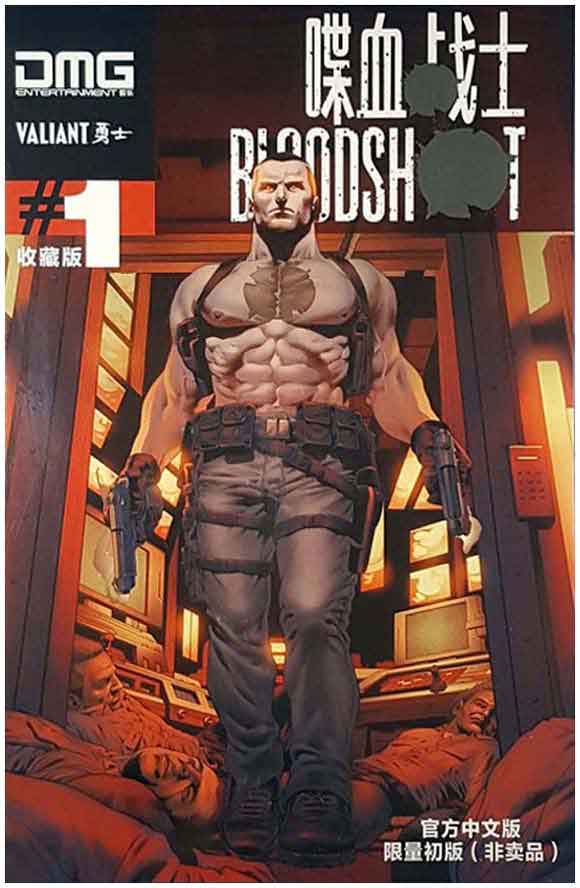 This is the 2015 Chinese reprint of Bloodshot #1 from the 2012 series. Valiant announced a partnership and licencing deal with DMG (Dynamic Media Group) in 2015 and the comic was produced for the press conference with the Chinese media (and some seem to have made their way back to the USA, although some may have been file or complimentary copies kept in the USA).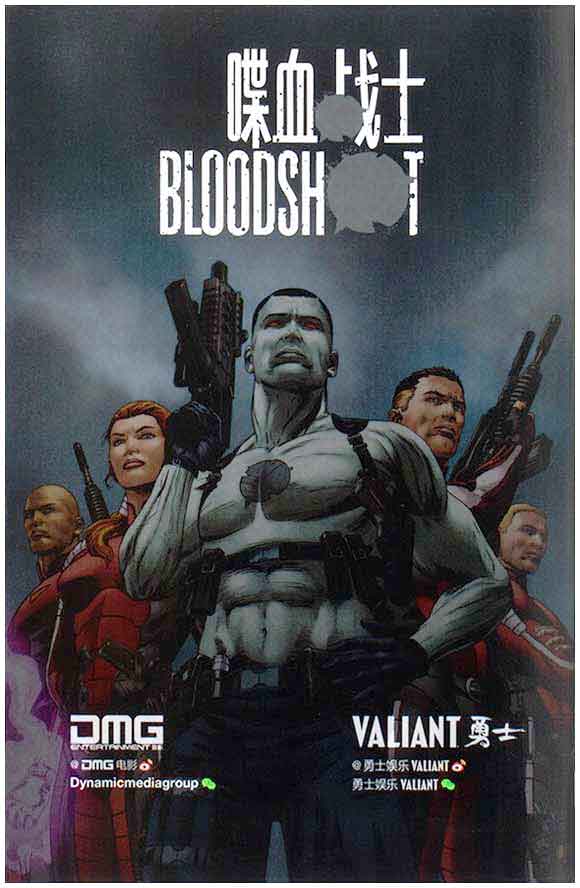 The Summer of Valiant continues! It's the start of a new mission for one of comics' all-time best-selling superheroes in Bloodshot #1 - the first issue of new ongoing series from acclaimed novelist Duane Swierczynski (Immortal Iron Fist, Birds of Prey) and the lethal artistic tag team of Manuel Garcia (Checkmate) and Arturo Lozzi (Immortal Weapons)!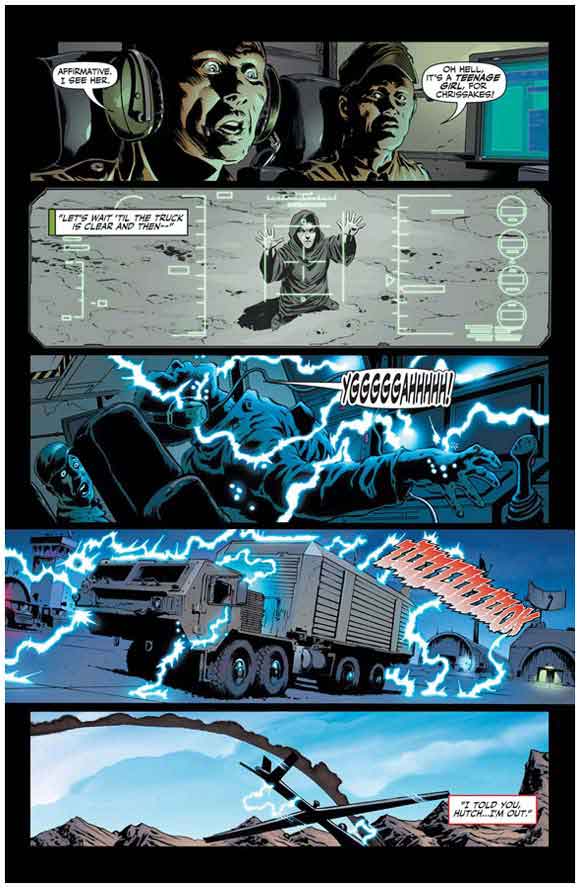 Your name is Angelo Mortalli. Your brother is trapped behind enemy lines and on the verge of - no. That's not right. Your name is Raymond Garrison. You've retired from the dangers of the field, but a desperate plea from your oldest friend plunges you into a vicious firefight that - no. That's not right, either. You are Bloodshot. You are the shade of gray that freedom requires. The perfect confluence of military necessity and cutting-edge technology. A walking WikiLeaks that is a reservoir of dirty secrets that could set the world on fire. And you've just been captured.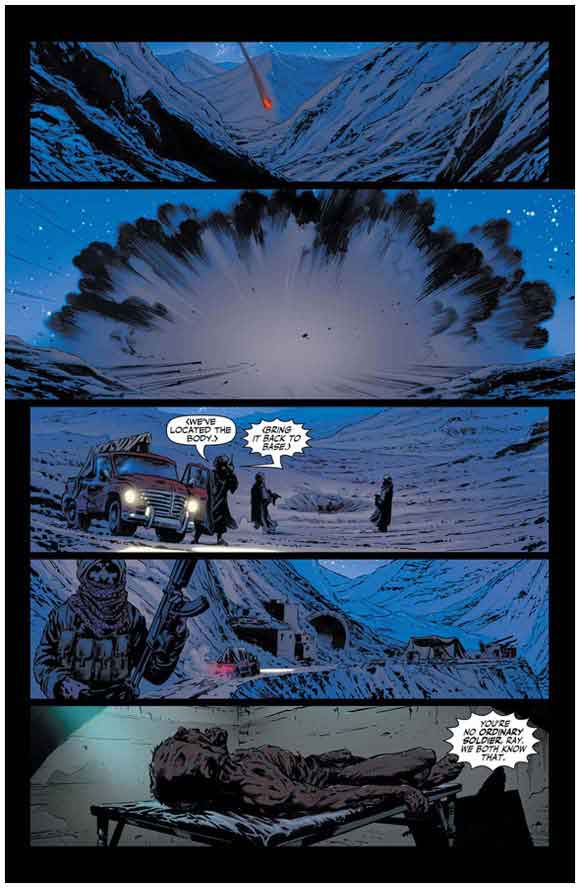 Below are the first prints of Bloodshot #1 from 2012 (available in shops: 2012-07-11).
From left to right, top to bottom they are (barcode prefix/Diamond code in brackets):
Arturo Lozzi regular edition (00111/MAY121309)
Mico Suayan Pullbox Edition (00121/MAY121310)
David Aja 1:20 Retailer Incentive (00131/MAY121311)
Esad Ribic 1:50 Retailer Incentive (00141/MAY121312)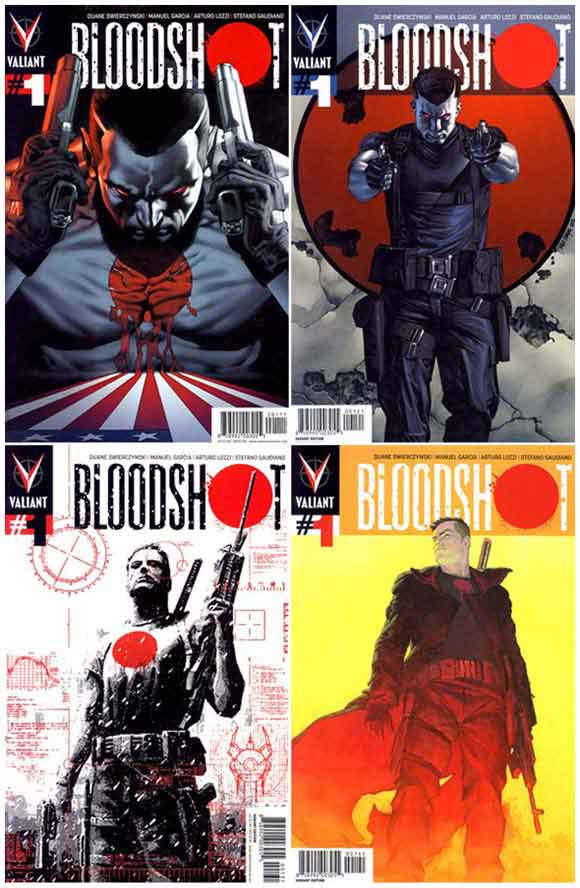 Below are later reprints prefixed with the date available in shops (barcode prefix/Diamond code in brackets):
2012-11-14: Larosa 2nd print (00112/ AUG128396)
2013-05-01: Arturo Lozzi One Dollar Debut Edition (00119/ MAR131336)
2013-11-27: Arturo Lozzi Gold Logo Edition (00151/ JUL131313)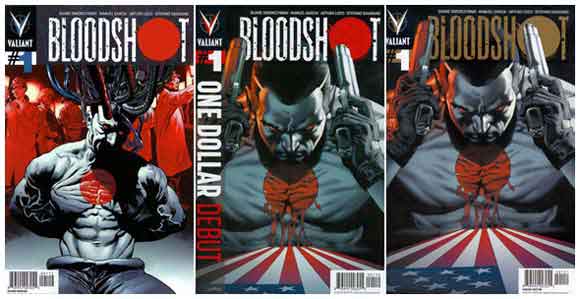 In mid-April 2022, there were 26 gradings recorded for the "Chinese Edition" in the CGC census with sixteen in the top grade of 9.8 (near mint / mint).

In that same timeframe, CBCS did not have any recorded gradings for the Chinese edition in their population report.