She-Hulk #1 1:100 cover variant by Siya Oyum
Diamond Code: DEC130638 ; ISBN/UPC: 7-59606-07996-4-00171

In Shops: 2014-02-12 ; SRP: $2.99

Marvel Comics, published Date: April 2014.

Rare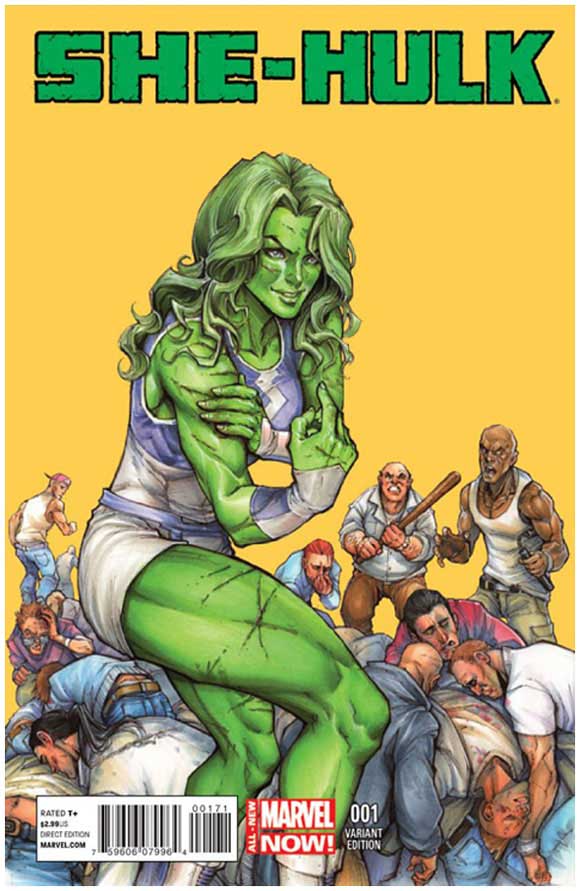 This is 1:100 retailer incentive copy of She-Hulk #1 from the 2014 series with cover art by Siya Oyum.
As is usual for a new series, multiple covers were produced for #1 and a number are shown below: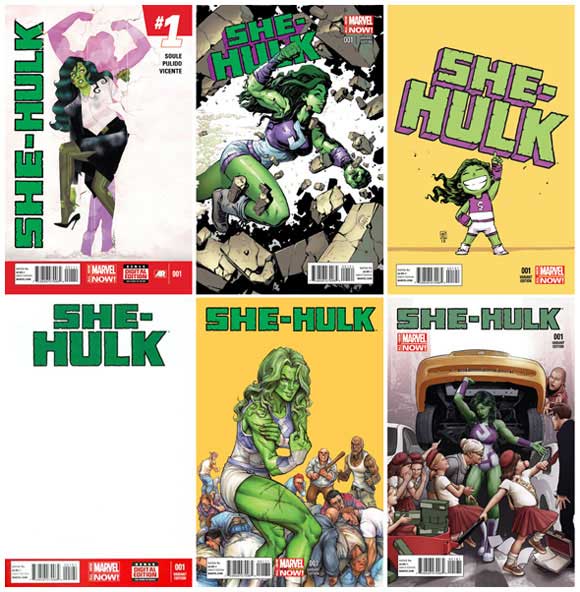 From left to right, top to bottom we have (barcode suffix and diamond code, if applicable in brackets):
Standard cover by Kevin Wada (00111 / DEC130634)
1:50 cover by Ryan Stegman (00121 / DEC130637)
Variant cover by Scottie Young (00141 / DEC130639)
Blank "Sketch Edition" (00161 / DEC130635)
1:100 cover by Siya Oyum (00171 / DEC130638)
Time Out New York variant cover by John Tyler Christopher (00181 / N/A)
Note: The Milo Manara cover (barcode suffix: 00151 and diamond code DEC130636) was cancelled and a cover variant with a barcode suffix of 00131 seems to be missing (maybe this was cancelled earlier and never previewed as there does not seem to be a Diamond code for it).
The issue was also reprinted going into a second print and third print plus there was also a reprint under the title: True Believers: She-Hulk #1 published in late 2015: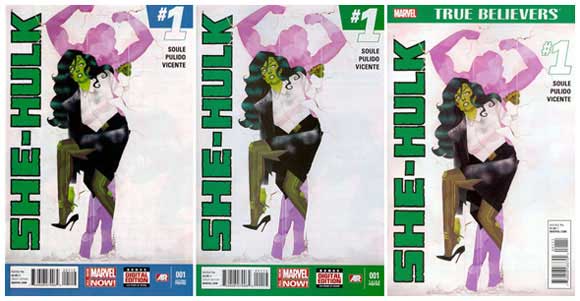 In mid November 2017, CGC had recorded 11 gradings for the Oyum Variant Cover in their census with 10 at the top grade of 9.8 Near Mint / Mint (4 on Signature Series labels).
This variant originally sold for less than $50 on release but prices have escalated since and they can be quite difficult to find.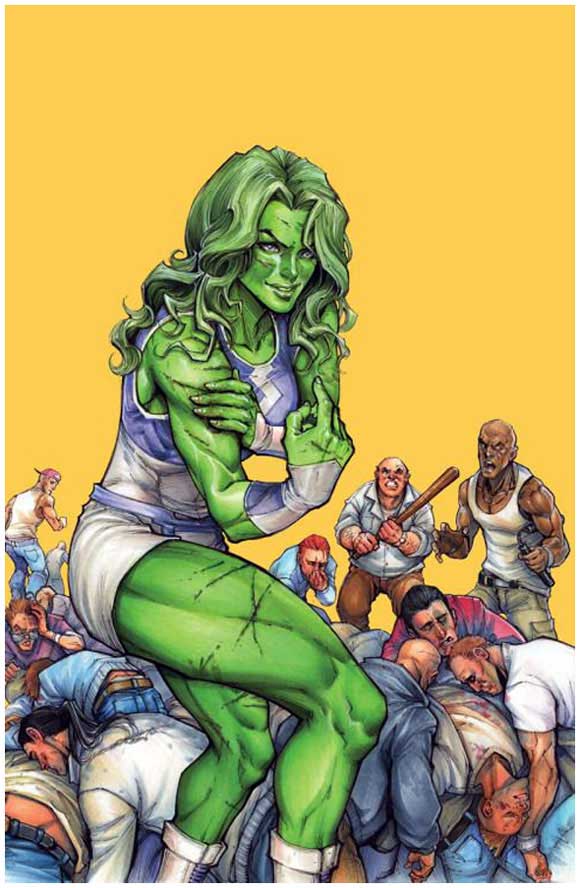 "JENNIFER WALTERS IS...THE SHE-HULK! A stalwart Avenger, valued member of the FF, savior of the world on more than one occasion, she's also a killer attorney with a pile of degrees and professional respect. A 7-foot-tall drink of cool, emerald water, she's tough enough to knock out Galactus with one punch (possibly?) and has a heart bigger than the moon. But juggling cases and kicking bad guy butt is starting to be a little more complicated than she anticipated. With a new practice, a new paralegal and a mounting number of super villains she's racking up as personal enemies, She Hulk might have bitten off a little more than she can chew...but she just calls that that Tuesday".