Marvel Collectible Classics: Spider-man #1 (Amazing Spider-man #300) Chromium reprint
Marvel Comics, 1998.

Low Dist.
The original ASM #300 was a double-sized 25th anniversary issue, written by David Michelinie with all artwork by Todd McFarlane (his third ASM).
Having a cameo appearance in the final panel of ASM #299, this was the first full appearance of Venom, which is a merging of an alien symbiote and Eddie Brock (an ex- Daily Bugle reporter who was sacked for fabricating a story). This was the second attempted human merging by the symbiote, the first being with Spider-Man back in Secret Wars #8 on Battleworld. Once back to Earth, Spider-Man realized the symbiote's intentions and managed to eventually escape its clutches.
In this issue Spider-Man battles Venom and eventually defeats it/them. Having encountered the the alien herself and wishing to forget the terror it brought her, Mary Jane then persuades Peter ditch the black Spidey costume and revert back to his original red and blue one.
In December 1998, Marvel released this reprint of ASM #300 with a 'Chromium' cover in the Marvel Collectible Classics series: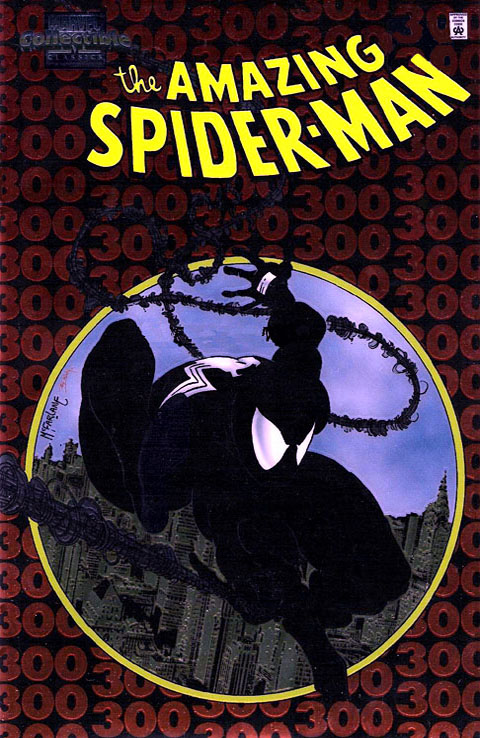 This appears to have become more collectable than the original with high grade prices well over $500 (not surprising given that the print run was, anecdotally, below 3,500).