Hellboy The Fury #3
Cover variant
Dark Horse Comics, August 2011.

Rare
This issue is an epic conclusion to the ongoing Hellboy storylines and probably marks the end of Hellboy, in this timeline and reality at least.
The variant cover copies had strict qualifying criteria and an unverified source within Dark Horse is quoted as stating: "In order to receive 1 ultra rare Fury #3 variant cover by Mike Mignola, retailers were required to match or exceed their initial orders for Hellboy The Fury #1 (minimum of 20 copies, orders under 20 do not qualify) ".
Once #3 was distributed it was almost impossible to find the variant, with many Hellboy collectors trying every means to get hold of one but most retailers simply did not even know about the it (and had not qualified for it in any case). Some retailers did qualify, however, and a few of these gems were distributed by Diamond a little while after the standard issue was released, much to the relief of a few tenacious and/or lucky fans.
Given the lack of retailer take-up of the incentive, this is one ultra-rare issue with sales on eBay hitting a high of $225, just a few weeks after release. This is certainly one to watch and could be a nice inflation busting investment, who knows...
Below is the standard cover for #3, which had an overall distribution of around 22,500: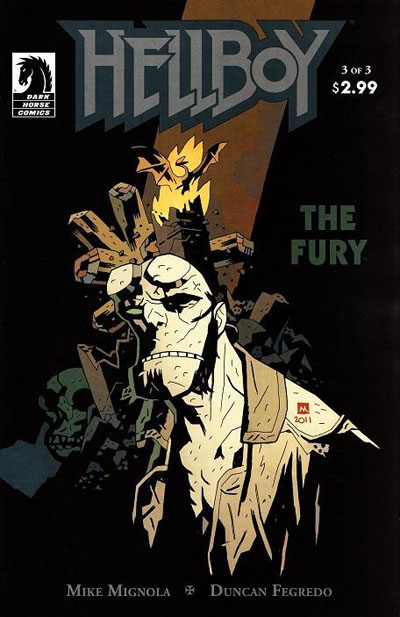 Related comics: