Chew #1 First Print
Image COMICS, June 2009.

Low Dist.
Front Cover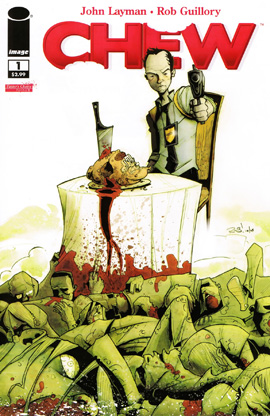 Inside Cover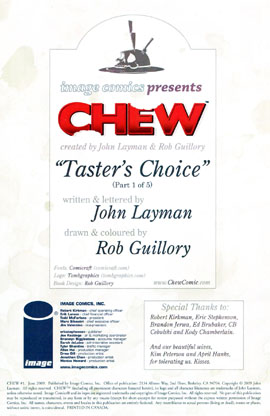 Set in a world where Bird Flu has killed millions and all bird meats are illegal, this hit series stars Tony Chu, a Cibopath, who has the ability to read psychic impressions from anything he eats (with the bizarre exception of beets, which he eats a lot of!).
There are four main prints of the comic, with the first two prints (totally almost 9,000) selling out on release in June 2009. The first print has a red logo, the second a light green, the third in blue and the fourth sports an off-white logo.

In addition to the above there is also a flip book edition with The Walking Dead #63, a Larry's Wonderful World of Comics sketch edition (limited to 1,000 copies) and the comic is also reprinted under Image Firsts.
There is a healthy volume of aftermarket sales for the Chew series and the limited number of copies of the first print of #1 will likely keep prices on the up.