Cry for Dawn #3
Horror Con Variant
CFD Publications, Fall/Autumn 1990.

Rare
This comic was put together for the 1990 Horror Con in New York. Unfortunately the cover was not printed in time for the convention so an oversized photocopied cover of the artwork was put together and stapled onto the interior of issue #3 of the comic.
These rare comics suffer from poor layout and are usually misaligned and poorly cut; given this, it is highly unlikely there are any near-mint or higher copies.
Of the known print run (& manual assembly), around 100 were signed by Lisner and Monks with an original Linsner sketch: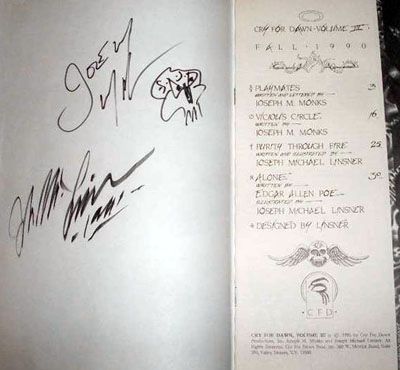 Unfortunately, given the photocopied cover, these can be faked hence buyers need to look for some form of authentication or history that helps verify the comic as being an original. CGC does not grade these comics as it is not possible for them to guarantee a copy is an original (similar issue to Gobbledegook 1 & 2).
Sales are rare for these and, given most copies are in the low to mid grades, they will usually go for between $200 and $700 depending on condition, whether it is signed/sketched and any evidence of authenticity.