Walking Dead #100 ComiXology
Ottley Cover Sketch Variant
Image (Skybound) Comics, published Date: July 2012.

Rare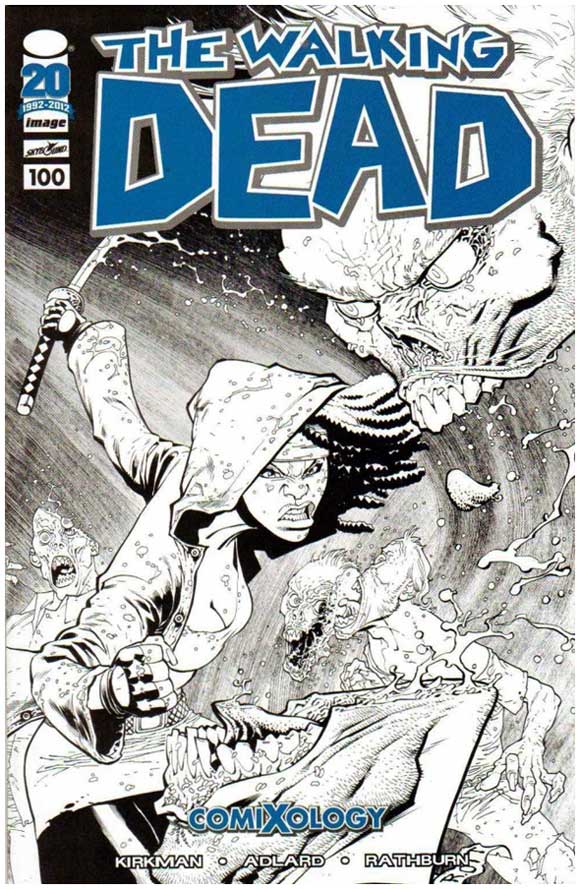 This is the "monumental 100th issue of The Walking Dead", infamously featuring the first appearance of Negan (and "Lucille") and the death of Glenn.
This is the fourth variant of Walking Dead #100 to feature on the website, the other three being:
Walking Dead #100 features a Robert Kirkman story with Charlie Adlard interior art (and grey tones by Cliff Rathburn). This ComiXology (Amazon owned company who have exclusive digital distribution rights to The Walking Dead) exclusive was apparently limited to 500 copies and features a Michonne sketch cover by Ryan Ottley.
In May 2017, CGC had recorded 253 gradings for the "Ottley Sketch Cover" variant, with an astounding 15 at the top grade of 9.9 (Mint Minus).
At the time of writing (May 2017) CBCS didn't have a public census of graded comics; they categorize this variant as the "Comixology Exclusive Variant".
These have sold raw back in 2012 for over $500 but have come down somewhat recently although a CGC/CBCS 9.8 graded copy would still likely set you back over $575.