Life Of Captain Marvel #1 Artgerm 1:200 Virgin Variant
Diamond Code: MAY180800 ; ISBN/UPC: 7-59606-08953-6-00191

In Shops: 2018-07-18 ; 40 Pages ; SRP: $4.99 ; Rated: T+

Marvel Comics, published Date: September 2018.

Rare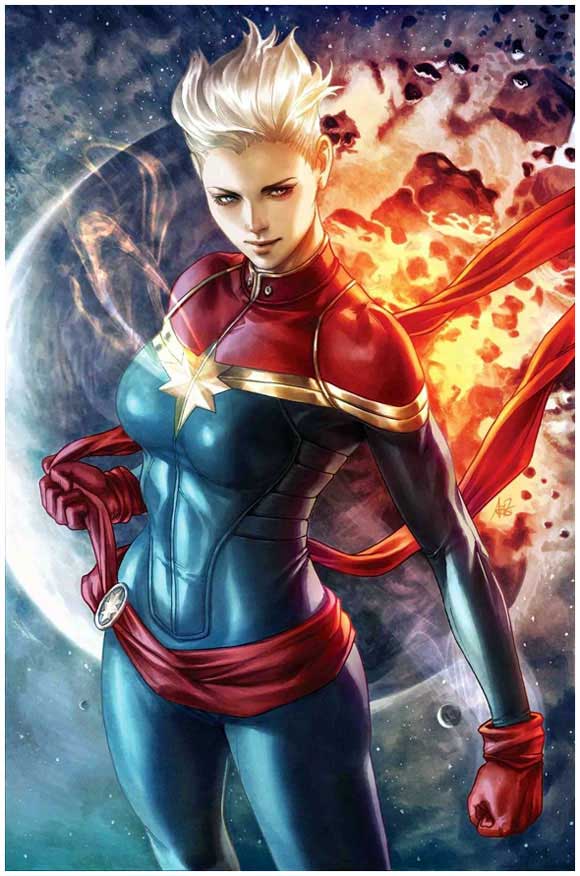 THE DEFINITIVE ORIGIN OF CAPTAIN MARVEL!
Carol Danvers was just a girl from the Boston suburbs who loved science and the Red Sox until a chance encounter with a Kree hero gave her incredible super-powers. Now, she's a leader in the Avengers and the commander of Alpha Flight. But what if there were more to the story? When crippling anxiety attacks put her on the sidelines in the middle of a fight, Carol finds herself reliving memories of a life she thought was far behind her. You can't outrun where you're from - and sometimes, you HAVE to go home again. But there are skeletons in Captain Marvel's closet - and what she discovers will change her entire world. Written by best-selling author Margaret Stohl and drawn by fan-favorite comics veteran Carlos Pacheco, this is the true origin of Captain Marvel.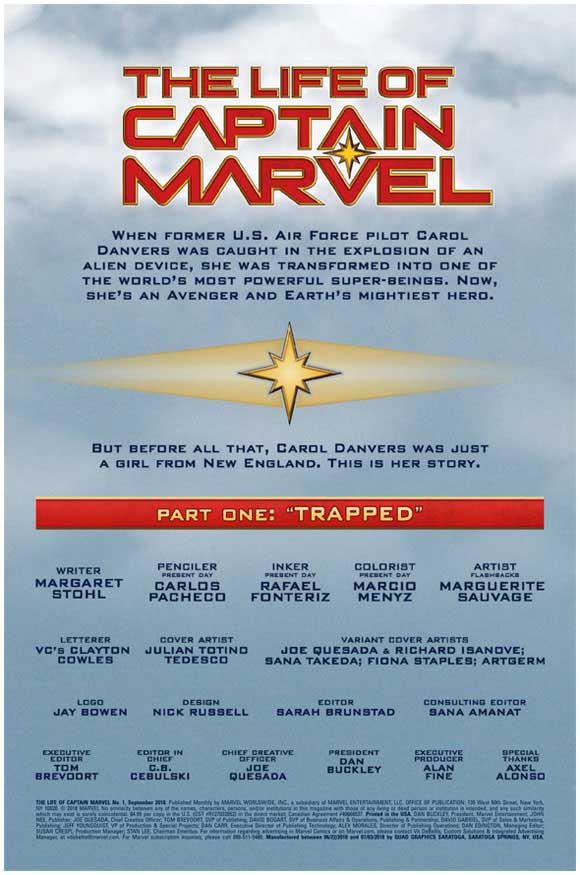 This variant was a 1:200 retailer incentive, with cover art by Stanley Lau a.k.a. Artgerm (interior art is by Carlos Pacheco and the story was written by Margaret Stohl).
Below are a number of the covers for this issue, including three using the Artgerm cover art:
From top to bottom, left to right they are (Diamond code / barcode suffix in brackets):
Julian Totino Tedesco regular cover (MAY180795 / 00111)
Artgerm standard cover (MAY180796 / 00121)
Joe Quesada standard cover (MAY180797 / 00131)
Sana Takeda 1:25 cover (MAY180799 / 00151)
Fiona Staples 1:50 cover (MAY180798 / 00161)
Blank cover (MAY180802 / 00171)
Artgerm 1:200 Virgin cover (MAY180800 / 00191)
Joe Quesada 1:100 Virgin cover (MAY180801 / 00116)
Julian Totino Tedesco second print (JUN188341 / 00112)
Artgerm second print (JUN188340 / 00119)
Yasmine Putri SDCC Variant
Adam Hughes Unknown Comics Virgin Variant (00118)
In mid-September 2018, CGC had five recorded gradings for the Lau "Virgin" Edition with three at the top grade of 9.8, one at 9.6 and a very curious 0.5 (Poor) grade on a Restored label.
In the same timeframe, a near mint raw copy could be picked up for between $130 and $200, although a small number had sold for more.