Strangers In Paradise #1
First Print
Antarctic Press, November 1993.

Low Dist.
This is the first printing of Strangers in Paradise (a.k.a. SiP) #1, both drawn and written by Terry Moore, that features the first appearance of Katchoo (Katina Marie Choovanski),Francine (Francine Helena Peters), David Qin and Freddie Femur.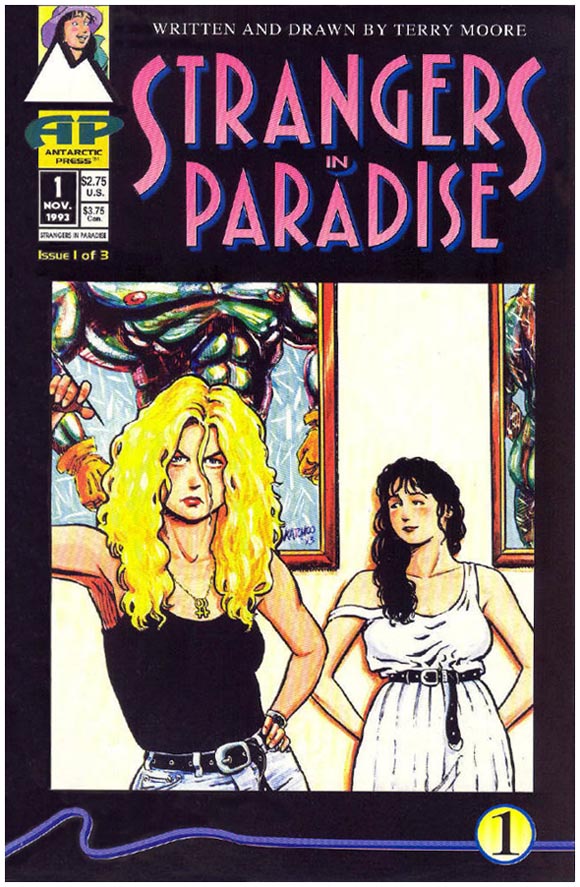 There are three printings of #1 by Antarctic Press and each has different text in the indicia on the inside front page:
1st print: does not have a printing listed, contains the text "Katchoo! Bless You" and lists the print run as 3,000.
2nd print: states "SECOND PRINTING" and contains the text "Is Katchoo a lezbean? Is this so?".
3rd print: states "THIRD PRINTING" and doesn't mention Katchoo at all.
Note that the gold logo variant and the 20th Anniversary Edition are both published under the Abstract Studio imprint.

Below is the indicia for the first print:

At the end of January 2016, there were 81 recorded gradings of the first print in the CGC Census; the average grade is around 9.2 with only 5 gradings recorded at the top grade of 9.8.

The first print is fairly easy to get hold of on websites and auction sites but expect to pay a large premium for the higher graded CGC or CBCS copies.