Right now on eBay
Marvel 10¢ Blacked Out Price Variants (re-priced at 12¢)
Atlas Magazines (Marvel), published Date: January 1962.
In the Fall (Autumn) of 1961, Atlas (Marvel) decided to increase comic prices by 2¢, from 10¢ to 12¢, across all issues with published dates from January 1962 onwards.
Unfortunately, at the time of the price increase, Atlas' printer (Eastern Color Printing Co.) had already gone to press on three of the issues, which were due to be distributed in early November; these were:
Gunsmoke Western #68
Journey into Mystery #76
Love Romances #97
For these the black printing plates were switched to the new price and production continued. For the comics that were already printed with the 10¢ price, these were over-printed, blacking out the 10¢ price and printing 12¢ close by.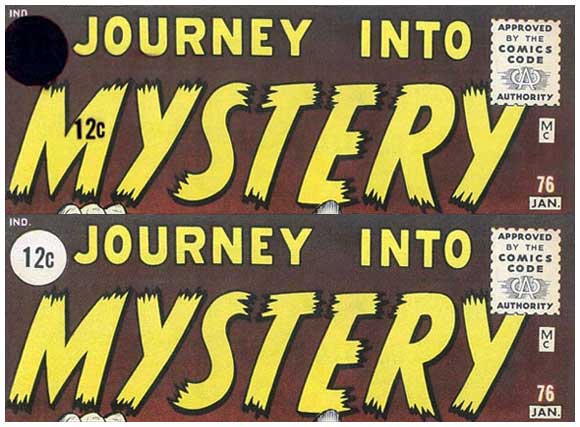 Above is a comparison of the two cover variants of Journey Into Mystery #76. Note that, in some cases, you can still just see the outline of the 10c underneath the black circle:

Interestingly the indicia for these states "Price 10¢ per copy.":

CGC note these as 12 cent price variants, although they are all marked as 12 cents so there is no actual variation in price but they do note that the 10¢ cover price is blacked out:

Intriguingly the CBCS label for Journey Into Mystery #76 (above) notes that "3 different cover price variants exist" and it would be interesting to see if a non-blacked out 10¢ cover price actual exists.
Below are the two covers for Love Romances #97 by Jack Kirby (inked by Vince Colletta) with interior stories by Stan Lee: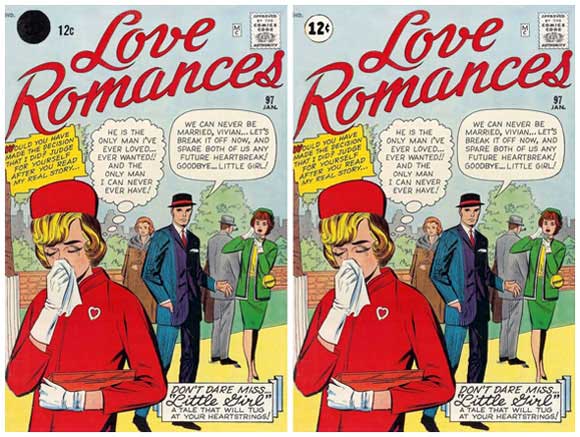 Right now on eBay