Wolverine #102.5
Marvel Comics, 1996.

Rare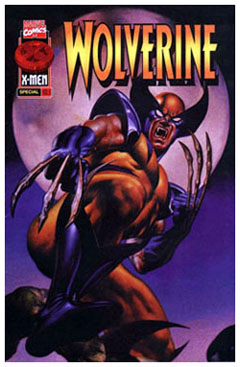 This was a mail-away comic for the Fleer trading cards produced for Marvel and apparently fits between Wolverine #102 and #103 for continuity purposes. It was written by Dan Slott with art by Mark Buckingham and Boris Vallejo (cover).
As well as being pretty rare it is also an unusual comic as each page is also depicted on the back of 9 trading cards from the 1996 Fleer Ultra X-Men: Wolverine set. Each 1/9th section of each page features a large proportion of one character hence there are a whole heap of characters crammed into the comic.
The first 11 pages are actually normal comic book pages making the art slightly more challenging to fit with the cards, the only page actually divided into 9 panels was a suplimentary Baby Wolverine story drawn by Mike Wieringo and that was also used on some rarer Chase cards.
Below is an extract from page 3 of the comic with the rear of the Northstar trading card to the left showing 1/9th of the art from the page:
Note that there is also a Wizard authentic "variant" of this comic which sports a holographic logo on the cover, is signed by cover artist Boris Vallejo and comes with a Wizard COA: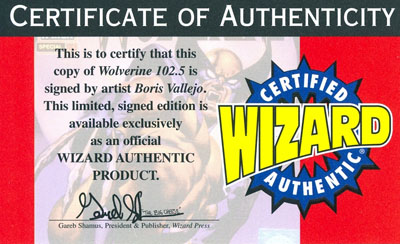 The comic has been steadily increasing in value and they always sell pretty well on auction sites such as ebay; in April 2014 a CGC 9.8 copy (top grade in the CGC census and one of only two at that time) sold for a staggering $2001!