Star Wars #1 35 Cent
Newsstand Price Variant
Marvel Comics, July 1977.


Low Dist.
Star Wars #1 was released in 1977 (just before the movie) and is part one of the movie adaptation of Star Wars IV: A New Hope.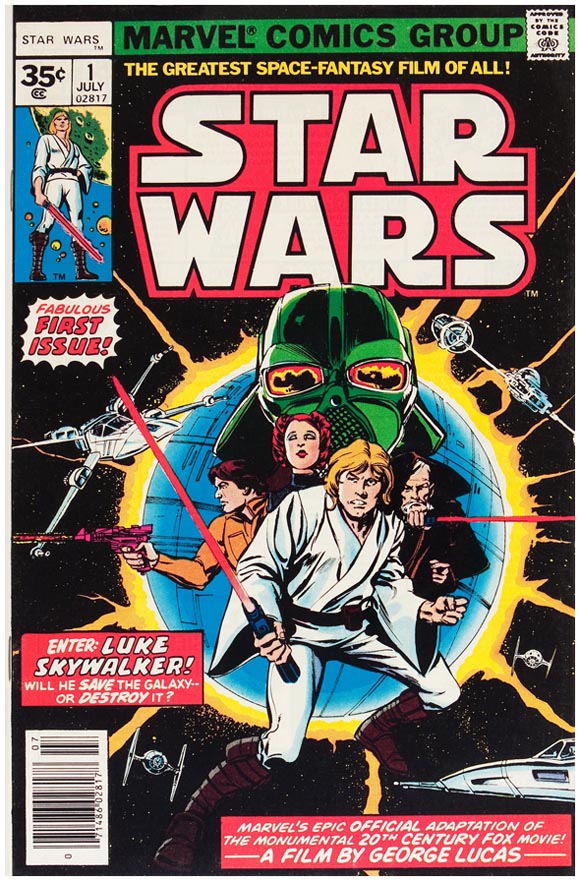 At this time Marvel was experimenting with a 5 cent price increase, with 35 cent copies of many comics available but only in a select few cities. There is some evidence to suggest (distribution markings on the comics) that the 35 cent newsstand variant of Star Wars #1 was distributed to four cities (Memphis, Toledo, Tuscaloosa and Wilmington) so are thought to be very rare indeed, with Overstreet suggesting only around 1,500 copies were printed.
The rare first print newsstand 35 cent price variant has a square price box, has "July" underneath the issue number and also has a barcode in the UPC box. There are other 35 cent variants and these are later reprints and should not be confused: they can be easily identified by the diamond price box and the lack of a barcode (one also has "reprint" printed next to the top left staple). These reprints are not particularly valuable in comparison with the much rarer 35 cent newstand variant.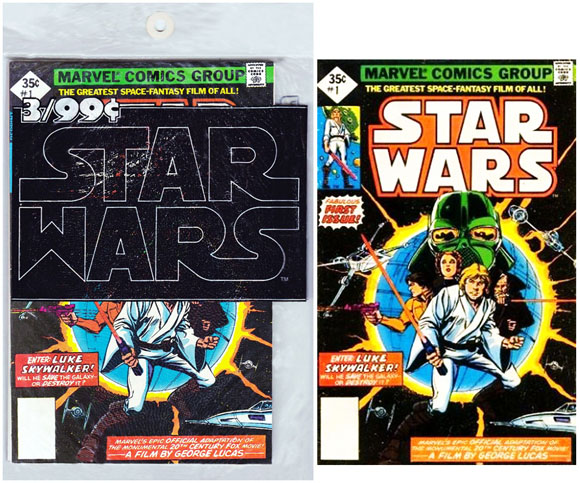 As well as buyers needing to be aware of the various reprints, forgeries of the 1st print 35 cent variant are also known to exist; at least one is thought to have been created from a standard 30 cent variant, with the price box being doctored, however, this was spotted as various aspects of the price box simply didn't line up with a true copy (e.g. the five sits very slightly lower than the three on the original). Below are a selection of price boxes and diamonds, the first two were distributed first and are both known as first prints, the rest are later reprints: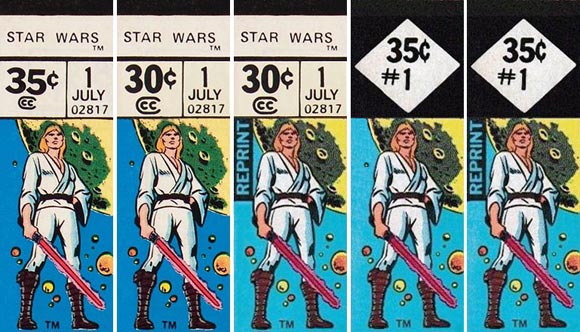 There is some speculation that less than a third of the 1,500 estimated print run for the 35c newstand variant is thought to have survived to this day, they are certainly rare and, in December 2016, only 195 gradings were recorded in the CGC census, with two 9.6 copies the highest recorded gradings so far (this compares to 5,906 gradings recorded for the regular 30 cent copy, with 484 recorded in 9.8).